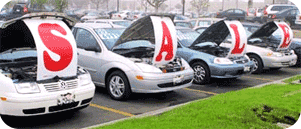 Wondering where you can get a dirt cheap used car in Wisconsin that costs around $1000, $2000, $5000 dollars or less? If so, we've gathered in this directory some of the dealers from Wisconsin selling pre-owned cars, trucks, SUVs, pickups trucks, and minivans at really low prices, so that you can visit and dig into their online inventories directly, or give them a phone call to ask them if they have available or can find for you the vehicle you are searching for in Wisconsin at the price you can afford. You can also check the list of cars for sale in Wisconsin posted on our search results.

Vehicles By State
Find cheap car dealers near you live
Frontier
Looking forward to find the right car to meet your expectations.
Your New Car Alternative! At Frontier Motors Cars we want to be your car dealer for life. We try hard to offer the best prices with the best warranty. Our dealerships has been operating in Milwaukee, Wisconsin for over 35 years providing quality pre-owned vehicles.
http://www.frontiermotorcars.net
414-282-7100
5150 S. 27th St.
Milwaukee, WI 53221
Rate this dealer prices
Morrie's Chippewa Valley Mazda
Looking for vehicles under $10k?
Morrie understood the simple truth about selling cars. Especially now that there are multiple dealerships for every brand in the Twin Cities. Really, it's the car buying or servicing experience that makes the difference. Ultimately, that's what a dealership is selling, and what has set Morrie's Automotive Group apart.
http://www.morrieschippewavalleymazda.com
715-318-2120
2329 S. Prairie View Rd.
Chippewa Falls, WI 54729
Rate this dealer prices
Find cheap car dealers near you live
Get Listed In This Directory
If you own a car dealer in Wisconsin or you're the Internet person in charge, and would like to list it in this directory where we gather the Wisconsin dealers selling real cheap cars, please send us a request, specifying the web address of your company, and a brief intro or text describing it. Our only request is that a good amount of cars for sale for $5000 or less are part of your inventory. If you would also like to post your vehicles on our database and search results, just let us know it, and we'll do the hard job. So, if you sell good used cars at low prices in Wisconsin, sign up with us and we'll help you sell them for FREE.