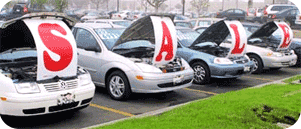 Wondering where you can get a dirt cheap used car in Virginia that costs around $1000, $2000, $5000 dollars or less? If so, we've gathered in this directory some of the dealers from Virginia selling pre-owned cars, trucks, SUVs, pickups trucks, and minivans at really low prices, so that you can visit and dig into their online inventories directly, or give them a phone call to ask them if they have available or can find for you the vehicle you are searching for in Virginia at the price you can afford. You can also check the list of cars for sale in Virginia posted on our search results.

Vehicles By State
Find cheap car dealers near you live
Located in the great bridge section of Chesapeake
Great Bridge Auto Sales also serves the cities of Virginia Beach, and Norfolk, providing a wide selection of over 100 pre-owned vehicles at affordable prices starting for as low as $1000 dollars, and around. Great Bridge Auto Sales is open the 7 days of the week to make your car buying process, as quick and hassle free as possible.
http://www.greatbridgeautos.com/
888-657-4513
343 Battlefield Blvd.
North Chesapeake, VA 23320
Rate this dealer prices
We finance everyone
Located in Stafford, about one hour away from Alexandria and Washington DC, and just minutes away from Fredericksburg, Kargar Motors stands out for being one of a small group of companies that have won the "Best of Stafford Award" in consecutive years for having a great customer service, and a stuff that will help you fin the best possible car. They have a continual inventory of nearly 100 vehicles in good shape, some of the starting for under $5,000, and many for less than $10,000.
http://www.kargarmotors.com
540-657-9900
3316 Jefferson Davis Hwy
Stafford, VA 22554
Rate this dealer prices
East Cost Auto Source
Your one stop source for quality, late model repairables and parts
For 20 years we have been buying and selling rebuildable cars. We've been in business for over 20 years. We are located in Thaxton, Virginia which is about 20 miles east of Roanoke. We have over 500 repairable cars trucks SUV's and vans on our lot. We specialize in late model cars.
http://www.ecoastauto.com
800-869-0655
4180 Rocky Ford Rd.
Thaxton, VA 24174
Rate this dealer prices
Dominion Motors Winchester
Home of The Good Deal
The Winchester's premier 2nd chance financing car dealer! They began selling used autos and trucks since 1994, offering a rotating stock of over 50 quality used cars or truck, many of them at prices between $2000 and $5000. Dominion Motors Winchester has the lowest prices on used cars, trucks, and SUV's.
http://www.dominionmotors.net
540-678-4959
664 North Loudoun St.
Winchester, VA 22601
Rate this dealer prices
High View Motors, Inc
From small to tall, Highview Motors GMC has it all!
Whatever your truck needs may be, Highview Motors is the dealer that has it all. Whether you are looking for new, used or cheap cars, light duty or medium duty, commercial, pickups, work or utility trucks from GMC, cargo vans, SUVs, used cars, equipment trailers or parts, Highview Motors is the dealer that has what you need in VA.
http://www.highviewmotors.com
888-251-6214
1409 Main St.
Altavista, VA 24517
Rate this dealer prices
America Auto Auction
Virginia's Largest Public Auto Auction. The largest public auto auction in Virginia! More than 500 cheap used cars at our Chesapeake auction every week. Buy one today, or come to the next auction. We sell 50-60% of all our used cars every Saturday (rain or shine).
http://www.amerautoauction.com
757-485-3342
3856 S Military Hwy
Chesapeake, VA 23321
Rate this dealer prices
Find cheap car dealers near you live
Get Listed In This Directory
If you own a car dealer in Virginia or you're the Internet person in charge, and would like to list it in this directory where we gather the Virginia dealers selling real cheap cars, please send us a request, specifying the web address of your company, and a brief intro or text describing it. Our only request is that a good amount of cars for sale for $5000 or less are part of your inventory. If you would also like to post your vehicles on our database and search results, just let us know it, and we'll do the hard job. So, if you sell good used cars at low prices in Virginia, sign up with us and we'll help you sell them for FREE.