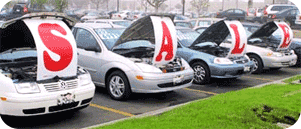 Wondering where you can get a dirt cheap used car in Connecticut that costs around $1000, $2000, $5000 dollars or less? If so, we've gathered in this directory some of the dealers from Connecticut selling pre-owned cars, trucks, SUVs, pickups trucks, and minivans at really low prices, so that you can visit and dig into their online inventories directly, or give them a phone call to ask them if they have available or can find for you the vehicle you are searching for in Connecticut at the price you can afford. You can also check the list of cars for sale in Connecticut posted on our search results.

Vehicles By State
Find cheap car dealers near you live
Where we do our best, so you only get the best
J&F Auto Wholesalers is a small dealer located in Waterbury less than half hour away from the cities of Hartford and New Haven where you only get the best. They have an inventory of nearly 80 used cars priced between $2000 and $20000, but you can find many of them for less than $5000. If you are wondering where to get an inexpensive pre-owned car in the West of CT, then you should visit to J&F Auto WholeSalers.
http://www.jfautowholesaler.com
203-437-8576
1148-1200 South Main St. Unit 4
Waterbury, CT 06706
Rate this dealer prices
Imports Unlimited
All cars priced well, below NADA retail value!
In business for over 27 years offering the best-in pre-owned vehicles. Imports Unlimited was incorporated in February of 1985. Mike Caro is the sole owner and has been working on cars since he was 15 years old. Imports Unlimited features the larger outside area to display their large car inventory.
http://www.luxurycars.com/
203-284-8989
569 N Colony Rd.
Wallingford, CT 06492
Rate this dealer prices
Ricciardi Auto Sales
We strive to provide our customers with the very best pre-owned vehicles on the market
Used car dealer serving in Waterbury, CT and surrounding towns with quality used cars. Family-owned and operated since 1968. Individualized warranties on all vehicles. Its inventory offer lot of cars for sale under $10000.
http://www.ricciardiautos.com/
203-755-2209
701 Watertown Ave.
Waterbur, CT 06708
Rate this dealer prices
Colonial Toyota
Colonial Toyota is a one-stop Toyota dealership in Milford CT with a variety of new, used, certified pre-owned Toyota vehicles, parts, and service center staffed by Toyota factory trained and certified service technicians, and financing department.
http://www.colonialtoyotact.com/
(203) 286-5500
470 Boston Post Road
Milford, CT 06460
Rate this dealer prices
Find cheap car dealers near you live
Get Listed In This Directory
If you own a car dealer in Connecticut or you're the Internet person in charge, and would like to list it in this directory where we gather the Connecticut dealers selling real cheap cars, please send us a request, specifying the web address of your company, and a brief intro or text describing it. Our only request is that a good amount of cars for sale for $5000 or less are part of your inventory. If you would also like to post your vehicles on our database and search results, just let us know it, and we'll do the hard job. So, if you sell good used cars at low prices in Connecticut, sign up with us and we'll help you sell them for FREE.