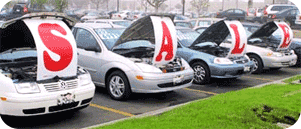 Wondering where you can get a dirt cheap used car in Ohio that costs around $1000, $2000, $5000 dollars or less? If so, we've gathered in this directory some of the dealers from Ohio selling pre-owned cars, trucks, SUVs, pickups trucks, and minivans at really low prices, so that you can visit and dig into their online inventories directly, or give them a phone call to ask them if they have available or can find for you the vehicle you are searching for in Ohio at the price you can afford. You can also check the list of cars for sale in Ohio posted on our search results.

Vehicles By State
Find cheap car dealers near you live
Thinking about trading your car? We want it!
With an inventory of more than 250 quality new, used and certified cars and over 50 of them priced for below $10,000, Honda of Mentor is the dealership you have to visit if you are one of those who like good prices but not the cheapest ones in order to get something durable too. Pre-owned vehicles start for $2000 or less.
http://www.hondaofmentor.com/
888-440-2417
8555 Market St.
Mentor, OH 44060
Rate this dealer prices
Loudon Motors Ford
We have a strong and committed sales staff with many years of experience satisfying our customers' needs. Greg Loudon and his employees know that the "secret" for a dealership to be successful in today's business environment is our customers. Nearly 150 pre-owned vehicles starting for $5000 or less are waiting for you.
http://www.loudonmotorsford.com
888-476-1892
310 Valley Street
Minerva, OH 44657
Rate this dealer prices
WOW Car Company Ltd.
Home of the $300 Down Payment
Established in 1949 in Newark OH. Its business model applied then, is the same model applied now "buy low, sell low". They have 2 convenient locations to serve you with over 100 vehicles in-stock, starting for $1000 or less. This is the perfect car dealer for those people with low budget searching for dirt cheap used cars under $5000 near Columbus.
http://www.wowcarcompany.com
740-392-9600
602 Harcourt Road
Mt. Vernon, OH 43050
Rate this dealer prices
Budget Car Mart
$5000 and less!
Are you on a budget and need an inexpensive car, truck, SUV, or mini-van? Then come see us at Budget Car Mart. Every used vehicle in our large inventory is priced under $5,000. Every vehicle on our lot is sold "as-is". Because our overhead is low, our prices are low also. Vehicles starting for $1500 or less.
http://www.budgetcarmart.com
330-734-3925
3095 Barber Road
Norton, OH 44203
Rate this dealer prices
Krug Auto Sales
Buy! Sell! Trade!
We do offer financing on qualifying cars through various banks and financial institutions in our area. Downpayments and monthly payments will depend on various things including credit and work history. We are not a buy-here-pay-here lot. Open from Monday to Saturday.
http://www.krugauto.com
937-429-5784
3919 Col. Glenn Hwy
Beavercreek, OH 45324
Rate this dealer prices
Mathews Ford Oregon
We offer superior sales and service to our valued customers.
We are committed to serving our friends and customers and look forward to hearing from you! We are the ONLY U.A.W. Ford dealership in Ohio and the FIRST in Michigan! Tim Mathews would like to personally invite you to visit our store. Mathews Ford Oregon has an inventory of nearly 250 used cars starting as cheap as $2000 or less.
http://mathewsfordoregon.com/
888-824-2493
2811 Navarre Avenue
Oregon, OH 43616
Rate this dealer prices
Bulldog Auto Sales
America's Car Dealer! We are dedicated to providing quality used cars and quality service to our customers at an affordable cheap prices. We understand that people need good, reliable transportation at prices that are affordable to the average American family. We provide engine and transmission coverage.
http://www.bulldogautos.com
740-756-4040
57 High Street
Carroll, OH 43112
Rate this dealer prices
Don's Automotive Group
We're Driven to be the Best!
Don's Automotive Group has been the premier family owned and operated Wauseon Chevrolet and Wauseon Buick dealer dedicated to meet with all your automotive needs, and serving the Toledo area since 2000. We also serve as your Toledo Chevrolet Buick Cadillac GMC dealership. Don's Automotive Group has nearly 100 pre-owned vehicles starting for as cheap as $2000 or less waiting for you.
http://www.donsautomotivegroup.net/
877-289-1765
720 N Shoop Ave.
Wauseon, OH 43567
Rate this dealer prices
Find cheap car dealers near you live
Get Listed In This Directory
If you own a car dealer in Ohio or you're the Internet person in charge, and would like to list it in this directory where we gather the Ohio dealers selling real cheap cars, please send us a request, specifying the web address of your company, and a brief intro or text describing it. Our only request is that a good amount of cars for sale for $5000 or less are part of your inventory. If you would also like to post your vehicles on our database and search results, just let us know it, and we'll do the hard job. So, if you sell good used cars at low prices in Ohio, sign up with us and we'll help you sell them for FREE.