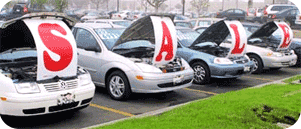 Wondering where you can get a dirt cheap used car in New Jersey that costs around $1000, $2000, $5000 dollars or less? If so, we've gathered in this directory some of the dealers from New Jersey selling pre-owned cars, trucks, SUVs, pickups trucks, and minivans at really low prices, so that you can visit and dig into their online inventories directly, or give them a phone call to ask them if they have available or can find for you the vehicle you are searching for in New Jersey at the price you can afford. You can also check the list of cars for sale in New Jersey posted on our search results.

Vehicles By State
Find cheap car dealers near you live
Pioneer Auto Group
Looking for used cars at low prices? That's exactly what we deliver
Since 1991 selling high quality cheap used cars, minivans, work vans and SUV's at prices that you simply won't believe. Pioneer Auto Group has the best inventory, and best customer service around, and is located in Belleville NJ near Newark, Jersey City, and New York City. They usually have in-stock, a huge inventory of more than 350 pre-owned vehicles starting as cheap as $1000 dollars or less, being more than a hundred priced under $3000.
http://www.pioneerautousa.com
973-450-1122
90 Washington Ave.
Belleville, NJ 07109
Rate this dealer prices
Chevy's Cost Less at Princeton!
If you are one of those who like dealerships that make great offers, give rebates and incentives to their customers, you have to visit Princeton Chevrolet then. With an inventory of about 100 new and used cars, prices starting for less than $1,000 and 30 of their used cars priced for under $3000, Princeton Chevrolet is one of the Autopten.com recommended dealers if what you are looking for is a real cheap used car, truck or SUV in New Jersey around Bordentown, Edison, Lambertville, Montgomery, Freehold, Woodbourne, Levittown, Morrisville or Raritan Township.
http://www.myprincetonchevrolet.com/
877-877-7569
200 Renaissance Blvd.
Lawrenceville, NJ 08648
Rate this dealer prices
MB Motorsports
Everyday cars for every day people!
The leading destination for a used car, truck, SUV or minivan in Monmouth County.We carry a full line of pre-owned vehicles, and even motorcycles available for the residents of Tinton Falls, New Jersey. Over 75 years of experience in the automobile industry, offering great service, and over 200 pre-owned quality cars, many of them starting for $5000 or less.
http://www.mbmotorsports.com
888-558-4406
4035 New Jersey 33
Tinton Falls, NJ 07753
Rate this dealer prices
All The Cars, Inc
Buy - Sell - Trade
Many used cars available at hard to beat prices. What about and inventory with more than 30 cars for sale under $2000. This is what All The Cars, Inc have to offer to those looking for the cheapest cars in New Jersey, besides the many other affordable cars they have for sale under $5000 and under $10000. This make All The Cars, Inc have a slot in our cheapest car dealers in New Jersey directory.
http://www.allthecarsinc.com
201-895-1534
290 East Railway Ave.
Paterson, NJ 07503
Rate this dealer prices
Brick City Motors
Brick City Motors ensure you will have the best car buying experience offering you the cheapest cars for sale in Newark. Just check their inventory of nearly 200 cars available in all price rages. Brick City Motors has a lot of used car for sale under $5000 and under $10,000, and sometimes, even cars under $1000. What about a 1993 Lexus ES 300 for under $2000, well, they have it.
http://www.brickcitymotors.com
973-483-8481
346 Broadway
Newark, NJ 07104
Rate this dealer prices
JTA Auto Mall
Call us to arrange a test drive or visit our website to view our complete inventory of cheap used cars in Newark for sale under $5000 and $10000 mostly. We're the kings of the 'Buy Here Pay Here'. We finance our clients with no credit checks! Low payments of up to $75 per week only.
http://www.jtaautomall.com
It seems this dealer is out of business
973-900-6242
252 14th Ave.
Newark, NJ 07103
Rate this dealer prices
Find cheap car dealers near you live
Get Listed In This Directory
If you own a car dealer in New Jersey or you're the Internet person in charge, and would like to list it in this directory where we gather the New Jersey dealers selling real cheap cars, please send us a request, specifying the web address of your company, and a brief intro or text describing it. Our only request is that a good amount of cars for sale for $5000 or less are part of your inventory. If you would also like to post your vehicles on our database and search results, just let us know it, and we'll do the hard job. So, if you sell good used cars at low prices in New Jersey, sign up with us and we'll help you sell them for FREE.