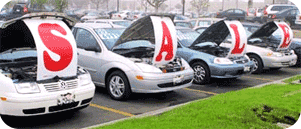 Wondering where you can get a dirt cheap used car in Indiana that costs around $1000, $2000, $5000 dollars or less? If so, we've gathered in this directory some of the dealers from Indiana selling pre-owned cars, trucks, SUVs, pickups trucks, and minivans at really low prices, so that you can visit and dig into their online inventories directly, or give them a phone call to ask them if they have available or can find for you the vehicle you are searching for in Indiana at the price you can afford. You can also check the list of cars for sale in Indiana posted on our search results.

Vehicles By State
Find cheap car dealers near you live
It only takes a minute to get a better deal
Open from Monday to Saturday. At Larry's Auto Sales, they work hard to offer you the best and lowest priced in pre-owned cars. They don't just want your business today, they want you to come back in the future too. Larry's Auto Sales is located in Fort Wayne, about 2 hours away from Indianapolis and offers an inventory of nearly 50 vehicles at price between $2000 and $10,000 mostly.
http://www.gotolarrys.com/
260-483-2423
3325 North Clinton St.
Fort Wayne, IN 46805
Rate this dealer prices
User your smarts, and buy at Barts!
Bart's Car Store has a constant inventory of nearly 600 pre-owned vehicles distributed in 4 location stores in Indiana and Ohio. About 50 of these cars start for under $5000 and over 100 vehicles have prices for below $10,000. If you need an inexpensive vehicle in Fort Wayne, Avon, Anderson or Columbia City, you have to visit Bart's Car Store.
http://www.bartscarstore.com
260-435-1824
5510 Illinois Road
Fort Wayne, IN 46804
Rate this dealer prices
Noble Ford
Inventory at Autopten
Your Dealer of Choice!
With an inventory of around 100 vehicles, Noble Ford is the dealership you have to visit in Indianola (IA), if you are looking to buy a new, used or cheap quality car in Iowa. With over 25 years in the business, Noble Ford is going to offer you a higher level experience in your car purchase. If you live in Des Moines, with a 10 minutes driving you can visit one the most Ford representative dealers of the area.
http://www.nobleford.com/
800-383-1400
2406 N. Jefferson Way
Indianola, IN 50125
Rate this dealer prices
Home of the $0 down and low payments
Bad credit? NO problem! Bankruptcy? NO problem! Repo? No problem! Anycredit Auto Superstore is located in Fort Wayne near Indianapolis, and has an inventory of more than 50 used cars starting at dirt cheap prices for as low as under $1000 dollars. Your buying experience is their number one priority. Their friendly staff will help you find the right car at the right price.
http://www.anycreditsuperstore.com
260-755-1233
2410 West Jefferson
Fort Wayne, IN 46802
Rate this dealer prices
Valley Motors
Bad credit shouldn't stand between you and the quality car you deserve
We have been in business for over 20 years. With most of our inventory of cheap used cars under $5000, we offer dependable transportation at an affordable price. We also offer Buy Here Pay Here financing to qualified used cars buyers.
http://www.valley-motors.com/
317-831-2820
9466 N. Karen Drive
Mooresville, IN 46158
Rate this dealer prices
Hubler Chevrolet
Indiana's largest Chevrolet Inventory
We are different from most other dealerships. When a customer first comes on our lot to purchase a vehicle, our primary goal is not to simply sell them a car. Our goal is to handle their buying experience in a manner that will make them want to come here when their car needs any kind of service.
http://www.drivehublerchevy.com
800-868-4999
8220 South US 31
Indianapolis, IN 46227
Rate this dealer prices
Bob Rohrman Toyota
The most popular models of Bob Rohrman Toyota are the Rav4, 4Runner, Tacoma, Camry, and Prius. They are located in the city of Lafayette, less than an hour away from Indianapolis. In their pre-owned inventory of more than 1200 vehicles, you can find more than 100 of them at prices for less than $5000, and even used cars starting for $1000 or less. A strong and committed sales staff with many years of experience is waiting for you.
http://www.rohrmantoyota.com/
888-848-1471
3900 State Road 26
Lafayette, IN 47905
Rate this dealer prices
Find cheap car dealers near you live
Get Listed In This Directory
If you own a car dealer in Indiana or you're the Internet person in charge, and would like to list it in this directory where we gather the Indiana dealers selling real cheap cars, please send us a request, specifying the web address of your company, and a brief intro or text describing it. Our only request is that a good amount of cars for sale for $5000 or less are part of your inventory. If you would also like to post your vehicles on our database and search results, just let us know it, and we'll do the hard job. So, if you sell good used cars at low prices in Indiana, sign up with us and we'll help you sell them for FREE.