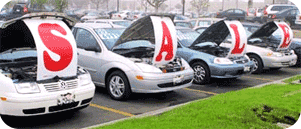 Wondering where you can get a dirt cheap used car in Florida that costs around $1000, $2000, $5000 dollars or less? If so, we've gathered in this directory some of the dealers from Florida selling pre-owned cars, trucks, SUVs, pickups trucks, and minivans at really low prices, so that you can visit and dig into their online inventories directly, or give them a phone call to ask them if they have available or can find for you the vehicle you are searching for in Florida at the price you can afford. You can also check the list of cars for sale in Florida posted on our search results.

Vehicles By State
Find cheap car dealers near you live
Lowest prices on vehicles of your choice in Florida
LaBelle has an continual inventory of nearly 500 pre-owned vehicles at prices starting for $500 or less, and many more for less than $5000 dollars. They are located near Fort Myers and Cape Coral in West FL, and also serves Lehigh Acres and Clewiston area. Financing available, and a friendly staff are waiting for you!
http://www.labelledodge.com
888-997-6698
501 S Main Street
Labelle, FL 33935
Rate this dealer prices
The king of family owned & operated dealers in Jacksonville since 1967
Beach Blvd Automotive has a regular inventory of over 300 used cars at crazy low prices that ranges from less than $1000 dollars up to $15000, all of them clean, and ready to go. They have been over 47 years in the same location, and specializes in "Buy Here, Pay Here" financing. Most of their vehicles are sold with warranty.
http://www.beachblvdautomotive.com
904-724-3511
6833 Beach Boulevard
Jacksonville, FL 32215
Rate this dealer prices
Our down payments start at just $395 down!
Since 1952, Creel Motors has been the premier used car dealer for "BUY HERE, PAY HERE" in Pinellas County. If you are searching for a good used car in St. Petersburg, Clearwater, Palm Harbor or Tampa, which you don't have to pay more than $500 dollars for it, then you have to check the Creel Motors where they have over 100 vehicles in stock, some of them are ready for a new home for only $395 down.
http://www.creelmotorsinc.com/
727-546-6736
4870 66th St N
St. Petersburg, FL 33709
Rate this dealer prices
No games or hassles, just quality and value
Same low prices everyday. Fresh arrivals daily. Serving South FL for over 20 years, selling nice and good used cars. They sell very quickly due to the lower prices and higher quality of their cars, enjoy its inventory full of many cheap cars for sale under $5000. Ask to this dealer about their 90 Days Same As Cash credit!
http://www.uzdcarzfl.com/
954-781-2888
1080 SW 12th Avenue
Pompano Beach, FL 33069
Rate this dealer prices
Haims Motors
Best deals, no games, instant financing!
Over 140 vehicles under $10000 to choose from. We consistently offer the largest variety of cheap used cars in the FL's Hollywood area. Our goal is to make sure that each of our customers receives the quality service that we have built our name on. We offer a very extensive inventory available at competitive prices.
http://www.haimsautoplaza.com/
866-211-3849
2840 N. State Road 7
Hollywood, FL 33021
Rate this dealer prices
Over 20 years serving South Florida!
Over 170 cheap cars for sale on its lot,about 50 under $5000 and 100 under $10,000, Florida Fine Cars will make the car buying experience unique for you. All their vehicles has been inspected and they offer warranties as well as financing. They operate in the South of Florida since 1993 offering the highest quality luxury cars for cheap prices.
http:///www.floridafinecars.com/
305-384-6400
1027 South State Rd 7
Hollywood, FL 33023
Rate this dealer prices
Turnpike Motors
Never A Dealer Fee!
For those looking for cheap used cars in Pompano Beach, Florida you are in the right dealer. Check our inventory, you will find used good cars for a very low price. Cheap cars from $5000 and under. Even cars under $1000 and $2000. We offer weekly payments. We also find for you the used car you're looking for.
http://www.turnpikemotorsflorida.com/
954-941-6452
3500 N. Dixie Hwy
Pompano Beach, FL 33064
Rate this dealer prices
Jumbo Auto & Truck Plaza
Two locations, over 1000 cars, no dealer fee!
The dealer for those looking for many cheap cars for sale under $5000 to choose. This company has more than 25 years of experience selling affordable vehicles in Hollywood, Miramar and Fort Pierce. Its inventory includes over 400 cars, SUV's, mini-vans, pick-up's, cargo vans for sale at a great value.
http://www.jumboauto.com/
888-972-9605
1640 S. State Road 7
Hollywood, FL 33023
Rate this dealer prices
Autoshow Sales & Service
Our car and truck sales staff is strictly customer satisfactory oriented
Autoshow Sales and Service have been serving the South Florida area since 1996. Our car and truck sales staff is strictly customer satisfactory oriented. No matter your price range we carry over 200 vehicles in inventory, from cheap good cars to high end luxury vehicles that will fit your needs.
http://www.autoshowflorida.com/
888-632-7917
440 S State Rd 7
Fort Lauderdale, FL 33317
Rate this dealer prices
Hometown Auto Mart
We sell quality cars at affordable prices!
Cars, Trucks, SUV's, Conversion Vans, Handicap-Equipped Vans, Hybrid & Commercial or Fleet vehicles. Here at hometown Auto Mart we offer the lowest prices in town. We charge "NO" dealer fee's like most others. We are locally owned & operated with 2 locations to serve you.
http://www.htautomart.com/
352-465-5210
3020 W Dunnellon Rd.
Dunnellon, FL 34433
Rate this dealer prices
We focus on quality cars that run great, look great and everyone loves!
Currently with two locations in South FL (Miami & Hialeah). Benji Auto Sales is a family owned and operated used car dealer with over 30 years in the business helping people to find the car they are looking for at a price they can afford, with an easy and simple transaction. 100% quality vehicles with clean titles.
http://www.benjiautosales.com
305-769-2823
1041 E 49th Street
Hialeah, FL 33013
Rate this dealer prices
Find cheap car dealers near you live
Get Listed In This Directory
If you own a car dealer in Florida or you're the Internet person in charge, and would like to list it in this directory where we gather the Florida dealers selling real cheap cars, please send us a request, specifying the web address of your company, and a brief intro or text describing it. Our only request is that a good amount of cars for sale for $5000 or less are part of your inventory. If you would also like to post your vehicles on our database and search results, just let us know it, and we'll do the hard job. So, if you sell good used cars at low prices in Florida, sign up with us and we'll help you sell them for FREE.