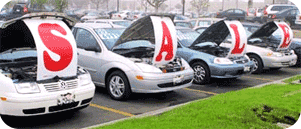 Wondering where you can get a dirt cheap used car in Washington that costs around $1000, $2000, $5000 dollars or less? If so, we've gathered in this directory some of the dealers from Washington selling pre-owned cars, trucks, SUVs, pickups trucks, and minivans at really low prices, so that you can visit and dig into their online inventories directly, or give them a phone call to ask them if they have available or can find for you the vehicle you are searching for in Washington at the price you can afford. You can also check the list of cars for sale in Washington posted on our search results.

Vehicles By State
Find cheap car dealers near you live
We carry the best selection of new and pre-owned Mitsubishi vehicles in Kennewick and surrounding areas
Operating with the same local and owners for over 40 years, it means, dealing with real professional and experienced people in the area that want to preserve their good reputation. Don't worry about getting a good deal, all the vehicles on inventory are their best ones. Leskovar Mitsubishi has a continuous inventory of more than 300 used cars, some of them starting as cheap as $1000 or less, and many for under $5000.
http://www.leskovar.com/
509-783-6141
3020 W. Clearwater
Kennewick, WA 99336
Rate this dealer prices
Largest independent used car dealership in Washington State
B&B Auto Sales has been in business for over 30 years already. They are a family owned dealership which offers an extensive inventory of nearly 200 used cars many of them starting for less than $2000 and under $5000. B&B Auto Sales is located in the town of Puyallup close to Seattle and minutes away from Tacoma and are known for selling quality pre-owned vehicles at great prices.
http://www.bbautosalesinc.com/
253-841-1600
1830 River Road
Puyallup, WA 98371
Rate this dealer prices
Every One Is Approved!
With 5 locations in Spokane, Washington State and two in the Idaho state, Auto Credit Sales is the cheap used car dealer with cheapest car prices. No doubt. Its specials are wonderful. In its inventory you will find a lot of cheap good cars under $1000. In total they have available more than 1000 cheap cars available on their lots.
http://www.autocreditsales.com
509-892-3647
7210 East Sprague
Spokane, WA 99212
Rate this dealer prices
North City Motors
We sell high-quality and cheap pre-owned cars. Toyota, Honda, Nissan, Audi, Infiniti, Chevy, Acura, BMW, Ford, Dodge, Chrysler, etc., and just about every other make and model available in the Mukilteo, Lynnwood and Everett area. We are your number one source for cheap used cars in the greater Seattle and Kitsap Penninsula area. North City Motors has an inventory of nearly 80 vehicles starting for $2000 or less.
http://www.northcitymotors.com
425-582-7664
14325 Lake Rd.
Lynnwood, WA 98087
Rate this dealer prices
We'll make your car buying or leasing experience as easy and enjoyable as possible
If you live in Washington, close to Bothell, and you are looking for cheap used cars, National Auto & Finance has a great inventory of affordable cars under $3000 and under $5000, and the best part is all of them are in great condition. For those with a tight budget this dealerships is highly recommended.
http://www.nationalautofleetleaseandfinance.com
206-430-4386
18724 Bothell-Everett Hwy
Bothell, WA 98012
Rate this dealer prices
Rich's Car Corner
Best Price, Best Value
No body sell cars for less, NO BODY! Over 20 cheap used cars priced to sell, starting for as low as $2000 or less. Bad credit accepted. Find a big list of cars for sale under $5000. All vehicles in our lot are hand picked, and we do not buy them in large bulk quantities.
http://www.richscarcorner.com
206-782-8804
16004 Aurora Ave North
Shoreline, WA 98133
Rate this dealer prices
Find cheap car dealers near you live
Get Listed In This Directory
If you own a car dealer in Washington or you're the Internet person in charge, and would like to list it in this directory where we gather the Washington dealers selling real cheap cars, please send us a request, specifying the web address of your company, and a brief intro or text describing it. Our only request is that a good amount of cars for sale for $5000 or less are part of your inventory. If you would also like to post your vehicles on our database and search results, just let us know it, and we'll do the hard job. So, if you sell good used cars at low prices in Washington, sign up with us and we'll help you sell them for FREE.