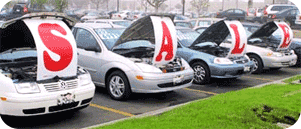 Wondering where you can get a dirt cheap used car in Michigan that costs around $1000, $2000, $5000 dollars or less? If so, we've gathered in this directory some of the dealers from Michigan selling pre-owned cars, trucks, SUVs, pickups trucks, and minivans at really low prices, so that you can visit and dig into their online inventories directly, or give them a phone call to ask them if they have available or can find for you the vehicle you are searching for in Michigan at the price you can afford. You can also check the list of cars for sale in Michigan posted on our search results.

Vehicles By State
Find cheap car dealers near you live
Williams Auto Group
Family owned and operated dealership since 1990
We're proud to offer a fantastic full-line selection of Chevrolet, Honda and Kia cars, as well as Northern Michigan's largest selection of used cars! One thing we are very proud of anyone looking for any type of car in Northern Michigan will likely find what they want at our dealership. Williams Auto Group has an inventory of over 200 vehicles starting at $1000 dollars.
http://www.williamstc.com
877-475-5250
2600 US 31 S.
Traverse City, MI 49684
Rate this dealer prices
Dick Scott Nissan
Family owned and operated for over 30 years
Located in Canton near Novi, Plymouth, Ann Arbor and Farmington Hills and belonging to the Dick Scott Automotive Group which also owns dealerships from Dodge, Chrysler and Jeep, Dick Scott Nissan is the dealership in Michigan that you need to visit if you want to have a safe purchase since they offer an exclusive selection of inspected preowned cars, trucks, SUVs, sports and minivans in very good condition and some of them really really cheap, like a 2002 Chevrolet Impala for sale under $1000 they have listed at the moment of writing this.
http://www.dickscott.com
888-833-4568
42175 Michigan Av.
Canton, MI 48188
Rate this dealer prices
Telegraph Auto Sales
Buy, sell & trade. In business since 1975.
Since 1975 has been in the automotive business. They specialize in cheap cars priced from under $1000 up to $8000. With nearly 150 cheap cars for sale in inventory at all times, they are the highest volume used car dealer in Monroe County. All their cars are clearly marked with prices and mileage. Telegraph Auto Sales is located close to Detroit. Financing available
http://www.telegraphautosales.com
517-543-3750
11600 Telegraph Rd.
Carleton, MI 48117
Rate this dealer prices
Davis Auto Mart
The Dealer With A Heart!
Established in 1948 and serving Mid-Michigan for over 60 years and counting. Our dealership has a plan in these difficult times we now face. We buy your good pre-owned vehicles at a fair price. We also offer a large inventory of cheap used cars and specials starting for $2000 or less. Open from Monday to Saturday. Sundays by appointment.
http://www.davisautomart.com
517-543-3750
520 Lansing St.
Charlotte, MI 48813
Rate this dealer prices
Lasco Ford
Elite Ford dealership serving Fenton, Flint, Brighton, and Howell for more than 30 years
We give Michigan Ford drivers a choice. Our Ford showroom is conveniently located for customers, many from Brighton Holly Waterford White Lake Highland Hartland Sterling Heights Troy Livonia. Our used Ford Detroit lot features our Certified Ford Michigan car that are always identified with a Certified Ford Detroit logo. Lasco Ford has an inventory of over 250 pristine used cars starting for $5000 or less.
http://lascoford.com/
888-486-1708
2525 Owen Road
Fenton, MI 48430
Rate this dealer prices
Carco Wholesale
If we don't have the vehicle of your dreams we'll find it. We are a wholesale distributor of used vehicles, which means 90% of our business consists of dealer to dealer transactions. Take advantage of our pricing, almost all of our vehicles are the lowest in each category.
http://www.carcowholesale.com
It seems this dealer is out of business
586-822-9955
265 N Gratiot Ave.
Mt. Clemens, MI 48043
Rate this dealer prices
Find cheap car dealers near you live
Get Listed In This Directory
If you own a car dealer in Michigan or you're the Internet person in charge, and would like to list it in this directory where we gather the Michigan dealers selling real cheap cars, please send us a request, specifying the web address of your company, and a brief intro or text describing it. Our only request is that a good amount of cars for sale for $5000 or less are part of your inventory. If you would also like to post your vehicles on our database and search results, just let us know it, and we'll do the hard job. So, if you sell good used cars at low prices in Michigan, sign up with us and we'll help you sell them for FREE.