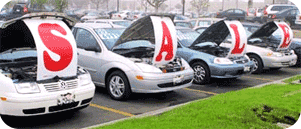 Wondering where you can get a dirt cheap used car in California that costs around $1000, $2000, $5000 dollars or less? If so, we've gathered in this directory some of the dealers from California selling pre-owned cars, trucks, SUVs, pickups trucks, and minivans at really low prices, so that you can visit and dig into their online inventories directly, or give them a phone call to ask them if they have available or can find for you the vehicle you are searching for in California at the price you can afford. You can also check the list of cars for sale in California posted on our search results.

Vehicles By State
Find cheap car dealers near you live
Nat Auto Sales
Located in Long Beach, the hear of Los Angeles County, Nat Auto Sales has become in the favorite dealerships of California for those looking for good affordable and cheap cars under $10000. They offer finance to their clients and a vast of cars, trucks and SUVs for sale from all makes and models.
http://www.natautos.com/
562-218-5757
1169 E. Pacific Coast Highway
Long Beach, CA 90806
Rate this dealer prices
R MotorSports
Performance & Luxury Automobiles
Looking for quality cheap cars at unbeatable prices in California? R MotorsSport dealership have all of them in Baldwin Park. Search in their inventory of more than 50 used cars under $5000 and more than 100 for under $10000. In total this dealer has to offer you more than 300 used cars for bargain prices, enough reason to be part of the cheapest car dealerships directory.
http://www.r-motorsports.net
626-498-0307
13853 Garvey Ave.
Baldwin Park, CA 91706
Rate this dealer prices
Family owned and operated. We sell good used cars at great prices and we always have several vehicles under $5,000! All vehicles are clean, reliable and ready to go. If you are looking for a good economical vehicle give us a call at 707-917-1967, or visit us on the web boardwalkmc.com.
http://www.boardwalkmc.com
707-917-1967
1525C Holiday Lane
Fairfield, CA 94534
Rate this dealer prices
Americans Auto
Americans Auto offers only nice cars for very low prices in the California area
They accept payments by bank account and most of their cars are sold with no electrical, engine or defective problems. Check its large inventory of cheap cars for sale under $5000 if is that what you're looking for.
http://www.americansauto.net/
972-994-6760
885 Celestine Cir
Vacaville, CA 95687
Rate this dealer prices
Around 400 cheap cars under $8000
Our Public Auction opens at 8:30am every Saturday. All used cars are available for sale Sunday - Friday for the "Buy Now" price. Clearance Sale Sunday - Friday & Public Auction Every Saturday. Inventory is updated daily.
http://www.blokauto.com
888-425-6528
14720 S Main St.
Garden, CA 90248
Rate this dealer prices
Santa Ana Auto Center
The Best Deals, Service & Easiest Finance
Santa Ana Auto Center is one the cheapest dealerships in California where everyone looking for cheap used cars for sale between $5000 and under $10000 get automatically approved to buy a car with low payments and no matter if you have no credit, no licence or a good credit. For anyone looking for an affordable car in Santa Ana, CA we truly recommend you visit this dealership.
http://www.santaanaautocenter.net/
714-835-7830
1223 W 17th St.
Santa Ana, CA 92706
Rate this dealer prices
Find cheap car dealers near you live
Get Listed In This Directory
If you own a car dealer in California or you're the Internet person in charge, and would like to list it in this directory where we gather the California dealers selling real cheap cars, please send us a request, specifying the web address of your company, and a brief intro or text describing it. Our only request is that a good amount of cars for sale for $5000 or less are part of your inventory. If you would also like to post your vehicles on our database and search results, just let us know it, and we'll do the hard job. So, if you sell good used cars at low prices in California, sign up with us and we'll help you sell them for FREE.