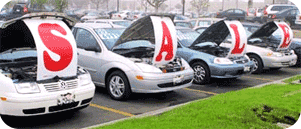 Wondering where you can get a dirt cheap used car in Kentucky that costs around $1000, $2000, $5000 dollars or less? If so, we've gathered in this directory some of the dealers from Kentucky selling pre-owned cars, trucks, SUVs, pickups trucks, and minivans at really low prices, so that you can visit and dig into their online inventories directly, or give them a phone call to ask them if they have available or can find for you the vehicle you are searching for in Kentucky at the price you can afford. You can also check the list of cars for sale in Kentucky posted on our search results.

Vehicles By State
Find cheap car dealers near you live
Owensboro's Best Pre-Owned Selection
With 2 stores in Owensboro (Daviess County), at the West of Kentucky, and located less than two hours away from Louisville, Champion-Ship Auto Sales is a used car dealer that stands out for having a dedicated stuff that will make sure you get the vehicle you love in their huge inventory of around 150 nice affordable vehicles that frequently start as low as $1000 or less, and many of them don't exceed the $5000 dollars. Champion-Ship Auto Sales also serves Evansville (Indiana), and Henderson.
http://www.championshipautos.com
270-683-6885
4040 Frederica Street
Owensboro, KY 42301
Rate this dealer prices
Welcome Lexington, Winchester & Georgetown shoppers!
Located less than half hour away from Lexington, Dan Cummins stands out for providing the best car buying experience and the lowest prices on the entire area. With an inventory of nearly 900 vehicles, surely you will find that comfortable and economical sedan or truck you are searching for less than $2000 dollars. Get pre-approved in seconds.
http://www.dancummins.com/
859-340-1655
1020 ByPass Rd
Paris, KY 40361
Rate this dealer prices
Ken's Autos
Where Business is Great!
Ken's Autos has been selling quality cheap used cars and trucks over 45 years! We have an excellent selection of pre-owned vehicles for you to choose from. Just a short drive from Lexington, Winchester or Georgetown to check all these good deals at prices under $10k mostly.
http://www.kensautos.net/
859-987-0770
1801 S. Main St.
Paris, KY 40361
Rate this dealer prices
Find cheap car dealers near you live
Get Listed In This Directory
If you own a car dealer in Kentucky or you're the Internet person in charge, and would like to list it in this directory where we gather the Kentucky dealers selling real cheap cars, please send us a request, specifying the web address of your company, and a brief intro or text describing it. Our only request is that a good amount of cars for sale for $5000 or less are part of your inventory. If you would also like to post your vehicles on our database and search results, just let us know it, and we'll do the hard job. So, if you sell good used cars at low prices in Kentucky, sign up with us and we'll help you sell them for FREE.