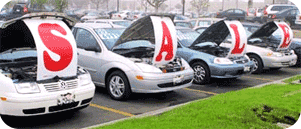 Wondering where you can get a dirt cheap used car in Texas that costs around $1000, $2000, $5000 dollars or less? If so, we've gathered in this directory some of the dealers from Texas selling pre-owned cars, trucks, SUVs, pickups trucks, and minivans at really low prices, so that you can visit and dig into their online inventories directly, or give them a phone call to ask them if they have available or can find for you the vehicle you are searching for in Texas at the price you can afford. You can also check the list of cars for sale in Texas posted on our search results.

Vehicles By State
Find cheap car dealers near you live
Serving the greater houston area for over 25 years
We are a well established used car dealership in Houston, Texas for over 24 years. We specialize in high quality pre owned cars, trucks, vans and SUVs that are carefully hand selected. Contact us today for a low priced vehicle with cash or even to get approved with our special buy here pay here financing where your job is your credit!
http://www.goodyear-motors.com
713-861-2556
2716 N. Shepherd Drive
Houston, TX 77008
Rate this dealer prices
We'll show you how easy it is to buy a quality used car priced to fit your budget
Friendly and knowledgeable sales staff will help you find the car you deserve. Your buying experience is our number one priority. Find the right car at the right price. We are located one hour or less away from Houston.
http://smilesautosales.com/
281-205-7100
102 E. Main St.
Tomball, TX 77375
Rate this dealer prices
Offering quality pre-owned cars, used trucks, and classy SUVs for over 30 years!
John Parker Auto Sales is the car dealer you need to visit if you are in the search of a used good looking car for a cheap price in North Houston, The Heights and surrounding areas. John Parker Auto Sales has on their inventory all kind of vehicles as a trucks, SUVs, minivans, sports cars, convertibles, pickups, etc, mostly priced under $10000 and most of them in mint-condition and full of toys and custom features. If you are looking for a dealer where its owners has a good taste for cars, John Parker is the right choice.
http://www.johnparkermotors.com
800-413-672
2521 N. Shepherd Dr.
Houston, TX 77008
Rate this dealer prices
Car Guys of Houston
Providing excellent in customer service and sales for over 11 years
Car dealer company established in 2002. We provide Quality vehicles. Our specialty is in the area Auto sales. We take pictures and add new cars on the internet almost everyday, and mark cars sold throughout the day. We always take care of our customers, and have an inventory of over 100 vehicles starting for $2000 or less.
http://car-guys-houston.ebizautos.com
866-933-8817
1359 Hugh Rd.
Houston, TX 77067
Rate this dealer prices
Texoma Hyundai
Home of the YES MEN! We say YES when other dealers say No!
We're a new Texomaland dealership. With our all-new facilities, our incredible line of award-winning vehicles and an outstanding selection of fine used cars, we are ready to help you find your next car and be your dealer-for-life. We have an inventory of over 1500 used cars starting for as low as $1000 or less.
http://www.texomahyundai.com
888-832-5573
2500 Texoma Parkway
Sherman, TX 75090
Rate this dealer prices
PAACO Automotive
Best in quality and affordable in pricing.
PAACO Automotive Group is a used car dealership in Longview, TX. Here at PAACO, we pride ourselves on providing personalized service, as well as the best used cars in the Longview area.
https://paaco.com/locations/longview/
903-242-8800
1411 W Marshall Ave
Longview, TX 75604
Rate this dealer prices
Find cheap car dealers near you live
Get Listed In This Directory
If you own a car dealer in Texas or you're the Internet person in charge, and would like to list it in this directory where we gather the Texas dealers selling real cheap cars, please send us a request, specifying the web address of your company, and a brief intro or text describing it. Our only request is that a good amount of cars for sale for $5000 or less are part of your inventory. If you would also like to post your vehicles on our database and search results, just let us know it, and we'll do the hard job. So, if you sell good used cars at low prices in Texas, sign up with us and we'll help you sell them for FREE.