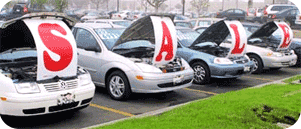 Wondering where you can get a dirt cheap used car in Kansas that costs around $1000, $2000, $5000 dollars or less? If so, we've gathered in this directory some of the dealers from Kansas selling pre-owned cars, trucks, SUVs, pickups trucks, and minivans at really low prices, so that you can visit and dig into their online inventories directly, or give them a phone call to ask them if they have available or can find for you the vehicle you are searching for in Kansas at the price you can afford. You can also check the list of cars for sale in Kansas posted on our search results.

Vehicles By State
Find cheap car dealers near you live
Discount Auto, Inc
Founded on trust, integrity, and respect!
DiscountAuto, Inc is a car dealer located in Wichita KS, and specialized in selling economical used cars. This is the perfect choice for those looking for where to buy a car under $5000 dollars, as their inventory is full of them. What about a GMC Sierra pickup for $1,600? or a Nissan Sentra for less than $2,000? Well, the most probably is that you can get them here.
http://www.discountautos4u.com
316-821-9905
4035 N Hydraulic St.
Wichita, KS 67219
Rate this dealer prices
Wally's Auto Sales
With more than 150 vehicles on its inventory and about 100 of them for sale under $10000, Wally's Auto Sales is one of the car dealer in Wichita KS, you MUST visit or call when you are looking for an affordable used car. What about a Lincoln TownCar for $2,000? or a Chevrolet S-10 pickup for $1,999? Wally's Auto Sales have them in that price range.
http://www.wallysautosalesks.com/
It seems this dealer is out of business
316-832-2222
5360 N. Broadway
Wichita, KS 67219
Rate this dealer prices
Dan Wedel & Sons Auto Sales
Half price trucks whole sale cars!. We hope you will come see us and find the car of your dream here. We try to go the exra mile to please our customers. We are a family owned and operated business our motto is "get er done". Find many cheap cars under $5000 in its inventory.
http://www.wedelautosales.com
It seems this dealer is out of business
888-317-5987
31 SE 100th
Leon, KS 67074
Rate this dealer prices
Eddy's Toyota
With around 800 new and used cars in its inventory and more than 40 years in the business, Eddy's Toyota, located in Wichita, Kansas, is one of the biggest car dealers in the city. What does that mean? You will get the best customer service and the best guaranteed and reliable vehicles that you can drive with total confidence. Eddy's Toyota offers around 40 vehicles for less than $10,000 in excellent condition and sell vehicles to customers from Clearwater, Derby, Mulvane, Haysville, Goddard, Andover, Topeka, Maize, Valley Center, Augusta, Salina, Emporia, Hutchinson, Hays, Dodge City and Liberal.
http://www.eddystoyota.com/
888-277-1623
7333 East Kellogg
Wichita, KS 67207
Rate this dealer prices
Subaru of Wichita
There's a whole lot to love at the new Subaru of Wichita!
With around 600 new and used cars and over 50 for sale under $10,000, Suzuki of Wichita dealership probably has the car you want in the best condition for a fairly price. A friendly and knowledgeable staff will take care of you on your car search in Kansas. With Suzuki of Wichita you can be sure you will get your money back if the car they sold you doesn't meet your requirement.
http://www.ridehomehappy.com/
888-559-4277
11610 E. Kellogg
Wichita, KS 67207
Rate this dealer prices
Find cheap car dealers near you live
Get Listed In This Directory
If you own a car dealer in Kansas or you're the Internet person in charge, and would like to list it in this directory where we gather the Kansas dealers selling real cheap cars, please send us a request, specifying the web address of your company, and a brief intro or text describing it. Our only request is that a good amount of cars for sale for $5000 or less are part of your inventory. If you would also like to post your vehicles on our database and search results, just let us know it, and we'll do the hard job. So, if you sell good used cars at low prices in Kansas, sign up with us and we'll help you sell them for FREE.