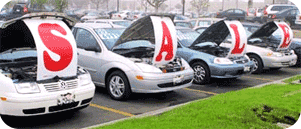 Wondering where you can get a dirt cheap used car in Illinois that costs around $1000, $2000, $5000 dollars or less? If so, we've gathered in this directory some of the dealers from Illinois selling pre-owned cars, trucks, SUVs, pickups trucks, and minivans at really low prices, so that you can visit and dig into their online inventories directly, or give them a phone call to ask them if they have available or can find for you the vehicle you are searching for in Illinois at the price you can afford. You can also check the list of cars for sale in Illinois posted on our search results.

Vehicles By State
Find cheap car dealers near you live
The largest Dodge, Chrysler & Jeep dealership in Chicago family owned and operated
South Chicago has a continual inventory of nearly 200 pre-owned vehicles that usually start at prices for under $1000 dollars up to $30000. Whether you're looking for a new or used Dodge, Chrysler or Jeep, South Chicago is where you have to go to get the deal you want. Open from Monday To Saturday from 9am to 9pm. Saturdays closes at 7pm. Enjoy special vehicle offers every day.
http://www.southchicagododgechryslerjeep.com/
888-913-6572
7340 S. Western Ave
Chicago, IL 60636
Rate this dealer prices
The Power of Surprise
We have a strong and committed sales staff with many years of experience satisfying our customers' needs in the Bradley, Illinois area and neighbors to Indian Oaks, Bourbonnais, and Kankakee, we will help you find the right car for your unique needs.
http://www.kiaofbradley.com/
888-641-6811
1010 Tighe Drive
Bradley, IL 60915
Rate this dealer prices
Ray Dennison Chevrolet Pekin
We're here to help you buy the used vehicle that's right for you
Are you looking for the car, SUV, or truck that will surpass all of your expectations? You'll find just that!. We sell the best used cars at the lowest prices and treat our customers with respect. We're your source for new and cheap used Chevrolet cars. We're one of Illinois highest volume Chevrolet dealers.
http://www.raydennisonusedcars.com/
309-347-3101
2320 N 8th St.
Pekin, IL 61554
Rate this dealer prices
South Chicago Auto Auction
Huge amount of vehicles for less than $10,000!
Amazing! This is the king of the cheapest cars for sale dealers. All of them are specials. You won't find another place offering hundreds of cars for sale under $10000. Its inventory includes more than 500 cheap cars for sale.
http://www.southchicagoautoauctionofharvey.com/
708-331-5533
396 Sibley Blvd
Harvey, IL 60426
Rate this dealer prices
Ray Dennison Chevrolet
Winner of the Mark of Excellence award
Your Ride, Your Way. We are to proud to be the only Central Illinois (Bloomington, Pekin, Morton, Normal, Washington, Eureka, Dunlap, Peoria, and East Peoria) Chevrolet Dealer to have earned the 2006 Mark of Excellence Award for Sales and Service customer satisfaction excellence. Cheap cars from this dealership starts from under $500.
http://www.raydennisonchevy.net/
866-574-3640
2320 N 8th St.
Pekin, IL 61554
Rate this dealer prices
Nelson Automotive
Your Mount Prospect and all of Chicagoland dealer.
Nelson Automotive is a small independent used car dealership located in the Northwest Suburbs of Chicago. They have the sales and purchasing expertise to get you the car or truck you want, at the best possible price. Nelson Automotive is a different kind of dealer!
http://www.heycars.com/
847-439-2277
1801 S. Busse Rd.
Mount Prospect, IL 60056
Rate this dealer prices
Find cheap car dealers near you live
Get Listed In This Directory
If you own a car dealer in Illinois or you're the Internet person in charge, and would like to list it in this directory where we gather the Illinois dealers selling real cheap cars, please send us a request, specifying the web address of your company, and a brief intro or text describing it. Our only request is that a good amount of cars for sale for $5000 or less are part of your inventory. If you would also like to post your vehicles on our database and search results, just let us know it, and we'll do the hard job. So, if you sell good used cars at low prices in Illinois, sign up with us and we'll help you sell them for FREE.