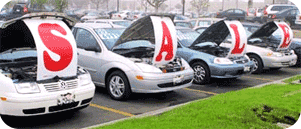 Wondering where you can get a dirt cheap used car in Minnesota that costs around $1000, $2000, $5000 dollars or less? If so, we've gathered in this directory some of the dealers from Minnesota selling pre-owned cars, trucks, SUVs, pickups trucks, and minivans at really low prices, so that you can visit and dig into their online inventories directly, or give them a phone call to ask them if they have available or can find for you the vehicle you are searching for in Minnesota at the price you can afford. You can also check the list of cars for sale in Minnesota posted on our search results.

Vehicles By State
Find cheap car dealers near you live
Family owned local business dedicated to serving you.
A father & son team bring you the best selection of used cars for rock bottom prices. Rotter Auto Sales offers a large selection of pre-owned vehicles at prices under $10000. If they don't have it, they'll find it! They also accept consignments. Let them sell your car for you. They accept trades, offer financing, extended warranties and have a mechanic on site.
http://www.rotterauto.com
763-703-4912
132 19th Street SW
Forest Lake, MN 55025
Rate this dealer prices
Affordable used cars & trucks!
Bob's Auto Ranches offers an extensive inventory of over 150 used cars, trucks, SUV, pickups and minivans with affordable low prices starting for less than $1000 dollars. They are located in the city of Lino Lakes and also buy and trade vehicles at the minimum prices. If you are wondering where to buy a used car for under $5000 dollars in Minnesota, Autopten strongly suggest to visit them personally to see its entire inventory.
http://www.bobsautoranch.com/
651-483-5246
6020 Hodgson Road
Lino Lakes, MN 55014
Rate this dealer prices
EZ Auto
Largest independent used auto retailer in Anoka
EZ Auto has been on business over 10 years in the same location. They offer great prices, low cost warranties and multiple financing options. Doing a short trip from Minneapolis you can find an inventory of nearly 50 vehicles, all of them for $10k or less, and many under $5000.
http://www.ezautomn.com
612-250-0085
7751 Hwy 10 NW
Ramsey, MN 55303
Rate this dealer prices
BTB Autos
We offer a large selection of quality cheap used cars. With great financing options everyday. We are looking forward to hearing from you and getting you into the vehicle that fits your needs as well as your wallet. Find many cheap cars for sale under $5000.
http://www.btbautos.net
It seems this dealer is out of business
952-884-1049
9301 Lyndale Ave S
Bloomington, MN 55420
Rate this dealer prices
Quality Auto Sales
They are a small family car owned dealership specializing in cheap cars and trucks priced under $10,000. Each car of its inventory is hand picked and they strive to be the "Home Of The Nice Ones" in MN. They are 3 miles East of Foley MN and 10 miles West of Milaca.
http://www.qualityautosalesmn.com/
It seems this dealer is out of business
888-220-1222
14414 78th St. NE
Foley, MN 56329
Rate this dealer prices
Experience The Difference
With an inventory of nearly 150 pre-owned vehicles starting at prices for $2000 or less, Rochester Ford is the dealership you need to visit to see a great selection of today's most popular new Ford and pre-owned vehicles. Open from Monday to Saturday. One of the best groups of automotive experts in the business are ready to serve you in your automotive needs.
http://www.rochesterford.com/
866-468-7046
4900 HWY 52 North
Rochester, MN 55901
Rate this dealer prices
Find cheap car dealers near you live
Get Listed In This Directory
If you own a car dealer in Minnesota or you're the Internet person in charge, and would like to list it in this directory where we gather the Minnesota dealers selling real cheap cars, please send us a request, specifying the web address of your company, and a brief intro or text describing it. Our only request is that a good amount of cars for sale for $5000 or less are part of your inventory. If you would also like to post your vehicles on our database and search results, just let us know it, and we'll do the hard job. So, if you sell good used cars at low prices in Minnesota, sign up with us and we'll help you sell them for FREE.