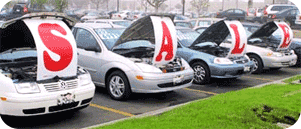 Wondering where you can get a dirt cheap used car in Nebraska that costs around $1000, $2000, $5000 dollars or less? If so, we've gathered in this directory some of the dealers from Nebraska selling pre-owned cars, trucks, SUVs, pickups trucks, and minivans at really low prices, so that you can visit and dig into their online inventories directly, or give them a phone call to ask them if they have available or can find for you the vehicle you are searching for in Nebraska at the price you can afford. You can also check the list of cars for sale in Nebraska posted on our search results.

Vehicles By State
Find cheap car dealers near you live
Simply The Best Autos
Affordable Cars For Real People!
Lincoln Nebraska's premier used and truck dealership. Simply the best cars offers on BMW, Chevrolet, Chrysler, Buick, Dodge, Jeep, Ford, GMC, Honda, Hyundai, Nissan, Toyota, Trucks, Sports Utility, SUV, etc. Excellent prices on full-size, midsize and, compacts vehicles, as well as vans, minivans, sedans, convertibles, crossovers, and coupes. Nearly 100 pre-owned vehicles starting for $2000 or less.
http://www.simplythebestautos.com
402-465-4651
4650 Cornhusker Highway
Lincoln, NE 68504
Rate this dealer prices
Quality Motors
Located at just minutes away from Highways I-80 and I-480, Quality Motors is the auto dealer you have to visit in you are looking where to buy a used cheap car in the city of Omaha, Nebraska. This dealer has a nice selection of pre-owned car priced at the most low and affordable prices that you won't find in any other place in Omaha. Its inventory prices starts for less than $2,000 and has many more inexpensive vehicles priced for under $5000.
http://cars.com/qualitymotorsomaha/
It seems this dealer is out of business
866-616-5013
6154 L Street
Omaha, NE 68117
Rate this dealer prices
L.A. Auto Sales
Come See Why People Buy and Drive Today!
Great cars at great prices. Family owned and operated car dealership. They have been serving the Omaha Community for over 18 years. They specialize in credit rehabilitation, and offer several other special financing programs to everyone, even if you have bad credit. Their car inventory has a bunch of used cars under $10000.
http://www.laautos.net/
402-592-7887
7700 L St.
Omaha, NE 68127
Rate this dealer prices
Find cheap car dealers near you live
Get Listed In This Directory
If you own a car dealer in Nebraska or you're the Internet person in charge, and would like to list it in this directory where we gather the Nebraska dealers selling real cheap cars, please send us a request, specifying the web address of your company, and a brief intro or text describing it. Our only request is that a good amount of cars for sale for $5000 or less are part of your inventory. If you would also like to post your vehicles on our database and search results, just let us know it, and we'll do the hard job. So, if you sell good used cars at low prices in Nebraska, sign up with us and we'll help you sell them for FREE.