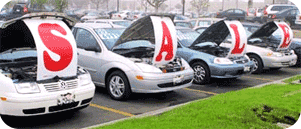 Wondering where you can get a dirt cheap used car in Arizona that costs around $1000, $2000, $5000 dollars or less? If so, we've gathered in this directory some of the dealers from Arizona selling pre-owned cars, trucks, SUVs, pickups trucks, and minivans at really low prices, so that you can visit and dig into their online inventories directly, or give them a phone call to ask them if they have available or can find for you the vehicle you are searching for in Arizona at the price you can afford. You can also check the list of cars for sale in Arizona posted on our search results.

Vehicles By State
Find cheap car dealers near you live
Dedicated sales staff are here to make your auto shopping experience simple and fun
Day N Night Auto is committed to providing you with the most satisfying sales and ownership experience possible. Our 30 years of experience in the industry has taught us a lot about how people perceive the car buying experience. We take pride in the reconditioning of every used vehicle we sell with a thorough safety inspection, CARFAX report & emission test. Serving all of Arizona including the Phoenix Metropolitan Area, Northern Arizona and Tucson.
http://www.daynnightautogroup.com
480-292-8343
2121 S. Priest Dr. Suite 107
Tempe, AZ 85282
Rate this dealer prices
Dynamite Auto Sales
Wondering where to find good cheap cars in Arizona for less than $5000?
Dynamite Auto Sales, a pre-owned dealer located in Phoenix, offers great deals on domestic and foreign used cars, SUVs and minivans. If you live in Glendale, Buckeye, Scottsdale, Mesa, Gilbert, Chandler or Casa Grande, this is the dealer you need to visit, if you really want to buy an affordable car right now. Visit them, and realize why their review score at cars.com is 5 over 5.
http://www.dynamiteautosales.com
602-528-0848
3050 E Van Buren
Phoenix, AZ 85008
Rate this dealer prices
Camelback Ford
Honored by our faithful clientele and dedicated to top quality customer service
Come to Camelback Ford dealer, and realized by yourself why their customer just love them, thanks to their great service, great location and store, and the most important, their great used car deals. Camelback Ford will offer you more than 60 quality cheap cars for sale under $10000 in their inventory. Honest communication, hard work and low prices are the promises of the highly recommended dealership.
http://www.camelbackford.com/
866-956-5094
330 E. Camelback Road
Phoenix, AZ 85014
Rate this dealer prices
Avondale Autocenter
For over 30 years in the valley, serving all the Arizona state
Wondering where to find some specials and good car deals in Avondale? If so, visit to Avondale Autocenter, a dealer located in the valley of Arizona with over 30 years offering a good service and the best prices. Going to Avondale Autocenter you will have the opportunity to check an inventory of more than 50 cars under $10,000. If no idea where to look for the cheapest Arizona used cars, Avondale is one of the dealers you need to go.
http://www.avondaleautocenter.com
623-932-1234
15 W. Van Buren
Avondale, AZ 85323
Rate this dealer prices
West Coast Auto Sales, Inc
If you are looking where to buy or search for cheap luxury cars in Arizona, West Coast Auto Sales is the perfect dealer for you. What about some BMW's in great condition at prices under $5000 dollars? West Coast Auto Sales have them, as well as many Cadillac's, Mercedes and more fantastic quality, luxury and sports cars for sale at the most affordable prices in Phoenix.
http://www.westcoastautosalesinc.com/
602-944-2926
9239 N Cave Creek Rd.
Phoenix, AZ 85020
Rate this dealer prices
New Deal Used Cars
Over 150 vehicles all priced UNDER $10,000
New Deal Used Cars is Arizona's Largest Independent Used Car Dealer serving all of Glendale, Peoria, Phoenix, Mesa, Scottsdale, Avondale, Goodyear, Chandler and the entire state. All cars are Under $10,000. In addition we always have over 50 cheap cars under $5,000. New cars arrive daily!
http://www.phoenixusedauto.com
623-931-1030
4609 W Glendale Ave.
Glendale, AZ 85301
Rate this dealer prices
Aaron Automotive Group
Building Customers For Life! A huge inventory of quality used cars, trucks, SUVs and minivans is waiting for you if you are looking where to buy a cheap car in Glendale, Arizona. Aaron Automotive Group has an inventory or more than 20 good affordable cars for sale under $10,000. They speak spanish and has different great deals every everyweek.
http://www.aaronautogroup.com
623-934-0082
700 W. Glendale Ave.
Glendale, AZ 85301
Rate this dealer prices
Find cheap car dealers near you live
Get Listed In This Directory
If you own a car dealer in Arizona or you're the Internet person in charge, and would like to list it in this directory where we gather the Arizona dealers selling real cheap cars, please send us a request, specifying the web address of your company, and a brief intro or text describing it. Our only request is that a good amount of cars for sale for $5000 or less are part of your inventory. If you would also like to post your vehicles on our database and search results, just let us know it, and we'll do the hard job. So, if you sell good used cars at low prices in Arizona, sign up with us and we'll help you sell them for FREE.