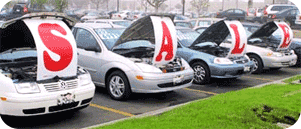 Wondering where you can get a dirt cheap used car in Colorado that costs around $1000, $2000, $5000 dollars or less? If so, we've gathered in this directory some of the dealers from Colorado selling pre-owned cars, trucks, SUVs, pickups trucks, and minivans at really low prices, so that you can visit and dig into their online inventories directly, or give them a phone call to ask them if they have available or can find for you the vehicle you are searching for in Colorado at the price you can afford. You can also check the list of cars for sale in Colorado posted on our search results.

Vehicles By State
Find cheap car dealers near you live
The biggest little dealer in Colorado where you get guaranteed financing!
McManus Motors has two locations in Colorado, one in Wheat Ridge and the other one in Golden, both located minutes away from Denver. They also offer insurance for all your needs. McManus Motors specializes in selling nice used cars at very low prices for the Colorado residents.
http://www.mcmanusmotors.com/
303-425-8707
4775 Harlan Street
Wheat Ridge, CO 80033
Rate this dealer prices
Low overhead equals low prices!
Auto Warehouse has served Fort Collins for over 8 years, This dealer doesn't have a large facility or large expenses, and that's why they are able to offer you an inventory of nearly 100 vehicles, many of them at prices for $5000 or less. Auto Warehouse is located less than an hour away from North Denver. They also offer customer service in Spanish.
http://www.giantautowarehouse.com/
970-490-2886
2019 N. College Ave
Fort Collins, CO 80524
Rate this dealer prices
Licensed and bonded dealership that doesn't care about your credit score
Unlimited Motors is an advantage Carfax dealer. They has an inventory of approximately 50 vehicles mostly priced between $2000 and $20000, are open from Monday to Saturday, and is one of our recommended dealers in case you are looking for good used cars at affordable prices in the center of Denver, Colorado.
http://www.showroomrides.com/
720-515-6686
1395 South Broadway
Denver, CO 80210
Rate this dealer prices
Massa Auto Pawn & Sales
Good Cars! Great Prices!
Quality used cars under $2000 call for availability. Easy payments and easy plans. Five Locations to serve you! We want everyone to know what an 'auto pawn' is and why it could be the best place for you to get large amounts of short-term cash cars.
http://www.massapawn.com/
It seems this dealer is out of business
800-709-7296
7801 W. Colfax Ave
Lakewood, CO 80214
Rate this dealer prices
Essex South
Drive the rest, then buy the best!
Located in Longmont, Colorado, Essex South is a family operated car dealer specialized in selling quality used car at very affordable prices. On its inventory you will find a good amount of cars for sale under $10000, and some under $5000. All their vehicles are inspected and they Credit Union financing for all credit situations. Wondering where to find an Audi A4 under $2000? Well, Essex South auto dealer has it.
http://www.esouthonline.com/
303-678-8158
1135 South Main
Longmont, CO 80501
Rate this dealer prices
Auto Liquidators
Why Pay Retail? Ad price is cash price only
All credit applications are accepted!! We will work with all credit situations!!! In Auto Liquidators inventory you will find many cheap cars under $3000 and many more under $5000.
http://www.whypayretailco.com/
It seems this dealer is out of business
888-322-1391
1331 South Tejon St.
Colorado Springs, CO 80905
Rate this dealer prices
Find cheap car dealers near you live
Get Listed In This Directory
If you own a car dealer in Colorado or you're the Internet person in charge, and would like to list it in this directory where we gather the Colorado dealers selling real cheap cars, please send us a request, specifying the web address of your company, and a brief intro or text describing it. Our only request is that a good amount of cars for sale for $5000 or less are part of your inventory. If you would also like to post your vehicles on our database and search results, just let us know it, and we'll do the hard job. So, if you sell good used cars at low prices in Colorado, sign up with us and we'll help you sell them for FREE.