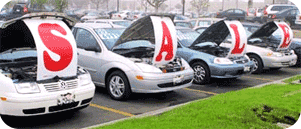 Wondering where you can get a dirt cheap used car in New Hampshire that costs around $1000, $2000, $5000 dollars or less? If so, we've gathered in this directory some of the dealers from New Hampshire selling pre-owned cars, trucks, SUVs, pickups trucks, and minivans at really low prices, so that you can visit and dig into their online inventories directly, or give them a phone call to ask them if they have available or can find for you the vehicle you are searching for in New Hampshire at the price you can afford. You can also check the list of cars for sale in New Hampshire posted on our search results.

Vehicles By State
Find cheap car dealers near you live
PB's Auto Village
Selling the best pre-owned quality vehicles!
PB's Auto Village has been a family owner and operated used car dealer for over 40 years, offering a wide selection of quality vehicles that are fully serviced by an in-house certified mechanic. They are located in Hampton Falls, at the East cost of the country, about 30 minutes away from Mnchester, and currently has an inventory of nearly 100 vehicles starting at $1000 or less, and over 70% of them, for less than $10k. They also offer in-house financing at ow rates, and buy all type of vehicles. This dealer is open the seven days of the week, from Monday to Monday.
http://www.pbsautovillage.com/
603-926-9500
126 Lafayette Road
Hampton Falls, NH 03844
Rate this dealer prices
The Truck, Van & SUVs Specialists!
Family owned and operated car dealer with an excellent accreditation in the Better Business Bureau. Selling used cars since 1983 at the most affordable prices in Epsom NH. Tim's Truck Capital & Auto has an entire inventory of nearly 200 pre-owned vehicles from all types at prices starting for $2000 or less. Need a Ford Explorer SUV for less than $1500 or $2000, probably they have it.
http://www.timstruckcapital.com
603-736-8143
904 Suncook Valley Highway
Epsom, NH 03234
Rate this dealer prices
Hampton Hyundai
Hello folks and welcome to Hampton Ford Hyundai. Our team are here to provide you with an exceptional buying experience. We are dedicated to complete customer satisfaction and building long term relationships. If you are planning to buy or lease a new, used, or certified, pre-owned Hyundai car or SUV, Hampton Hyundai is the dealership you need to visit.
http://www.hyundaiguy.com
603-379-1215
177 Lafayette Rd.
North Hampton, NH 03862
Rate this dealer prices
Empire Automotive Group Inc.
This car dealership has been offering the best used car prices in the New England area since 2001. They are active members of the New Hampshire community and participate in many local charities and events. They promise to help you to find the the vehicle of your dreams at the best price.
http://www.empireautomotivegroup.com
It seems this dealer is out of business
866-321-3213
782 Gold Street
Manchester, NH 03103
Rate this dealer prices
McFarland Ford
Serving for over 50 years since 1957!
What we want most is to see you happy in your new car. We figure it doesn't matter how nicely you're treated if you just can't find the car you want. There are two dealerships in our family, making for one of the largest inventories in New Hampshire.
http://www.mcfarlandford.com
603-772-5953
151 Portsmouth Ave.
Exeter, NH 03833
Rate this dealer prices
Find cheap car dealers near you live
Get Listed In This Directory
If you own a car dealer in New Hampshire or you're the Internet person in charge, and would like to list it in this directory where we gather the New Hampshire dealers selling real cheap cars, please send us a request, specifying the web address of your company, and a brief intro or text describing it. Our only request is that a good amount of cars for sale for $5000 or less are part of your inventory. If you would also like to post your vehicles on our database and search results, just let us know it, and we'll do the hard job. So, if you sell good used cars at low prices in New Hampshire, sign up with us and we'll help you sell them for FREE.