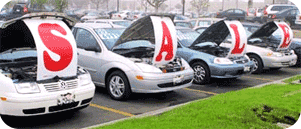 Wondering where you can get a dirt cheap used car in Georgia that costs around $1000, $2000, $5000 dollars or less? If so, we've gathered in this directory some of the dealers from Georgia selling pre-owned cars, trucks, SUVs, pickups trucks, and minivans at really low prices, so that you can visit and dig into their online inventories directly, or give them a phone call to ask them if they have available or can find for you the vehicle you are searching for in Georgia at the price you can afford. You can also check the list of cars for sale in Georgia posted on our search results.

Vehicles By State
Find cheap car dealers near you live
Olympic Auto Sales
Friendly and experienced staff in the automotive industry
Wondering where to find the cheapest cars for sale in Georgia? Olympic Auto Sales has a bunch of them. Get impressed with their low used car prices inventory, most of them for under $5000. If you are around Decatur looking to buy a used car for the most affordable possible price, Olimpic Auto Sales in the right choice. Interested in a Volvo 960 for less than $1000? They have it.
http://www.olympicautoga.com/
404-299-6566
4568 Memorial Dr.
Decatur, GA 30032
Rate this dealer prices
Car Buying Made Easy!
If you are one of those who think that local dealers sell at more expensive prices, you should visit then Easy Auto Sales. Located just 30 minutes away from west Atlanta and with an inventory of about 150 used cars with very low prices starting for under $1000 up to $20,000, Easy Auto Sales, as they say, is the dealer that will make your car buying experience, easy!
http://www.ezga.net/
770-456-0900
1509 West Hwy 78
Villa Rica, GA 30180
Rate this dealer prices
A better car at a better price!
If you are looking where to buy a good quality used car at a low price with a little effort, you have to visit Auto Barn in Marietta, Georgia so. With an inventory full of affordable cars under $10000 only, you can be sure you they are going to find you a good reliable car at a price you can pay easily. All the used cars Auto Barn Atlanta sells, are verified by CarFax and AutoCheck. Good quality cars is what distinguishes to this Atlanta dealer.
http://www.autobarnatl.net/
404-474-0700
952 Roswell St.
Marietta, GA 30060
Rate this dealer prices
Ed Voyles Hyundai
Driving Value, Delivering Quality
Ed Voyles is a Hyundai dealership located in the area of Smyrna, GA, and specialized in selling used and new cars to the Atlanta and Marietta drivers. Ed Voyles stands out for selling quality Hyundai cars such as the Accent, Genesis, Santa Fe, Sonata, Elantra, Equus, Sonata Hybrid, etc. If you need one these model used or new, Ed Voyles will find them for you at the most affordabe prices.
http://www.edvoyleshyundaiatlanta.com/
678-444-4777
2135 Cobb Pkwy SE
Smyrna, GA 30080
Rate this dealer prices
Cortez Auto Sales
Serving the area of Atlanta and surrounding cities, Cortez Auto Sales with a good selection of used cars, trucks and SUV's at the most affordable prices will help you in the purchase of your next cars. Cortez Auto Sales highlights for having and inventory full of cheap cars for sale under $10000 and some under $5000 (Ford, Nissan, Toyota, Jeep, Chevrolet, etc). They cover all the brands and types.
http://www.cortezautosale.com/
404-399-3277
3640 Clairmont Rd.
Atlanta, GA 30341
Rate this dealer prices
Spartan Lincoln Mercury
The Jackson Family has been in business in the Atlanta Area for more than 42 years
South Atlanta's Premier Lincoln Mercury dealership. We specializes in a variety of fine used and cheap cars at some of the most competitive prices in Atlanta and the largest cars for sale inventory in the Southeast. You will be sure to find the car you are looking for!.
http://www.spartanlincolnmercury.com/
877-624-4094
122 Industrial Blvd.
McDonough, GA 30253
Rate this dealer prices
Ed Voyles Chrysler Jeep Dodge
We look forward to the opportunity to help you with your automotive needs.
Greater Atlanta used car lot includes cars from many major auto manufacturers. We carry quality used cars, trucks, sport utility vehicles and mini-vans for our Georgia customers. We're the Atlanta's cheap cars price leader! Our staff is ready to help you purchase a new Dodge, Jeep, Chrysler, or used car in the Atlanta region.
http://www.edvoyleschryslerjeep.net/
866-439-0943
789 Cobb Parkway S.E.
Marietta, GA 30060
Rate this dealer prices
Find cheap car dealers near you live
Get Listed In This Directory
If you own a car dealer in Georgia or you're the Internet person in charge, and would like to list it in this directory where we gather the Georgia dealers selling real cheap cars, please send us a request, specifying the web address of your company, and a brief intro or text describing it. Our only request is that a good amount of cars for sale for $5000 or less are part of your inventory. If you would also like to post your vehicles on our database and search results, just let us know it, and we'll do the hard job. So, if you sell good used cars at low prices in Georgia, sign up with us and we'll help you sell them for FREE.