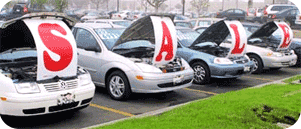 Wondering where you can get a dirt cheap used car in Mississippi that costs around $1000, $2000, $5000 dollars or less? If so, we've gathered in this directory some of the dealers from Mississippi selling pre-owned cars, trucks, SUVs, pickups trucks, and minivans at really low prices, so that you can visit and dig into their online inventories directly, or give them a phone call to ask them if they have available or can find for you the vehicle you are searching for in Mississippi at the price you can afford. You can also check the list of cars for sale in Mississippi posted on our search results.

Vehicles By State
Find cheap car dealers near you live
Proud to be one of the Ford premier dealerships in the area
Gray-Daniels Ford Auto Family, located in the city of Brandon, Mississippi, is one of the premier dealerships in the area. If you need an economy new or used Ford vehicle or service and part for your current car, visit them is a must. With a good enough inventory of used quality cars for sale and price under $10,000 Gray-Daniels is the dealership for those who like good and well-maintained things.
http://www.graydanielsford.com
877-299-8582
201 Octavia Drive
Brandon, MS 39042
Rate this dealer prices
The name you can count on!
Rogers-Dabbs Chevrolet is the Mississippi dealership you have to visit when you want to buy a high quality, well maintained and in excellent condition used car in the city of Brandon. With a sales, service, parts and financing departments, this dealership is experienced enough to make you car buying process an enjoyable, and easy experience. The cheapest car on their inventory of over 200 pre-owned vehicles, starts for $2000 or less.
http://www.rogersdabbs.com/
877-211-4220
1501 W Government St.
Brandon, MS 39042
Rate this dealer prices
East Honda
Located in Natchez, Mississippi. Part of the East Automotive Group. Serving new and used cars buyers that live in Mississippi, Louisiana, and surrounding areas. They service all makes and models and also have certified Honda trained technician's to service your Honda vehicle.
http://www.easthonda.com
It seems this dealer is out of business
888-735-0397
250 John R Junkin Dr.
Natchez, MS 39120
Rate this dealer prices
Natchez Ford Lincoln
Located in Natchez, Mississippi. Serving the Miss/Lou area since 1991. They can meet all of your local cheap used car needs as well...No matter what brand you're looking for! They offer a top notch parts and service department formed by professional advisors and technicians.
http://natchezford.com
601-445-0076
14 Sgt Prentiss Dr
Natchez, MS 39120
Rate this dealer prices
Find cheap car dealers near you live
Get Listed In This Directory
If you own a car dealer in Mississippi or you're the Internet person in charge, and would like to list it in this directory where we gather the Mississippi dealers selling real cheap cars, please send us a request, specifying the web address of your company, and a brief intro or text describing it. Our only request is that a good amount of cars for sale for $5000 or less are part of your inventory. If you would also like to post your vehicles on our database and search results, just let us know it, and we'll do the hard job. So, if you sell good used cars at low prices in Mississippi, sign up with us and we'll help you sell them for FREE.