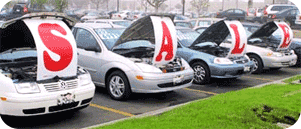 Wondering where you can get a dirt cheap used car in North Carolina that costs around $1000, $2000, $5000 dollars or less? If so, we've gathered in this directory some of the dealers from North Carolina selling pre-owned cars, trucks, SUVs, pickups trucks, and minivans at really low prices, so that you can visit and dig into their online inventories directly, or give them a phone call to ask them if they have available or can find for you the vehicle you are searching for in North Carolina at the price you can afford. You can also check the list of cars for sale in North Carolina posted on our search results.

Vehicles By State
Find cheap car dealers near you live
Elite Auto Sales
Free Carfax with every vehicle!
A+ Rating on the better business bureau. We offer free Carfax's available with every car. Specializing in cheap used cars priced from $3000 to $5000 for sale in Raleigh. Find in our inventory more than 50 cheap cars under $5000 from all makes and models.
http://www.elite-auto-sales.com
919-832-7060
3804 Fayetteville Rd.
Raleigh, NC 27603
Rate this dealer prices
Skyline Motors of Raleigh
We help you find the ideal vehicle to meet your needs and your budget
Located at Capital Blvd, the main street of Raleigh where most of the dealerships show their cars, Skyline Motors has a wide variety of cheap cars starting with prices for under $2000, making it one the car dealerships with the cheapest cars in North Carolina.
http://www.skylinemotorsofraleigh.com
919-836-0990
1108 Capital Blvd.
Raleigh, NC 27603
Rate this dealer prices
Journey Auto Sales
Our goal is to provide quality and affordable preowned cars to Charlotte and surrounding residents!
If you want to visit one of the cheapest car dealerships in North Carolina you have to go to Journey Auto Sales on Albemarle Rd. and enjoy watching how many quality and affordable cars they have, whether you are looking a car for under $3000, $4000 or $5,000 this is the right place. Car buyers from Concord and Monroe are welcome.
http://www.charlottencusedcars.com
704-563-1700
9614 Albemarle Rd.
Charlotte, NC 28227
Rate this dealer prices
Impex Auto Sales
Why are you selling this car for so cheap? This is the everyday question that this dealership receive from its customers. Impex Auto Sales has the best deals of the area. they assure and you can prove it checking out their online inventory where you can see many cheap cars under $5000.
http://www.impexautosales.com
336-271-5987
3512 South Holden Rd.
Greensboro, NC 27407
Rate this dealer prices
Imports Performance Inc
Going to the Capital Blvd. where they are located you will find some of the best and cheapest import cars available for sale in the Raleigh, Durham and Cary area. They include Mercedes Benz, Audi, BMW, Lexus, Acura, Honda, Jaguar, Porsche and many others in their inventory, just check it out online. Many of them are for under $5000 and most of them for under $10,000, really good cars for very good prices.
http://www.importsperformanceinc.com
It seems this dealer is out of business
919-878-4611
3204 Capital Blvd
Raleigh, NC 27604
Rate this dealer prices
Find cheap car dealers near you live
Get Listed In This Directory
If you own a car dealer in North Carolina or you're the Internet person in charge, and would like to list it in this directory where we gather the North Carolina dealers selling real cheap cars, please send us a request, specifying the web address of your company, and a brief intro or text describing it. Our only request is that a good amount of cars for sale for $5000 or less are part of your inventory. If you would also like to post your vehicles on our database and search results, just let us know it, and we'll do the hard job. So, if you sell good used cars at low prices in North Carolina, sign up with us and we'll help you sell them for FREE.