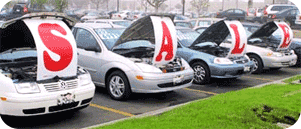 Wondering where you can get a dirt cheap used car in Alabama that costs around $1000, $2000, $5000 dollars or less? If so, we've gathered in this directory some of the dealers from Alabama selling pre-owned cars, trucks, SUVs, pickups trucks, and minivans at really low prices, so that you can visit and dig into their online inventories directly, or give them a phone call to ask them if they have available or can find for you the vehicle you are searching for in Alabama at the price you can afford. You can also check the list of cars for sale in Alabama posted on our search results.

Vehicles By State
Find cheap car dealers near you live
Highline Imports, Inc.
The new way of shopping & buying your next pre-owned vehicle
Looking for stunning, reliable and affordable used cars in Birminghm, AL? Highline Imports have the car you want for the prince you are willing to pay as well as any luxury and domestic cheap cars for sale under $5000 and under $10000. With more than 30 years in the car business they have become a reputable Alabama dealership in the pre-owned vehicles market.
http://www.highlineimportsinc.com/
205-715-0005
329 24th Street South
Birmingham, AL 35233
Rate this dealer prices
Jim Peach Motors
The only car dealer you'll ever need!
Jim Peach Motors Ford is the local dealership of the Alabama gulf coast, where people lover of Chrysler, Dodge and Jeep cars, go first. They have a large selection of used cars and many of them at an affordable price under $5000. Jim Peach Motors has been in business for over 35 years in Brewton, AL.
http://www.jimpeachmotors.com/
251-867-6212
518 South Blvd.
Brewton, AL 36426
Rate this dealer prices
Mullinax Ford Lincoln
We NEVER charge a dealer dee
why pay up to $800 on dealer fees in the competition, when you can buy a car at Mullinax Ford Lincoln with $0 extra charges or dealer fees. With nearly 500,000 vehicles already sold since opening more than 10 years ago, and with a currently inventory of over 500 pre-owned vehicles, and around 50 of them priced for less than $10000, Mullinax Ford Lincoln is the Mobile dealership you have to visit if you really want to buy a quality used car in Alabama.
http://www.mullinaxfordmobile.com/
866-933-9524
7311 Airport Blvd.
Mobile, AL 36608
Rate this dealer prices
Bratton Automotive, Inc
Providing quality vehicles and service for our customers for over 60 years
Bratton Automotive offers the highest quality inventory of affordable used cars in the southeast of Alabama. They also have a huge hand picked selection of trucks and many inexpensive cars for under $1000, $2000, and under $5000. You want a Nissan 300ZX under $1000? At this moment they have it. If you are looking for the cheapest cars in Alabama they deserve a visit.
http://www.brattonautomotive.com/
334-298-3334
1140 Lee Rd 197
Phenix City, AL 36870
Rate this dealer prices
Ralph Smith Motors
Our goal is to help YOU find affordable transportation
Selling cars since 1942. Ralph Smith Motors is the oldest dealership in Alabama selling affordable used cars, trucks, SUVs and vans of first line. Located at the historic Old Alabama Town in the beautiful downtown of Montgomery where you can get the cheapest quality cars for sale of the town.
http://www.ralphsmithmotors.com/
334-263-1347
27 E Jefferson St.
Montgomery, AL 36104
Rate this dealer prices
A & D Motors, Inc.
Quality used cars at affordable prices
The Way Car Buying Should Be!!!. We have financing options for all types of credit. For the individuals who need help while rebuilding their credit we offer Buy Here Pay Here financing with affordable down payments.
http://www.a-dmotors.com/
256-586-2276
825 N. Brindlee Mtn.
Arab, AL 35106
Rate this dealer prices
Find cheap car dealers near you live
Get Listed In This Directory
If you own a car dealer in Alabama or you're the Internet person in charge, and would like to list it in this directory where we gather the Alabama dealers selling real cheap cars, please send us a request, specifying the web address of your company, and a brief intro or text describing it. Our only request is that a good amount of cars for sale for $5000 or less are part of your inventory. If you would also like to post your vehicles on our database and search results, just let us know it, and we'll do the hard job. So, if you sell good used cars at low prices in Alabama, sign up with us and we'll help you sell them for FREE.