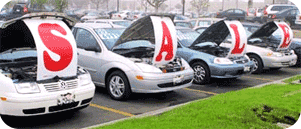 Wondering where you can get a dirt cheap used car in Delaware that costs around $1000, $2000, $5000 dollars or less? If so, we've gathered in this directory some of the dealers from Delaware selling pre-owned cars, trucks, SUVs, pickups trucks, and minivans at really low prices, so that you can visit and dig into their online inventories directly, or give them a phone call to ask them if they have available or can find for you the vehicle you are searching for in Delaware at the price you can afford. You can also check the list of cars for sale in Delaware posted on our search results.

Vehicles By State
Find cheap car dealers near you live
Selling quality used trucks & equipment
With an inventory of around 60 pre-owned vehicles, among which you can find sedans, trucks, SUV's and minivans at super low prices starting for less $2000, and most of them for under $5000, Comercial Truck & Equipment Sales is the dealer you need to visit in case you are looking where to find a good looking used car at an affordable price in Delaware near the cities of Wilmington or Philadelphia.
http://www.ctesales.com/
866-718-7825
2994 New Castle Ave.
New Castle, DE 19720
Rate this dealer prices
Diamond State Motor Brokers Inc
Good or bad Credit? No problem! Everyone deserves a second change.
We buy and sell clean used cars. We offer buy here pay here and credit options you can live with. We have access to over 40,000 good and cheap cars so if you do not see the one your looking for just send us a locator request.
http://www.diamondstateautos.com/
302-378-1111
6001 Summit Bridge Rd.
Townsend, DE 19734
Rate this dealer prices
DPAA Delaware Public Auto Auction
Most vehicles under $3000 dollars!
If you are looking for real cheap cars in DE under $2000 and $3000, why not trying to find them at auction? DPAA is a locally owned and operated automotive business located in New Castle, near Wilmington and Philadelphia. They also offer their vehicles to the residents of Pennsylvania, New Jersey, New York and Maryland. They have two live auction s on Thursdays and Saturdays that are held indoors. In their inventory, they currently have over 300 vehicles starting for $2000 or less. They are open to public and the admission is free.
http://www.dpaa2.com/
302-656-0500
2323 North Dupont Highway
New Castle, DE 19720
Rate this dealer prices
Find cheap car dealers near you live
Get Listed In This Directory
If you own a car dealer in Delaware or you're the Internet person in charge, and would like to list it in this directory where we gather the Delaware dealers selling real cheap cars, please send us a request, specifying the web address of your company, and a brief intro or text describing it. Our only request is that a good amount of cars for sale for $5000 or less are part of your inventory. If you would also like to post your vehicles on our database and search results, just let us know it, and we'll do the hard job. So, if you sell good used cars at low prices in Delaware, sign up with us and we'll help you sell them for FREE.