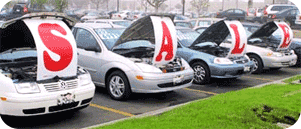 Wondering where you can get a dirt cheap used car in Pennsylvania that costs around $1000, $2000, $5000 dollars or less? If so, we've gathered in this directory some of the dealers from Pennsylvania selling pre-owned cars, trucks, SUVs, pickups trucks, and minivans at really low prices, so that you can visit and dig into their online inventories directly, or give them a phone call to ask them if they have available or can find for you the vehicle you are searching for in Pennsylvania at the price you can afford. You can also check the list of cars for sale in Pennsylvania posted on our search results.

Vehicles By State
Find cheap car dealers near you live
We have the lowest prices on used cars, trucks, and SUV's!
Good People... Good Cars... Great Prices... They carry only clean quality pre-owned vehicles. If you are you searching for a new vehicle review its current inventory where you will find a lot of used cars cheap for sale under $10000 and under $5000.
http://www.fuelinfineautosales.com/
610-442-2503
1205 Blue Valle
Pen Argyl, PA 18072
Rate this dealer prices
Located about one hour away from Pittsburgh, and with an inventory of nearly 100 vehicles normally starting for $1000 or less, LBSi Automotive is the car dealer you have to visit or check online at the time or buying or searching for good cheap used car in the west of Pennsylvania. LBSi Automotive offers financing, accepts trade-in, and are open from Monday to Saturday.
http://www.lbsiautomotive.com/
724-437-5274
14 West Place
Uniontown, PA 15401
Rate this dealer prices
Lee Miller Used Cars & Trucks Inc
Honda, GM, Ford & Jeep Specialist!
Since 1978, we've been the greater Lehigh Valley's choice for affordable sedans, trucks, 4x4s, SUVs, and economy cars. We offer an inventory of over 100 vehicles starting at prices for $1000 or less, and many for under $5000. Lee Miller is a family owned and operated dealership with a friendly, and professional staff ready to help you find the car you're looking for. Contact Jason & Julius for more information.
http://www.leemillerusedcars.com/
610-767-5048
6158 PA Route 309
Germansville, PA 18053
Rate this dealer prices
Select Auto Sales Inc.
Dealership quality at community prices!
It is our goal to provide you with a great used car or truck. We are committed to providing you with a great selection of quality preowned cars for sale. We always have many economically cheap priced cars & trucks that are serviced & inspected. We also accept cars & trucks on consignment, if you are thinking about selling your ride.
http://www.selectdirect2u.com
215-766-2425
1103 N. Easton Road (Rt. 611)
Doylestown, PA 18902
Rate this dealer prices
Sleepy Hollow Motors
The Finest Pre-Owned Cars In The Area!
Located minutes away from Pittsburgh, Sleepy Hollow Motor is the perfect car dealer for those looking for affordable cars in the New Eagle PA area. They offer in its inventory more than 50 used cars starting prices for $3000 or less.
http://www.sleepyhollowmotors.com
724-258-5933
443 Main St.
New Eagle, PA 15067
Rate this dealer prices
Find cheap car dealers near you live
Get Listed In This Directory
If you own a car dealer in Pennsylvania or you're the Internet person in charge, and would like to list it in this directory where we gather the Pennsylvania dealers selling real cheap cars, please send us a request, specifying the web address of your company, and a brief intro or text describing it. Our only request is that a good amount of cars for sale for $5000 or less are part of your inventory. If you would also like to post your vehicles on our database and search results, just let us know it, and we'll do the hard job. So, if you sell good used cars at low prices in Pennsylvania, sign up with us and we'll help you sell them for FREE.