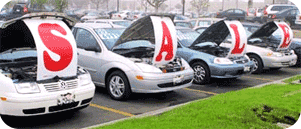 Wondering where you can get a dirt cheap used car in Louisiana that costs around $1000, $2000, $5000 dollars or less? If so, we've gathered in this directory some of the dealers from Louisiana selling pre-owned cars, trucks, SUVs, pickups trucks, and minivans at really low prices, so that you can visit and dig into their online inventories directly, or give them a phone call to ask them if they have available or can find for you the vehicle you are searching for in Louisiana at the price you can afford. You can also check the list of cars for sale in Louisiana posted on our search results.

Vehicles By State
Find cheap car dealers near you live
Clean pre-owned vehicles at wholesale pricing!
American Auto Brokers, Inc is located in the downtown of Thibodaux, about one hour from New Orleans and has been in business since 1985. With an inventory of about 50 quality used vehicles on sale, this dealership is one of the largest wholesalers in the area you need to visit if you are looking where to buy an affordable used car in Louisiana.
http://www.americanautobrokersinc.com/
985-446-9888
1150 A Canal Blvd.
Thibodaux, LA 70301
Rate this dealer prices
Best values from trade-ins, overstocked inventory, and auction vehicles!
A dealer you can trust! For those looking for used car at very low and affordable prices in Louisiana, close to New Orleans, should visit Liberty Auto Plex, located in Hammond, just one hour away. A dealer that can offer you a vehicle for prices starting at $3,000.
http://www.libertyautoplex.com
985-543-6648
965 South Morrison Blvd.
Hammond, LA 70403
Rate this dealer prices
Nicholson's College Cars
We are very clear with our customers, we quality check our cars, we stand behind them, and we remain loyal to you after it's all said and done. We have access to literally thousands of cheap and used cars, so if you don't see the car what you are looking for we will locate it for you.
http://www.nicholsoncars.com
504-341-2098
5400 Lapalco Blvd,
Marrero, LA 70072
Rate this dealer prices
Premier Honda
Powertrain warranty for life
Let Premier Honda helps you find the car you want. They have an inventory of nearly 100 pre-owned vehicles, many of them starting for less than $10k, and an auto finance department waiting for you to help you make make ownership a reality. The experienced sales staff of Premier Honda is eager to share its knowledge and enthusiasm with you. Serving the areas of New Orleans, Metairie, Harvey, Slidell, Covington, Hammond, and Baton Rouge.
http://www.premierhonda.com/
877-618-1939
11801 East i-10 Service Road
New Orleans, LA 70128
Rate this dealer prices
Sport Cars
Inventory at Autopten
Serving Louisiana since 1969
Sport Cars offers great quality used cars at the most affordable prices. Sport Cars, LLC., is the dealership you have to visit if you are looking for a pre-owned vehicle in LA under $5000 in the Metairie area. Contact to Eduardo Herrera Jr (Eddy). Bilingual service (English / Spanish) offered.
http://www.sportcarsllc.com
504-885-8844
2709 Severn Ave.
Metairie, LA 70002
Rate this dealer prices
Find cheap car dealers near you live
Get Listed In This Directory
If you own a car dealer in Louisiana or you're the Internet person in charge, and would like to list it in this directory where we gather the Louisiana dealers selling real cheap cars, please send us a request, specifying the web address of your company, and a brief intro or text describing it. Our only request is that a good amount of cars for sale for $5000 or less are part of your inventory. If you would also like to post your vehicles on our database and search results, just let us know it, and we'll do the hard job. So, if you sell good used cars at low prices in Louisiana, sign up with us and we'll help you sell them for FREE.