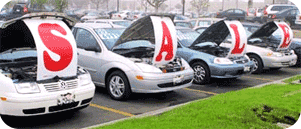 Wondering where you can get a dirt cheap used car in Iowa that costs around $1000, $2000, $5000 dollars or less? If so, we've gathered in this directory some of the dealers from Iowa selling pre-owned cars, trucks, SUVs, pickups trucks, and minivans at really low prices, so that you can visit and dig into their online inventories directly, or give them a phone call to ask them if they have available or can find for you the vehicle you are searching for in Iowa at the price you can afford. You can also check the list of cars for sale in Iowa posted on our search results.

Vehicles By State
Find cheap car dealers near you live
Brett Spaulding Sales
Located in Onawa (Monona County), halfway between Sioux City and Omaha, and with a consistent inventory of around 200 real cheap cars, most of them at prices between $1000 and $5000 dollars or less, Brett Spaulding Sales is a must-visit dealer in case you are serious about buying a second hand car at a budget price.
http://www.brettspauldingsales.net/
712-433-2091
108 Iowa Ave.
Onawa, IA 51040
Rate this dealer prices
Hawkeye Auto
Automotive experience, and competitive prices for all budgets
Widely recognized to be among the best dealers in terms of quality, reliability, value and customer satisfaction in sales and service. Hawkeye Auto is located in the city of Marion (Linn County) close to Cedar Rapids, and has a continual inventory of around 100 used cars, many of them starting for as cheap as $1000 or less, and more than 50% of their inventory at prices that not exceed the $5000 dollars.
http://www.hawkeyeautoonline.com/
319-377-8564
4835 10th Ave
Marion, IA 52302
Rate this dealer prices
Edwards Subaru Hyundai
The Easiest Way To Buy A Car.
Search from over 2500 vehicles with a few clicks of your mouse. Edwards Subaru Hyundai is the #1 Hyundai and Subaru Dealer in the Omaha, Council Bluffs, Lake Manawa, Des Moines, Sioux City, Lincoln, and Kansas City areas. They always have over 200 new Hyundai's and Subaru's in stock. They make you easy to buy your next new or cheap used car in the Omaha area.
http://www.edwardsautogroup.com/
888-273-0589
1029 32nd Ave.
Council Bluffs, IA 51501
Rate this dealer prices
Edwards Chevrolet Cadillac
Mark of Excellent award winner
Review our extensive inventory of Chevrolet and Cadillac cars, trucks, and SUV's, including the Chevrolet Corvette, Chevrolet Tahoe, and Cadillac Escalade. We work hard to get you into the vehicle you have always wanted. We're your Omaha Chevrolet and Omaha Cadillac dealer in Council Bluffs, IA. BBB accredited dealership.
http://www.edwardschevroletcadillac.net
877-623-2166
1010 34th Ave.
Council Bluffs, IA 51501
Rate this dealer prices
Our Mason City dealership has one of the best selections in the area.
Hosmer Toyota i located less than than 2 hours away from Des Moines, and has an inventory of around 100 used vehicles, mostly starting for as low as $2000 dollars or less. They also offer a full range of new Toyota cars, trucks, SUVs and hybrids, as well as many pre-owned Toyotas with low mileage and great prices. Leasing, financing, service, repairs and parts, are some of the services available at the store.
http://www.hosmertoyota.com
855-487-8439
3851 4th St SW
Mason City, IA 50401
Rate this dealer prices
Find cheap car dealers near you live
Get Listed In This Directory
If you own a car dealer in Iowa or you're the Internet person in charge, and would like to list it in this directory where we gather the Iowa dealers selling real cheap cars, please send us a request, specifying the web address of your company, and a brief intro or text describing it. Our only request is that a good amount of cars for sale for $5000 or less are part of your inventory. If you would also like to post your vehicles on our database and search results, just let us know it, and we'll do the hard job. So, if you sell good used cars at low prices in Iowa, sign up with us and we'll help you sell them for FREE.