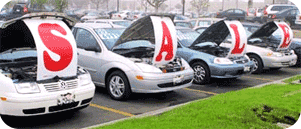 Wondering where you can get a dirt cheap used car in Oregon that costs around $1000, $2000, $5000 dollars or less? If so, we've gathered in this directory some of the dealers from Oregon selling pre-owned cars, trucks, SUVs, pickups trucks, and minivans at really low prices, so that you can visit and dig into their online inventories directly, or give them a phone call to ask them if they have available or can find for you the vehicle you are searching for in Oregon at the price you can afford. You can also check the list of cars for sale in Oregon posted on our search results.

Vehicles By State
Find cheap car dealers near you live
With two location stores, one in Gresham, the other one in Portland, and with an inventory of nearly 200 used cars with prices starting for $1000 or less, Bickmore Auto Sales is the Oregon dealership you need to visi,t and check if the matter is finding an affordable pre-owned car.
http://www.bickmoreauto.com/
503-328-9810
2020 E Powell Blvd.
Gresham, OR 97080
Rate this dealer prices
Greatest selection of pre-owned vehicles in the area!
With an inventory of about 60 pre-owned cheap cars, trucks, and SUVs, Metro Motors is the dealer you need to visit if you live in Portland, Oregon or around and you are planning to change your car but you don't want to spend too much money. With prices starting under $1000 dollars, Metro Motors is select as one of the dealerships in Oregon where you can find good cheap cars for sale. To better serve you, Metro Motors is open seven days a week from 10am to 8pm.
http://www.metromotorspdx.com/
503-922-3455
150 SE 82nd Ave.
Portland, OR 97216
Rate this dealer prices
Gentry Motors
Boise Ford Lincoln Mercury Subaru Dealer
With a huge inventory selection we have the ability to stock more cars than any other central Nampa Ford Lincoln Mercury Subaru dealer. We specialize in new and used Ford, Lincoln, Mercury, Subaru cars, trucks, and SUVs in Boise
http://gentrymotors.com/
855-397-8227
1802 SW 4th Ave.
Ontario, OR 97914
Rate this dealer prices
It's not just your car, it's your freedom!
It's not just your car, it's your freedom. Serving the areas of Clackamas, Milwaukie, Oregon City, Happy Valley, Damascus, Boring, Estacada, Gresham and Portland. With over 28 years of experience, they offer a lot of economy and cheap cars for sale under $5000 and under $1000 from all major brands. They work with ASE Certified Master Automotive Technicians which make you feel safe driving any of their vehicles.
http://www.tims-automotive.com/
503-656-0600
15688 SE 135th Ave.
Clackamas, OR 97015
Rate this dealer prices
Find cheap car dealers near you live
Get Listed In This Directory
If you own a car dealer in Oregon or you're the Internet person in charge, and would like to list it in this directory where we gather the Oregon dealers selling real cheap cars, please send us a request, specifying the web address of your company, and a brief intro or text describing it. Our only request is that a good amount of cars for sale for $5000 or less are part of your inventory. If you would also like to post your vehicles on our database and search results, just let us know it, and we'll do the hard job. So, if you sell good used cars at low prices in Oregon, sign up with us and we'll help you sell them for FREE.