Are you searching for a new 2013 car that is economical to keep, good on gas, and cost less than $14,000? This time we are going to recommend you the KIA Rio, a small vehicle that isn't only cheap but also comes this year with a sportier and even more aggressive design, a very
outstanding fuel efficiency
, and inside comes with a variety of equipment and features of great importance, that influence when making a decision on buying a vehicle.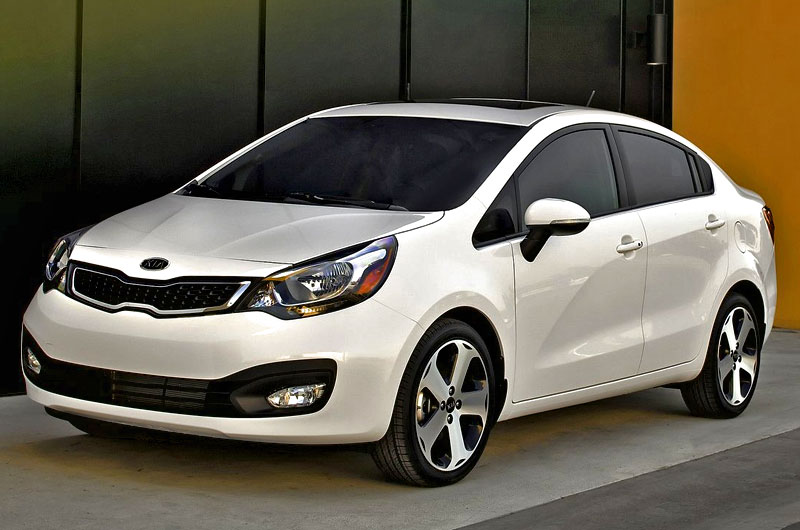 2013 Kia Rio Sedan - The bold and distinctive personality of the new Rio represents a complete change from its predecessor and fits perfectly into the family revitalizing the Kia product line.
The
Kia Rio 2013
comes equipped with a 1.6L 4-cylinder engine, powered by a GDI direct injection system. It is able to develop a power of 138 horsepower and 123 lb-ft of torque. It also
has the 'Idle Stop & Go' system
which achieves to minimize fuel consumption, since it turns off the engine at times when the vehicle is not in motion.
The interior was completely redesigned with the aim of offering a modern and spacious atmosphere, with materials and finishes that previously we could not conceive in a vehicle of this segment. Seats are comfortable, and come with an easy adjustment but are not too wide.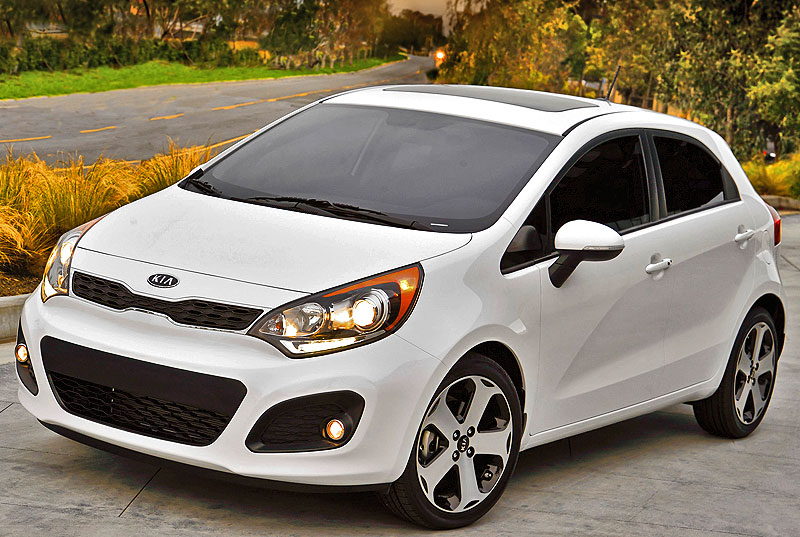 2013 Kia Rio Hatchback
As for safety, the Rio has a third brake light, protection bar on the doors, anti-lock brakes (ABS), ELR seat belts, six airbags, active head restraints, and a body with programmed crumple, among other elements that give to the passengers a sense of calm and safety. Its cabin insulates very well the noise from outside
The

Kia Rio
has become an excellent choice in the compact cars segment. Your competition is fierce with the

Honda Fit
, the

Hyundai Accent
and the

Ford Fiesta
at the head. Both models, the sedan and the hatchback have the same fuel economy range miles of 28 within the city and 36 on highways.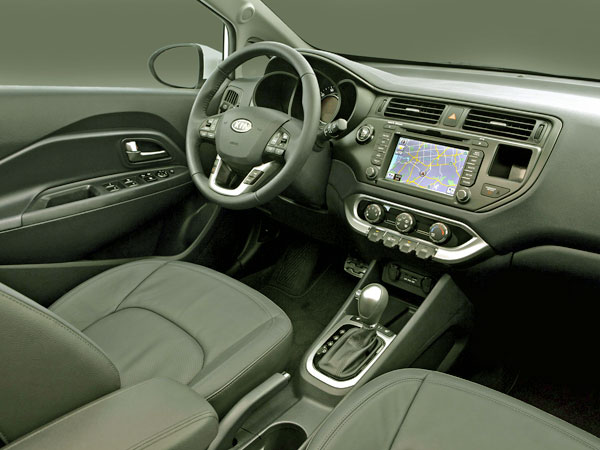 Cabin / Front / Interior of the 2013 Kia Rio LX Sedan
Its performance is smooth for a subcompact, although with some engine noises. Sincerely, there are a few flaws that may be mentioned on this vehicle, and within the automotive world is one of the leading in its segment.
The Rio is offered in both four-door sedan and hatchback body styles. They have identical engines, as well as their interior components, although the hatchback offers more utilities, especially for being a family car. Compared to previous models, the Rio 2013 is more spacious and more stylish inside and out. It is also more powerful and has better fuel efficiency.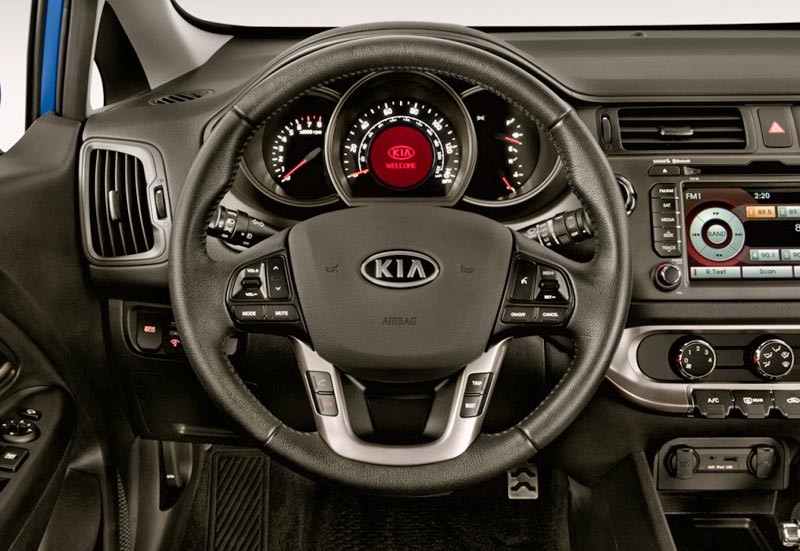 Driver view / Steering wheel Kia Rio 2013 5-Door Hatchback
The base model has many standard accessories such as air conditioning, tilt steering and a stereo with satellite radio, an auxiliary input jack, USB / iPod interface, Bluetooth wireless technology, a 6-way adjustable driver seat, rear disc brakes, hill-start assist control, dual body-colored power heated mirrors, tire pressure monitoring system, etc.
The Kio Rio platform comes from the Hyundai i20 and
has traditionally been the cheapest model of the manufacturer
. In its first generation, the Rio represented an

affordable vehicle for easy transport around the city
. The latest generation of this model is another step forward thanks to its evocative style, peppy engine, and its comfortable and spacious interior.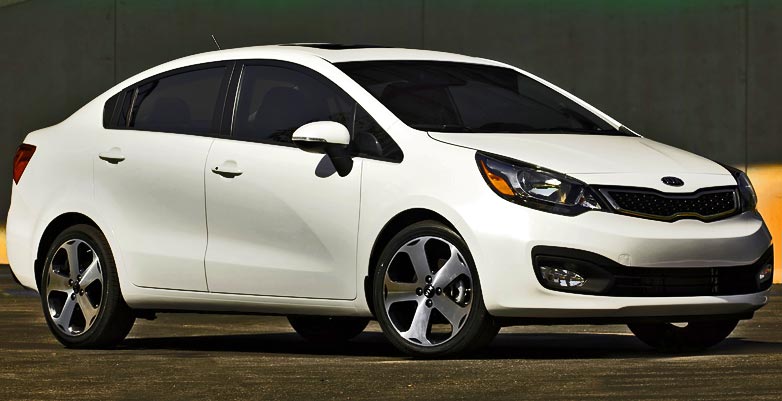 Kia has created a vehicle that responds to the demand for more quality, more options, and does so with an attractive and exciting design, without compromising its interior space.
Models And Prices
The Korean automaker believes that will conquer the young audience looking for an affordable and well-equipped car. The new 2013 line of these vehicles that have been offered for sale in the USA, consists of the following versions:
- Rio 1.6 LX GDI 140 hp. available for a starting price of
$13,400
.
- Rio 1.6 LX GDI 140 hp Auto available for a starting price of
$14,500
.
- Rio 1.6 EX GDI 140 hp Auto available for a starting price of
$16,300
.
- Rio 1.6 GDI 140 hp SX Auto available for a starting price of
$17,500
.
About Kia
Kia Motors was founded in 1944 as a manufacturer of steel tubing and bicycles. After the Korean crisis of the late '90s, the company became part of the Hyundai group. The group is the fifth-largest producer of automobiles. Kia Motors is currently present in more than 100 countries.

Other related articles you may be interested:

Cheap New 2013 Car Crossover SUV Under $15000: Kia Soul

New 2013 KIA Sorento, Brief Review About This Promising SUV

Cheap luxury and elegant car: Lincoln Town Car 2003-2011 | Review

Cheapest New SUVs for 2013 in USA - Top 5

Cheap, Luxury & Reliable Used Car: Lexus ES300 1997-2001