With almost three years in the American market, the Kia Sorento has strongly improved. More than the expected mid-generation update, this new version of the vehicle is a new engineering job wherever you see it, improving significantly safety, comfort, luxury, and handling as well as its fuel consumption, emissions, and overall costs.
With simplified versions, all models now have a permanent 4-wheel drive system and use an upgraded 2.2-liter CDi turbodiesel engine along with the 6-speed manual gearbox or an automatic with the same number of speeds.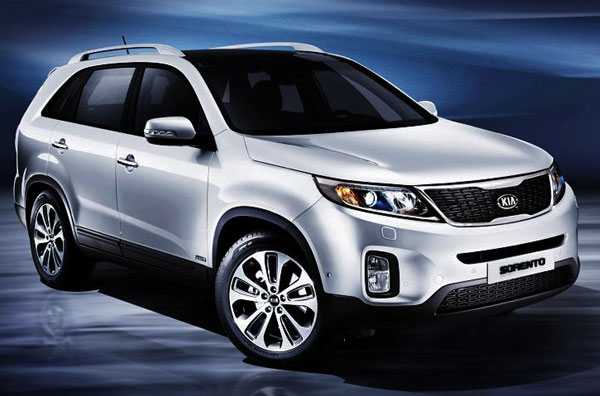 New Kia Sorento 2013 - Front
- fantasy picture.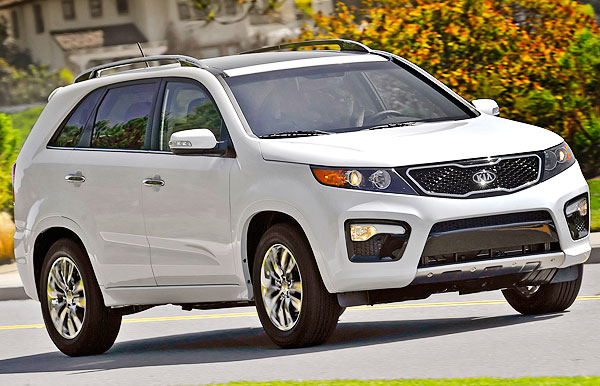 New Kia Sorento 2013 - Front
- how it really looks.
With a fresh and elegant look, this Kia SUV includes improvements in the engine that aim to provide higher performance through reduced consumption and emission of pollutant particles. It also includes a redesigned body and greater equipment safety.
If you like this kind of SUV you should also take a look at other similar models that compete with the Kia Sorento 2013 as the
Hyundai Santa Fe
, the Mazda CX-9, the
Ford Explorer
and the Chevrolet Equinox, among others.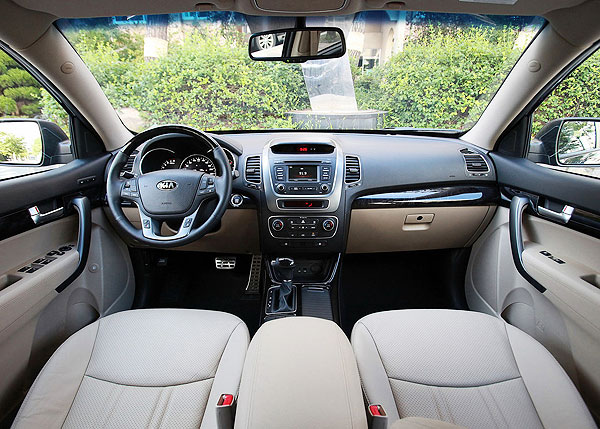 New Kia Sorento Interior
- front seats, panels, dashboard, steering wheel, windshield, doors, rear mirrors.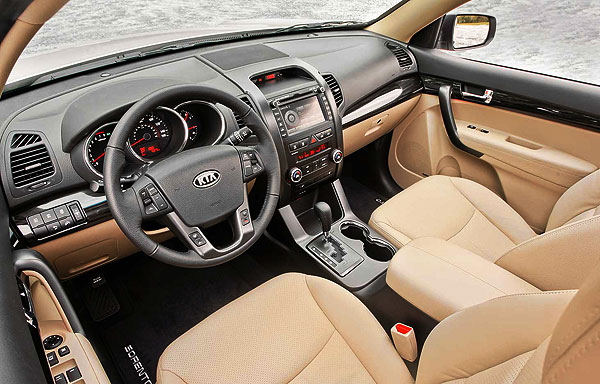 2013 Kia Sorento SUV Interior
- Another view from the driver seat and window.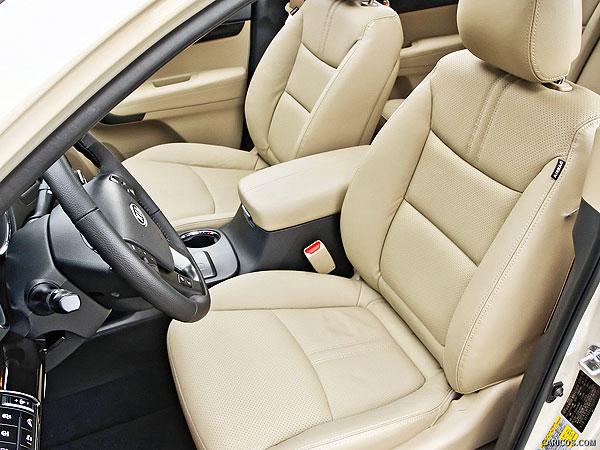 Kia Sorento Interior
- Front leather seats beige color.
MORE DETAILS OF THE NEW SORENTO
The new exterior and interior design (where debuts with the new instrument panel of the brand, simple and almost minimalist) give to the second generation of the 2013 Kia Sorento a new look and appeal of family SUV. Highlights their vertical and larger fog lamps that give it a more modern style, besides the changes in the bumper and the trunk door, steering wheel and the shifter wrapped in leather. The full versions have LED tail position lights and xenon headlights.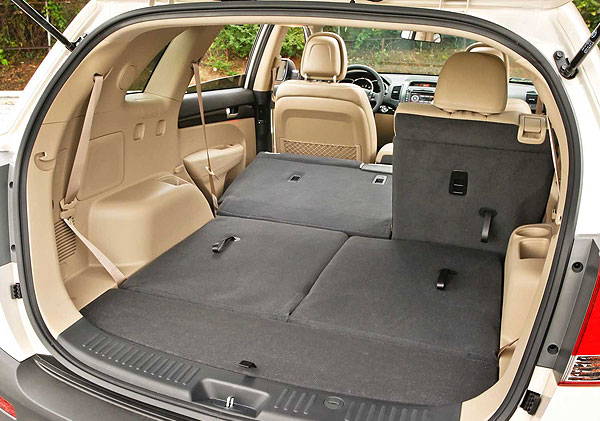 Sorento 2013 Interior
- Cargo area, door lifted, 3rd row and rear seats folded.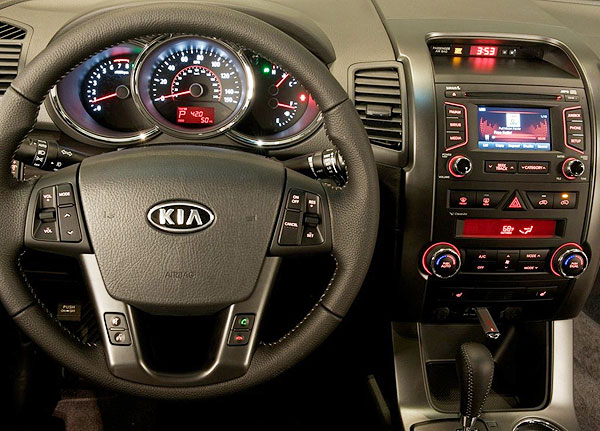 2013 Kia Sorento Cab
- Steering wheel and dashboard.
They also come with proximity front and rear sensors, trip computer, 3rd-row seats, cruise control, Bluetooth, and heated outside mirrors with LED marker, Isofix anchors, dual front airbags, heated seats, ABS, and electronic immobilizer. In addition, the fully-loaded versions include engine start button, stereo with a seven-inch touch screen system and backup camera, leather seats and a panoramic sunroof. It is obvious that the new Kia Sorento has acquired the most characteristic features of the new generation of Kia models, for aesthetic reasons and also aerodynamics. Another point that was improved was the refinement and efficiency and smoothness of the engine.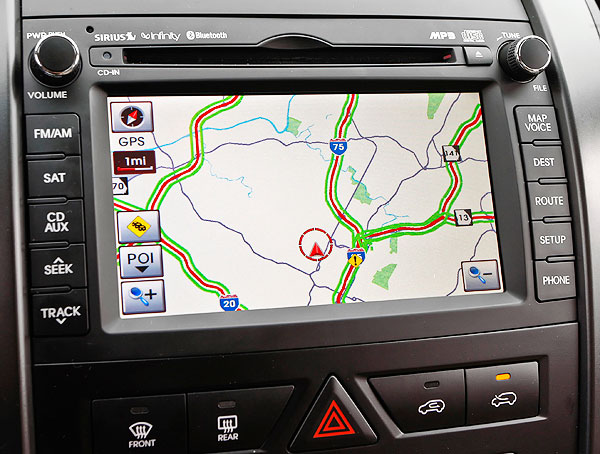 2013 Kia Sorento Driver Cab
- Infinity with Navigator, Bluetooth, Sirius Satellite stereo with Mp3 reader, and many more functions.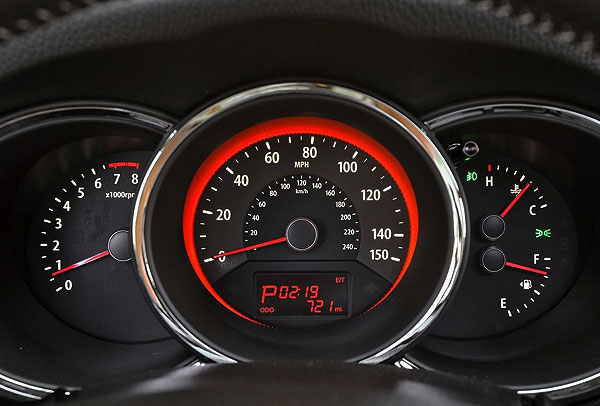 2013 Kia Sorento Driver Cab
- Speedometer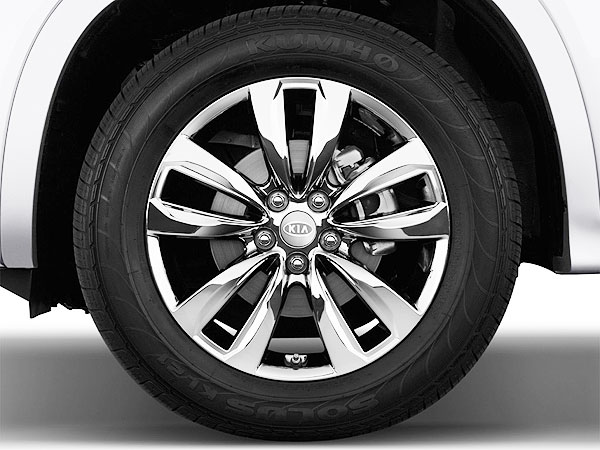 New Kia Sorento 2013 Exterior
- Tires and wheels.
The price of this newly redesigned and
cheap Kia SUV
starts at $23,150
and has fuel economy in the city is 22 MPG and 32 MPG on the highways, which makes it a very good and economical SUV on its class.
So,
what do you think about the new Kia Sorento 2013 ??
Thanks for sharing your thoughts.

Related articles you may be interested:

Jeep Patriot 2012, the cheapest SUV for sale in USA

What Are The Cheapest New SUVs of 2012? - Top 5

3 cheap new cars under $14000 - Cheapest new cars of 2012

2012 Cheapest Cars - Dreaming with a new car? Top 5 under $15000