If you're planning to buy a brand-new 2015 truck, either because you like big and powerful vehicles made for all types of terrains, or because of work reasons since their capacity to carry things and tow other vehicles are great, or whatever reason you have, and your budget is only
between $20,000 and $25,000
, I'll tell you about the cheapest ones you can get today in the US market that fit that budget.

Related article:
Cheapest New 2015 SUVs For $20,000 or Less - Top 5
1. 2015 Nissan Frontier - Starting Price: $17,990
Esthetically, the Frontier, the renewed delivery vehicle of the Japanese brand that competes in the segment of medium-sized trucks, continues the rounded lines of the new pickups. This 2015 edition looks more luxurious, refined, and spacious than the current generation. The front side has changed as it now comes with larger headlights, fog lamps with chrome trim, and a more modern and sporty look. You will appreciate the new brand's identity on its
V-motion
grill and
boomerang LED
daytime running lights.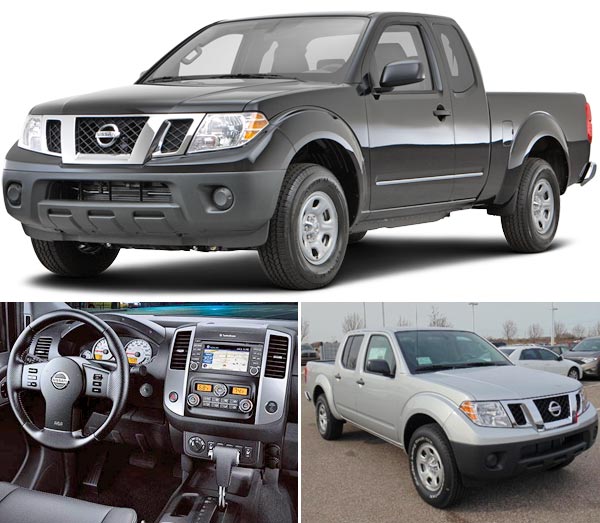 This affordable new truck that
you can buy for less than $18,000
in its
"S" model King Cab
combines high-quality hardware, power, and performance on and off-road and is equipped with a 2.5L 4-cylinder engine of 153-HP that, according to Nissan representatives, it delivers the smoothness of a V6 vehicle. The feeling of safety while you handle it is incomparable. This 4x2 Frontier S with extended cab, the cheapest model of the four available, comes with a 5-speed manual transmission, power steering with speed-sensitive, and two rear flip-up seats. When folded, they offer a large open cargo space for your tools or other personal stuff. It also features 16" all-season tires, an ABS brake system, an advanced airbag system, AC, cruise control, stereo with Bluetooth, and an Illuminated steering wheel with mounted audio controls. For more official information about this pickup truck
click here
.
2. 2015 Chevrolet Colorado - Starting Price: $20,120
The new Colorado 2015 was built with the DNA of a real Chevy truck which highlights by offering good power, useful load, and different versions concerning the trailer. It was developed especially for the demanding American market that cares about design, comfort, and connectivity.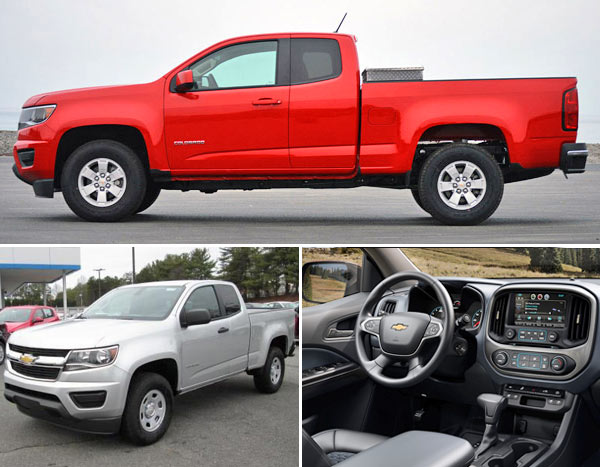 This year the new Colorado includes a collision alert and lane departure warning. It will strongly appeal to people who love trucks but also want them to be easier to maneuver in high traffic and park at work or home. For the heavy work, the Chevrolet Colorado has the necessary strength. Its cheaper version, the "Base" model, comes equipped with a long box and extended cab and features a 2.5L direct-injected 4-cylinder engine with a 6-speed manual transmission. Among other cool standard features included in this truck are: rear vision camera, 4-wheel ABS brakes, stereo with 4.2" display, USB port, auxiliary audio input, six speakers, and power driver's seat with 4-way adjustments.

Related article:
New Chevrolet Colorado: Cheap 4x4 Pickup That Worth The Money
The Chevy Colorado has a short turning radius of approximately 41 feet, allowing easy turns in tight spaces, such as city streets and parking lots. Its legendary Chevrolet suspension and the new, more robust, modern design make this truck the perfect vehicle to face all challenges and adventures in any terrain and road. For more official information about this pickup truck,
click here
.
3. 2015 Toyota Tacoma - Starting Price: $20,765
The current generation of the Tacoma has remained the leader of the segment for nearly a decade, but with the release of new and improved models introduced by the competition, such as the Chevrolet Colorado or GMC Canyon 2015, the engineers Toyota have been forced to renew it for the next 2016 model, which is about to be released and exhibited at the Auto Show in Detroit.
The midsize pickups segment has been practically dead for several years, but recently it started to show signs of life with the arrival of the new GM models.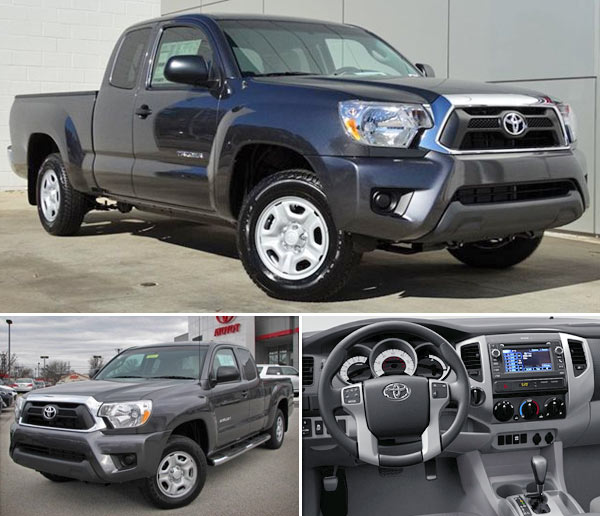 Meanwhile, regarding the Tacoma 2015, we can say that it received just a few changes compared to the previous model, which was focused more on the technological part. The current generation of the Tacoma has been on the market since 2005, and the age has already started to be noticed in details such as the huge transparent headlamps or the little chrome it has compared to its rivals. The
"Access Cab," the cheapest model of the three available
, has an MSRP (manufacturer suggested retail price) of $20,765 has an estimated fuel efficiency of 21 MPG/City, and 25 MPG/Highway, and also comes with power windows and door locks, fold-up rear seats with under-seat storages and large rear-hinge access door. As for the engine, it features a 2.7L 4-cylinder and 4x2 drivetrain coupled to a 5-speed manual transmission and 15" standard steel wheels.

Related article:
Get A New Pickup Truck - Top 5 Cheapest Trucks Under $20,000
If there is something worth mentioning, it is the amazing quality and engineering behind this pickup, besides the reliability, which is very important when you use this type of vehicle to work.
So if you are looking for a midsize pickup that has been tested and proven, with an excellent reputation, which you can also customize to fit your needs, the Tacoma is one of the best choices. For more information about this pickup truck,
click here
.
4. 2015 Dodge RAM 1500 - Starting Price: $25,410
There was once a day when the
Ford
trucks
ruled the streets of North America, besides every hardworking area, but the years have passed. We dare to say that these are being gradually dethroned by
Dodge trucks
which, if you own or have owned one of them, you should know are known for their impressive towing and cargo capacity, size of the bed, technology options and safety system making them one of the most competitive in the trucks segment. Its image, per se, is also very striking and one of his greatest qualities; simply by watching the chrome of the grille and its bulky laterals, to realize that. The company ensures that the front design of the RAM truck has no rival.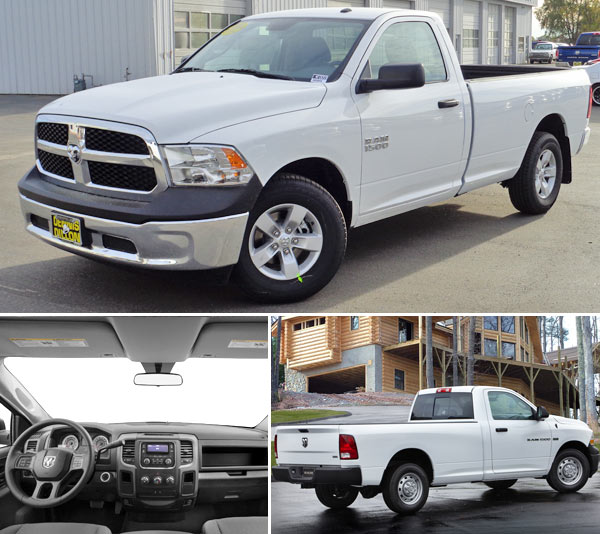 For 2015, Dodge has ten different models ranging from $25,000 to 50,000 dollars, and they are the
Tradesman
, RAM 1500 Express, Black RAM 1500 Express Special Edition, Big Horn, Outdoorsman, Rebel, Sport, Laramie, Laramie LongHorn and Laramie Limited.
As you can see, if you are interested in getting a new Dodge truck, with so many choices, it won't be easy to know which one to choose.
If the budget is your main concern, the
"TradesMan"
with regular cab is
the cheapest one of all of them
and the one that starts at $25,410. This truck, which is the most basic, comes available in 12 colors. It also has a maximum towing of 10,650 lbs and a maximum payload of 1,900 lbs. It is loaded with a 3.6L Pentastar V6 engine which, according to Dodge, delivers up to 17 MPG in the city and up to 25 MPG on highways. It also features an 8-speed automatic transmission. For more
official information about this truck
, follow the link.
5. 2015 Ford F-150 - Starting Price: $25,420
The Ford F-Series trucks have been on sale since 1948, and the
F-150
model has been the
best-selling vehicle in America
for 32 years. The F-150 is also the pickup truck with more sales in the country for 43 years without interruption.

Related article:
2015 Cheapest New Cars By Make Starting Under $12000
Ford introduced the 2015 model, which would be the 13th generation of its flagship truck, in January last year at the Auto Show in Detroit, amid great expectations before the efforts made by its main rivals in the segment.
Ford's response has been a vehicle that uses aluminum and high-strength steel in much of its chassis and structure to remove up to 750 pounds of weight and, thus, reduce the vehicle's gas consumption between 5 and 20%.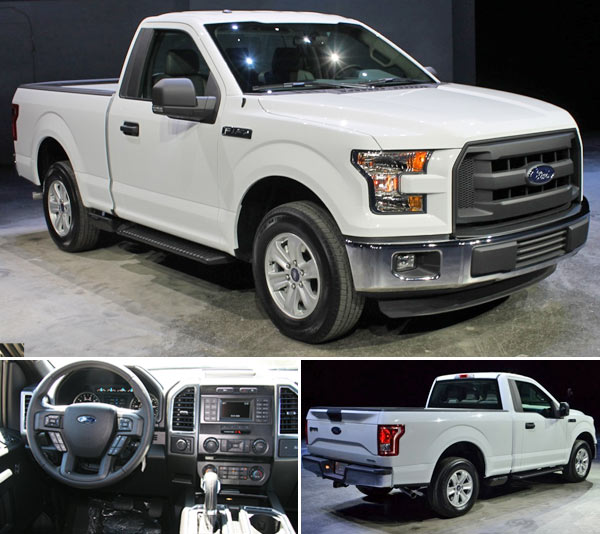 In addition to the Ford Rouge Center in Dearborn, Michigan, the American manufacturer has ready its other plant, the Kansas City Assembly Plant, to produce from this year, the new F-150. Between the two plants, Ford can produce 700,000 F-150 trucks per year. The Kansas City Assembly Plant is known for Being the largest car manufacturing plant in the United States regarding units produced.
The new F-150 is available in five different models: XL, XLT, Lariat, King Ranch, and Platinum. The XL is the cheapest of all five and can get for $25,420. This XL Regular Cab model has a 2.7L V6 Ecoboost engine of 365-HP @ 5,000 RPM and 420 lb.-ft. of torque @ 2,500 rpm. According to the company, it also has a maximum tow rating of 12,200 lb. The standard features included in this basic model are manual AC, outside temperature display, gauges, and meters, dome light, dual-note horn, cup holder, etc.
The 2015 Ford F-150 was elected the
Truck of the Year
in the United States. You can read more about it
here
.