For those planning to buy a brand new car this 2015, and haven't considered an
SUV
because they tend to be more expensive, let me tell you a little bit about these five listed below which are part of the emerging market of
"small or sub-compact SUVs"
and are also the
cheapest ones that you can get today in the US market for less than $20,000 dollars
. For some people, these vehicles aren't classified as SUVs as they can also be seen as hatchbacks or crossovers, but that point of view I will leave it to your discretion.

Related article you may be interested in:
2015 Cheapest New Cars By Make Starting Under $12000
.
1. 2015 Kia Soul Base — Starting Price: $15,100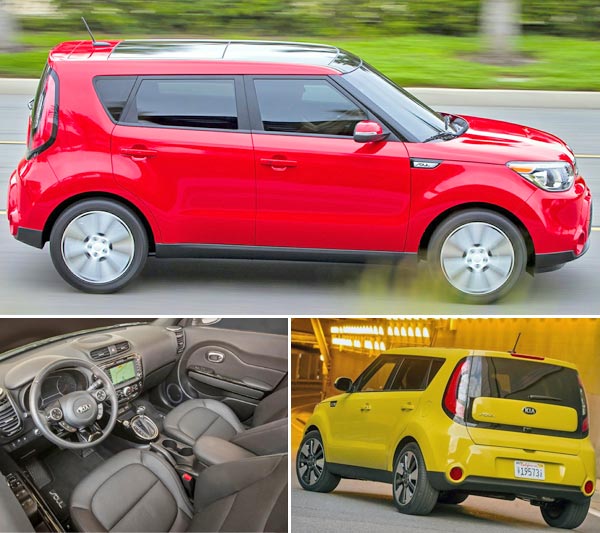 The
new Kia Soul
comes fully transformed and more stylish than ever. It keeps its essence but remains as a difficult car to categorize due to its proportions. For this 2015 model, it increased its length and width, as well as the wheelbase. This second-generation stands out for offering a perfect combination of safety, comfort, equipment and above all, style and unique design thought to attract the youngest. Its driving is very comfortable and the driver's seat is high enough so that you have a greater perspective of vision. Another advantage over its competitors is the range of colors in which it is available. The interior finishes are well-finished, transmitting sensations of a compact and solid car. Its renewed appearance was inspired by the concept car
Kia Track'ster 2012
.
Engine:
1.6L of 130-HP
Fuel efficiency:
24 MPG City / 30 MPG Highway
2. 2015 Jeep Patriot Sport — Starting Price: $16,695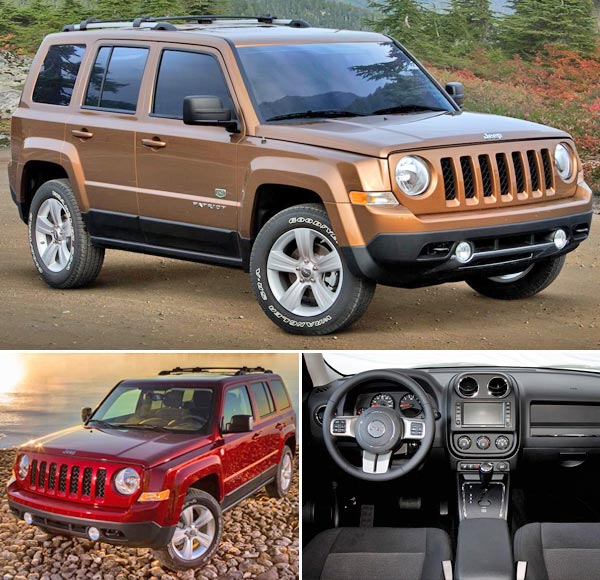 The Patriot 2015 recaptures the essence and the mystique that
Jeep
has held for over 60 years and introduces a vehicle with good off-road capabilities, and with the economy and refinement of an SUV of these days, surpassing in dynamism, presence and especially in price to its competitors. This crossover from Jeep is not only
affordable in price
, it is also very economical to maintain and when traveling, and one of the few, which thanks to its modest 2.4L I4 DOHC engine of 6-speed, reaches up to 30 MPG on the road. For this 2015, this model keeps its adventurous design with outstanding equipment and lots of comfort for all passengers. It is manufactured at the plant in Belvidere, Illinois, where the Compass and Caliber are also manufactured, which has helped to reduce the price of their costs by up to 60% due to the ease of making 3 different cars using the same facilities. The Patriot 2015 is designed for the SUVs-loving public, with very classic lines, round headlights and grille of 7 slots which distinguishes the Jeep around the world. It is quite spacious and easily accessible with 5 doors, and folding seats to increase load capacity.
Engine:
2.4L I4 DOHC engine of 6-speed automatic
Fuel efficiency
: up to 30 MPG on Highways

Related article you may be interested in:
Jeep Patriot 2012, the cheapest SUV for sale in USA
.
3. 2015 Jeep Compass Sport — Starting Price: $18,995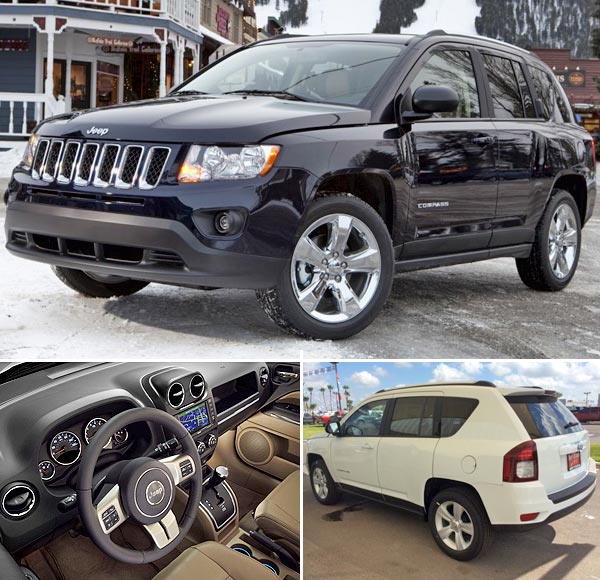 This SUV from Jeep shares with the Patriot, already mentioned, the same platform, engine and most of the technology in the suspension and transmission, but the Compass is aimed to a more demanding public as the equipment installed in this SUV, is clearly more luxurious. The design is more cutting edge with bolder curves and lines. The front side is also more stylized with respect to the Patriot, but it preserves the Jeep® label with the 7-slot grille. An interesting feature of the Compass is that it comes with a power outlet so that you can connect small appliances like a laptop or cell-phone chargers. The onboard audio equipment supports mp3 and iPod music players. According to the automaker, this vehicle is built to provide the capability of an SUV with the efficiency and performance of a compact car.
Engine:
: 2.4L I4 DOHC engine with dual VVT and five-speed manual transmission
Fuel efficiency
: up to 30 MPG on Highways

Related article you may be interested in:
New Jeep Cherokee 2014 Evolved SUV For Less Than $23000
.
4. 2015 Mitsubishi Outlander Sport ES — Starting Price: $19,595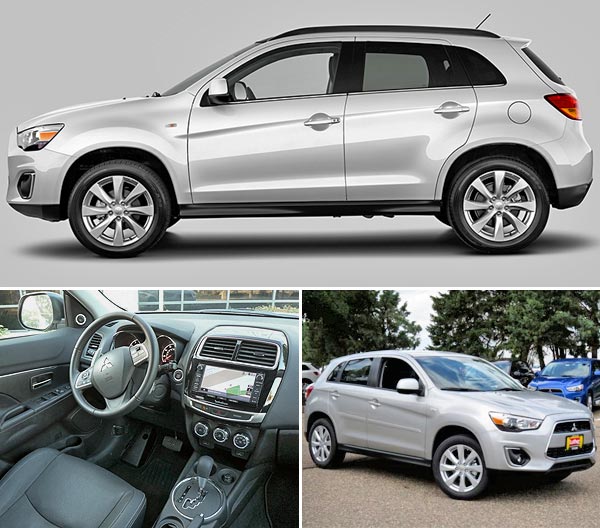 Outlander, the name of this Japanese SUV evokes the feeling of traveling in search of adventure to unexplored distant lands. For this 2015 has been refreshed, its weight was reduced thanks to the use of high-tech steel and is available in two different models, the ES and SE, both with an efficient 2.0L MIVEC DOHC 16-valve inline 4-cylinder of 148-HP @ 6000 rpm which delivers up to 25 MPG in the city and up to 32 MPG on highways, according to the automaker. That's 2 more miles than the Kia Soul, Jeep Patriot, and Jeep Compass. The 2015 Outlander pursues passionately three objectives: fuel economy, safety, and superior quality. It is designed to be an attractive SUV with a new image that offers off-road details and modern dynamic lines. It is notable for its great fuel efficiency, high safety for passengers and their friendliness with the environment thanks to its low emissions. The Outlander has won the "
Top Safety Pick Plus
" award given by the IIHS, for two consecutive years.
Engine:
: 2.0L MIVEC DOHC 16V of 148-HP
Fuel efficiency
: 25 MPG City / 32 MPG Highway

Related article you may be interested in:
Mitsubishi Outlander Sport 2014 - Best SUV For Women Under $20000
.
5. 2015 Chevrolet Trax LS — Starting Price: $20,120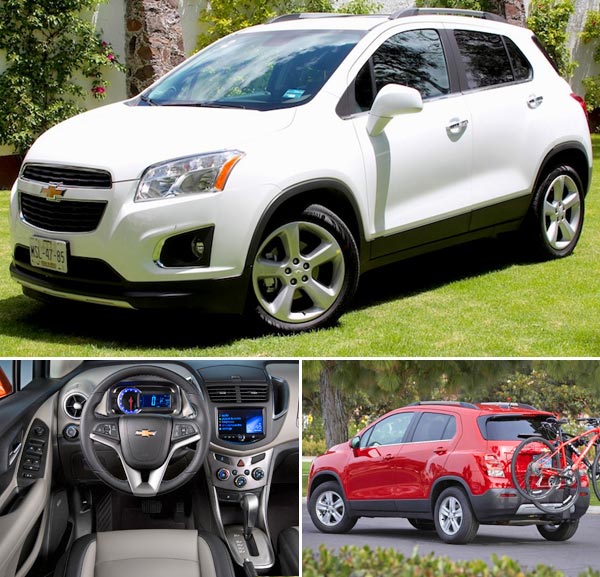 One of the new toys of
Chevrolet
is the Trax which was released at the
Auto Show of New York
on April last year. For 2015 presents new characteristics, especially in equipment and safety, meanwhile, the design remains the same. The Trax is being positioned as a strong competitor in the emerging market for the small SUVs, which is expected to grow more than 80 percent in the coming years. According to Chevrolet, the Trax has already sold 155,000 models in 66 markets worldwide so far. It's a bit smaller and cheaper than the other SUV from Chevy, the Equinox, which is sold for $24,520. Among its innovations, is the exclusive OnStar system, which is incorporated from the factory. The OnStar system offers the automatic response of accidents, emergency services, step by step navigation, stolen vehicle assistance, and the mobile application 'Remote Link' among others. The Trax is built on the "Gamma II" platform of GM, which is shared with the
Chevrolet Aveo
and
Sonic
. It is also marketed as the "Holden Trax" in Australia, and as the "Tracker" in Russia and South America. Since 2013 is being sold and manufactured in different world markets, and assembled in factories located in Bupyeong-gu (South Korea), San Luis Potosi (Mexico) and Shanghai (China).
In short, the Trax is a small and smart urban SUV, designed especially for city life.
Engine:
: 1.4L 4-Cylinder Turbocharged ECOTEC of 138-HP with 6-speed auto transmission
Fuel efficiency
: 26 MPG City / 34 MPG Highway
More Around $20,000
Other new 2015 SUVs around $20,000 dollars that is worth mentioning, and of which we are going to talk later, are the
Nissan Rogue Select ($20,150)
,
Nissan Juke ($20,215)
, and the
Dodge Journey ($20,295)
.