The midsize pickups are a segment hard to understand as they are aimed at a very specific audience seeking the workforce of a truck, but not something big enough to spend on one of a ton and a half nor so little to buy a pickup based in a car. Precisely in this hole there are few options, and the new 2013
Chevrolet Colorado
is ready to dominate this segment for a cheap price that you won't complaint.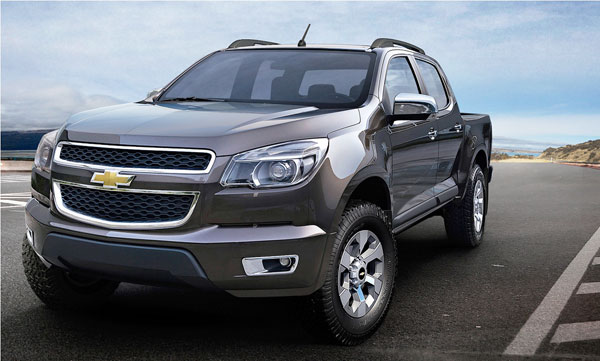 New 2013 Chevrolet Colorado
—
The Colorado is more powerful and efficient in this new generation.
Designed in Brazil, the new Colorado has a completely new face within the Chevrolet pickups. Its design goes far hand in hand with the
cars and SUVs
of the brand than with the pickups. Its front stylized and elongated headlights will remind you somewhat to vehicles like the
Malibu
or the Cruze.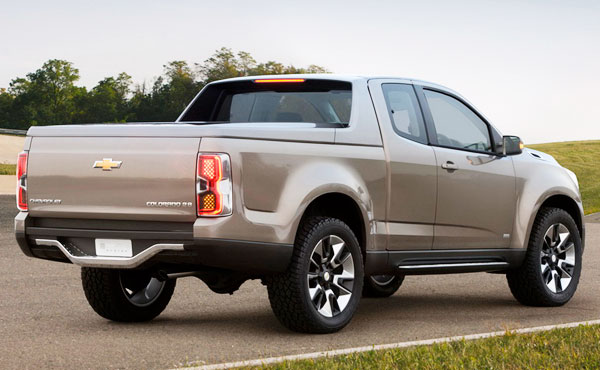 2013 Chevrolet Colorado | Rear
—
This truck was designed at the Center for Development of General Motors of Brazil where it was manufactured, although it is also produced in the plant of Thailand.
Despite being a middle-size pickup is quite generous, especially because it comes with the extra or second cab that can accommodate up to four adults in complete comfort or also five passengers to make short trips without problems.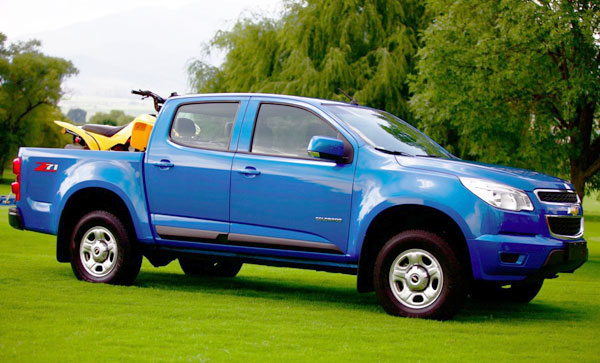 2013 Chevrolet Colorado Z71 | Base model
—
This pick-up is available in two versions: LT 4x2 and LT 4x4. For the safety offers ABS brakes, bags in the front for the driver and passenger and stability control system.
Inside, the dashboard design seeks to remind you the
Camaro
with their square watches... actually it does not, or at least not much. The driving position is comfortable and thanks to its height you have good visibility around. It would be appreciated a little more lateral support in the seats but generally they do not present any problem as well as materials of better quality, but we understand that at the end of the day, the
Colorado pickup is a working vehicle
and even so, the
quality of assembly is excellent
.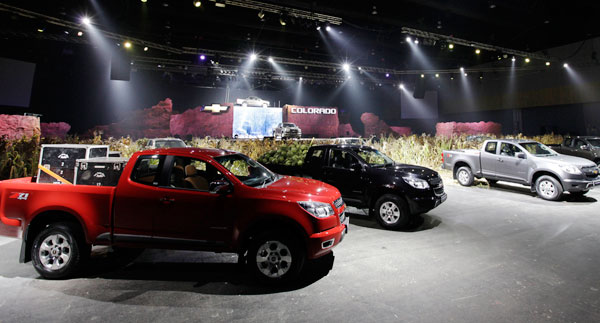 New Chevrolet Colorado Release
—
For being a 4x4 vehicle, the Colorado offers three driving modes that you can choose from a knob on the center console.
The equipment is good and offers sound system with Bluetooth (just goes to the phone, you can't play music by this means) and interface for MP3 player. The MP3 interface draws attention since the input cable is not USB normal, it is what you can usually find on the other side of the USB cable that goes to the phone and various devices, so you need a cable with the same input in both sides, which generally anyone have since it isn't practically used for nothing else.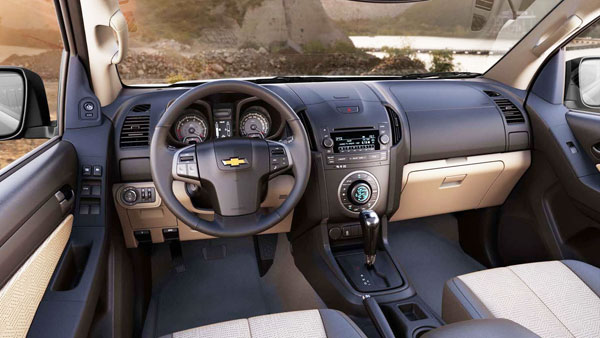 2013 Chevrolet Colorado Cabin & Interior
—
Its ergonomic and comfort are the best advantages of this affordable pickup. In the interior it is spacious for both, those traveling in the front seats and the rear passenger. The legroom is quite generous.
For this new generation was changed previous five-cylinder engine for a new 3.6-liter V6 with 236 horsepower along with a 6-speed automatic transmission. This new engine is greatly appreciated as it does have the necessary strength that was lacking in the five-cylinder and thanks to technology, the consumption is better this time.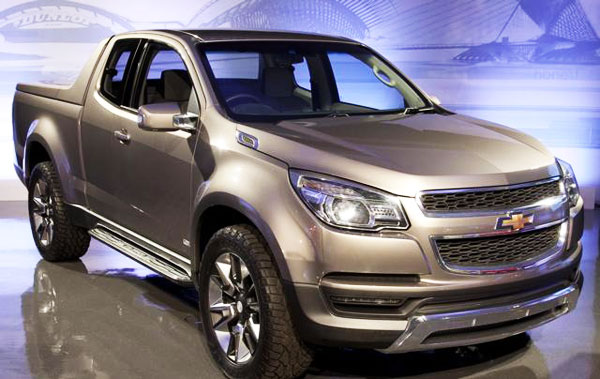 2013 Chevrolet Colorado Exterior Front
—
The independent suspension with front and rear stabilizer bar is Multilink. This Chevy pickup truck uses disc brakes in the front and drum brakes on the rear tires.
Where the new Colorado stands out is off the road. The 4x4 version for testing, makes things very well in this area. Thanks to its locking differential, the Colorado can attack almost any terrain without problems. The combination of its drive system and its engine make it a very good vehicle for off-road driving, which increases its capacity as a work vehicle.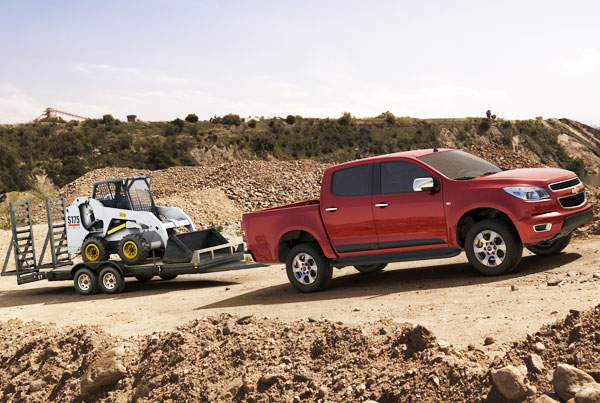 2013 Chevrolet Colorado Exterior Front
—
This model is very responsive when accelerating regardless of the type of road it moves. Despite its high suspension, this cheap pickup allow you to take curves with great stability.
When you have to drive it in the city or on the highway, the Colorado is quite competent. Despite its ride height you will feel it pretty stable at road rates and in the city honestly you will suffer a little bit because its size in transit. Its suspension absorbs any unevenness of the road without any problem and the steering wheel is sufficiently precise to be able to make emergency maneuvers (in case you have to do one, the traction control and stability will greatly help you to stay safe).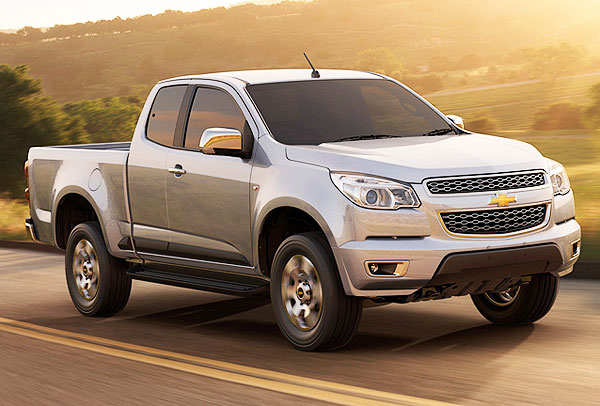 New 2013 Chevrolet Colorado In Motion
—
The Chevrolet Colorado is a fun vehicle, strong and dynamic. It is an ideal truck for use with the family and also for the hard work. Its fuel efficiency is a bit high but it is understandable because its engine is a V6.
In conclusion, the new Colorado LT Z71 pickup is a good choice for those looking for something just right in that "middle" segment, making everything that a big truck can do but in a smaller package and considerably cheaper.

Other articles you might be interested:

Find cheap used trucks and pickups for sale

New 2013 Car Models Coming Out For Sale in USA

Which And Where to Buy the 2012 Cheapest New Pickup Trucks

Get A New Pickup Truck — Top 5 Cheapest Trucks Under $20,000

Cheap New 2013 Car Under $13000 Small & Efficient: Chevrolet Spark