If the remainder of this 2012 you're thinking about buying a new car, for either heavy work, going fishing, or taking a trip with the family, one of the best options is the pickup truck. Although previously they were used as work vehicles, now pickup trucks are also used for daily transportation. They are available in different sizes and levels of additional equipment, from duty trucks without accessories and 4x4 off-road to five-passenger luxury models. In this 2012 there are many new models to choose from in the U.S. market, but few for under $20,000, and that's exactly what we're going to tell you in this article, what are the
cheapest and most affordable new pickup trucks
you can find right now
for less than $20,000
and some of their main characteristics. But, just in case, pickup trucks aren't among your candidates, you can also check what are
the cheapest new SUVs of this 2012
.
2012 TOYOTA TACOMA:
MSRP Starting at

$17,125


Fuel efficiency: 21 mpg city / 25 mpg highway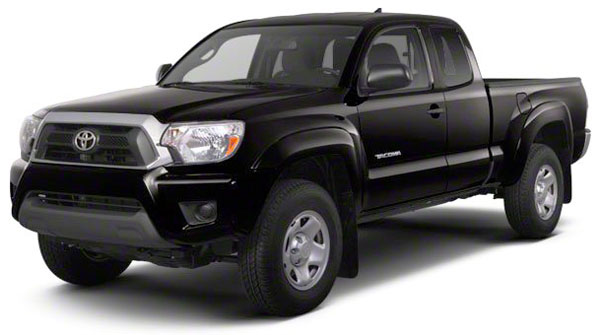 The 2012 Tacoma truck comes with a more refined interior and improvements in equipment. Among the exterior changes, highlights are a new front grille, redesigned headlights, a hood, and the front bumper cover. Inside, you can see a new instrument panel and controls on the center console with redesigned distribution, along with audio controls on the steering wheel for certain versions and the Entune infotainment system integrated into the cabin. The audio system integrates Bluetooth connectivity and a USB port. It also features a rearview mirror that displays information about the outside temperature, and compass and also projects the image on the reverse camera. What has not changed are the engines, the 2.7L in the base model and the 4.0L V6 is still available in their different models. For better use of the cargo box, the Toyota Tacoma 2012 includes two fixed hooks on the sides of its platform to hold heavy items and bulky more securely. The 2012 Tacoma comes with 20" tires that have a terrific grip on the road and in mud. According to the Toyota MSRP, this
is the cheapest pickup truck for sale in the US
at this moment.
2012 CHEVROLET COLORADO:
MSRP Starting at

$17, 475


Fuel efficiency: 15 mpg city / 20 mpg highway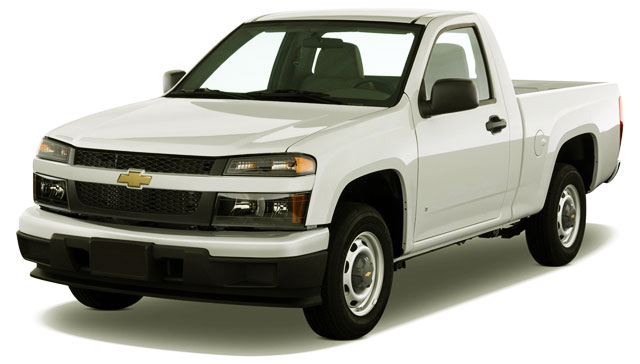 The new generation of this truck comes with a new design, better performance, and more comfort. It also looks much more powerful and has a greater presence on the road. This Chevrolet Colorado 2012 is the result of five years of work, a huge investment, and more than 1.5 million miles driven all over the world to ensure that its capabilities meet the needs of customers who so far are located in more than 60 markets. It is available in three versions: LS, LT, and LTZ which come with different levels of equipment. Its design is much better defined and some chrome elements make it look more sophisticated. With this model, Chevrolet wants to meet the business and personal needs of buyers in order for it can be used anytime, anywhere. Thanks to the technical improvements made by Chevrolet, this pickup truck increased its towing capacity. The interior also had several changes in this 2012 model and now offers more comfort and functionality for all occupants. The body and elements design such as the lights, make Colorado looks more robust and powerful and the headlights provide a very good level of lighting. The new generation also made modifications to the hood and front grille. It will be available with two engine options turbo-diesel 4 cylinders of 2.5L and 2.8L that give it 150 or 180 horsepower respectively. You can choose it with five-speed manual transmission or an automatic six-speed.
2012 GMC CANYON:
MSRP Starting at

$17,490


Fuel efficiency: 14 mpg city / 19 mpg highway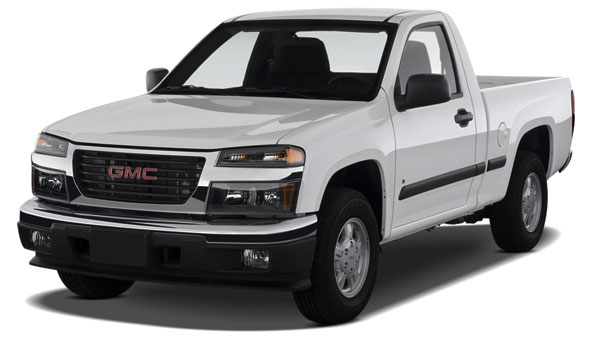 This pickup truck is considered by many experts as one of the most advanced in the American market. The 2012 model comes with more space in its cabin and enhanced features enough to give tough competition to other compact pickup trucks. The GMC Canyon is available in two trim levels, the SL and SLE. It comes equipped with an engine 3.5 liters DOHC 20-Valve line-5 capable of producing 220 horsepower at 5,600 rpm and 225 lb-ft of torque at 2800 rpm. The best of this engine is that is entirely made of aluminum which facilitates the rapid cooling thereof. The best of this engine is that is entirely made of aluminum which facilitates the rapid cooling thereof. Thanks to the lighter weight of the engine, it saves fuel and allows quicker acceleration. It comes equipped with a five-speed manual and a four-speed automatic transmission. The GMC Canyon 2012 offers very good fuel efficiency of 17 mpg city and 22 mpg highway. It also has an excellent level of equipment that undoubtedly makes driving it more enjoyable and pleasant. Among its internal equipment options are AM / FM stereo with CD and MP3 player and 6 speakers, air conditioning, lights on alarm, 60/40 folding rear seat, heating front seats with power height and lumbar adjustment, central locking with remote command, the computer on board, power steering, automatic dimming rearview mirror, folding electric door mirrors, front fog lamps, alloy wheels, leather upholstery, front and rear power windows and steering wheel with adjustable height. As for safety comes with front disc brakes and rear drum brakes, an anti-lock braking system (ABS), and dual airbags for both driver and passenger, as well as stun alarm, front and rear ELR seatbelts, dynamic stability control, tire pressure indicator, and third stop light.
2012 FORD RANGER:
MSRP Starting at

$18,160


Fuel efficiency: 22 mpg city / 27 mpg highway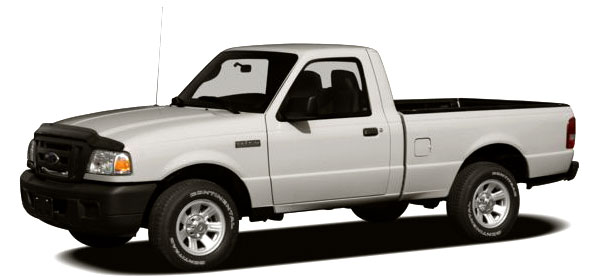 The new Ford Ranger 2012 offers more comfort and interior space than its competitors; besides being extremely quiet in the cabin, an attribute that isn't often associated with a pickup truck. It has sound-deadening materials in the doors, roof, and structure, achieving a high refinement of noise, vibration, and harshness. One of the features that draw more attention from the new Ford Ranger 2012, is its ability to pass over rivers, go up and down on steep slopes, and run on roads of stone, sand, dirt, and snow without any problems. The new Ford Ranger is the first midsize pickup truck created with the new strategy established by Ford for the development of products known as One Ford. The new Ford Ranger 2012 is perfect for hard work, either in the construction or agriculture industry. It is capable of easily carrying full loads on the road, without having to shift gears. Another remarkable characteristic of this pickup truck is its fuel economy. The propulsion systems of the all-new Ford Ranger 2012 are designed to offer customers a superior combination of power, with a fuel economy leader in its class. In terms of safety comes with airbags for the chest, which deploy from the front seat driver and passenger. The airbags designed for the chest absorb impact and reduce crash forces experienced by passengers.
2012 NISSAN FRONTIER:
MSRP Starting at

$19,010


Fuel efficiency: 14 mpg city / 19 mpg highway

The Nissan Frontier is a midsize truck versatile with excellent performance and popularity. It looks sturdy but elegant and its handling is surprisingly easy and comfortable. It is available with rear-wheel-drive (RWD) or four-wheel drive (FWD) of 5 or 6-speed manual transmission or automatic 5-speed. This pickup is a real workhorse with a very welcome and surprising touch of civility. It comes with two options of body, 4x4 and 4x2, and has a 261 horsepower 4.0L V6 engine and another 152 horsepower 2.5L 4-cylinder in line only for the King Cab model. This pickup truck offers with this new model, an exceptional level of performance. For the family or for work fits almost any need or budget. It is one of the few alternatives for those looking for a double cab pick-up for working with all-wheel drive and which is not diesel. This pickup truck is offered in 5 different versions: the S (King/Crew Cab), the SV 4 Cyl (King Cab), the SV V6 (King / Crew Cab), the PRO-4X (King / Crew Cab), and the SL (Crew Cab). The King Cab body is only available with the 4-cylinder engine. It has two regular front doors and two rear-hinged half-size in the back and is rated for four passengers, both with very limited rear space making them suitable only for very short trips. The Crew Cab 4 doors and a body that has the capacity for 5 passengers in a conventional rear seat with a 60/40 folding backrest. The Frontier cabin is quite utilitarian but with a sporty touch that makes it visually interesting. It feels solid with very good build quality although some rigid plastic panels look somewhat cheap, fortunately, are not the most prominent. The 2012 Nissan Frontier is our last and 5th vehicle on this list and for less than $20,000 another great cheap pickup truck you can find in many US dealerships.

Related articles you might be interested:

Where to find the cheapest best cars for going on vacation

Cheapest new sports cars of this year

3 cheap new cars under $14000 - Cheapest new cars of 2012

2012 Cheapest Cars - Dreaming with a new car? Top 5 under $15000

What Are The Cheapest New SUVs of 2012? - Top 5