The F-Series, from where this truck from Ford gets its names, is a description used to cover the entire succession of these models that have been in production for over 60 years already.
The popular F-150 has been the best selling vehicle in America for 17 years. Currently, it has also been the
best-selling pickup for 37 years
.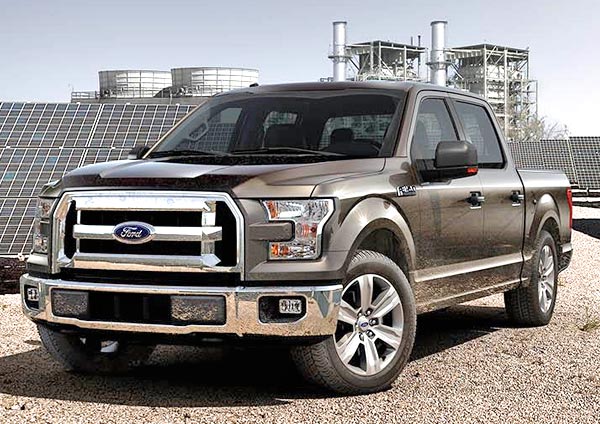 Ford engineers felt they had to make a truly radical rethink for the 13th generation of the truck, so they made style changes quite subtle. he grille and headlights were redesigned, and the weight of the body was reduced by 700 pounds less, with a solid aluminum that gives it more flexibility and better fuel economy.
Models & Styles
The Ford F-150 is a full-size pickup offered three different body styles: regular, extended (Supercab) and Double Cab. There also are three optional bed lengths: 5.5 feet, 6.5 feet, and 8 feet.
The new F-150 2015 is also available in
XL
(starting at $25k),
XLT
(starting at $30k),
Lariat
(starting at $38k),
King Ranch
(starting at $38k), and
Platinum
(starting at $50k) models with a lot of options.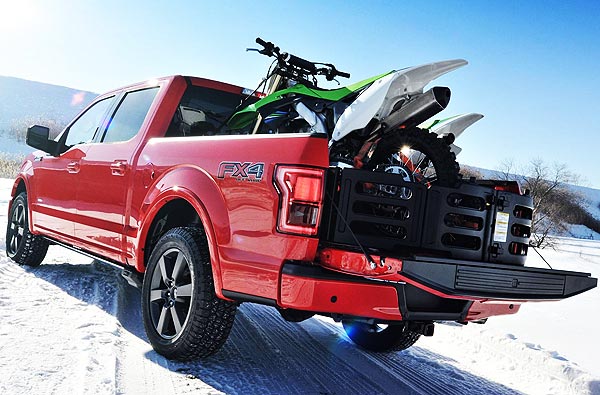 The standard equipment on the XL model starts with 17" steel wheels, a sound system of four or six speakers with a 4.2" screen, automatic headlights, voice control, smart-phone integration system named Ford Sync, Bluetooth, and auxiliary audio and USB connectivity. There is also a long list of individual options for the more expensive and better-equipped models.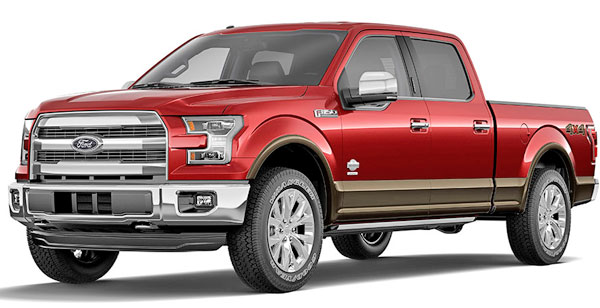 For example, the XLT model comes with fog lamps, chrome exterior moldings, additional interior storage and MyFord Touch interface which includes a central 8" touch screen.
For the most demanding fans, the FX4 Off-Road Package includes sunroof, front bucket seats with center console, rear inflatable belts, security system with blind spot monitoring and cross-traffic alert, besides navigator system.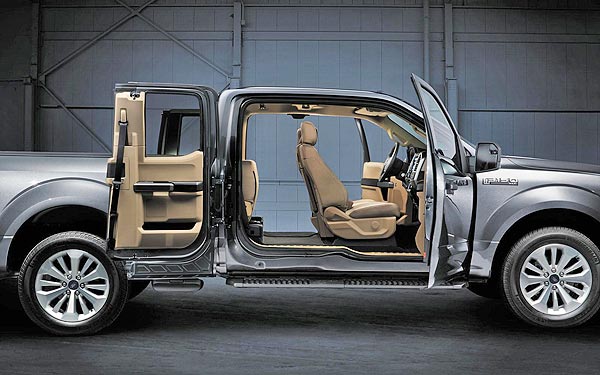 Many options included in the XLT model, are also available for the Lariat model, such as automatic beam headlamp control, heated seats in the second row, power adjustments, and Sony audio system with 10 speakers.
The most luxurious models are the "King Ranch" and "Platinum" which include most of the options of the other models.
Motor y transmission
The base engine is a 3.5L V6 which generates 283-HP and 255 lb-ft of torque. It is followed by a new turbocharged engine of 2.7L V6 that produces 325 horsepower and 375 lb-ft of torque.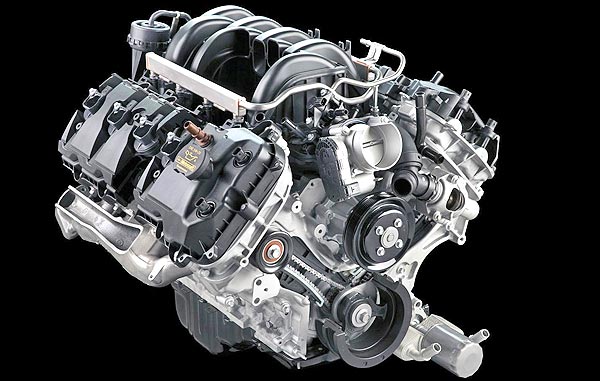 Those who need more power for heavier payloads, or to transport trailers, can opt for the 5.0L V8 engine with 385- HP and 387 lb-ft of torque, or a turbocharged 3.5L V6 engine which has 365 horsepower and 420 lb-ft of torque.
All engines come with six-speed automatic transmission, which includes modes for towing and dragging. The RWD system is standard, and an electronically controlled 4WD, with a transfer case of low range, is available as an option.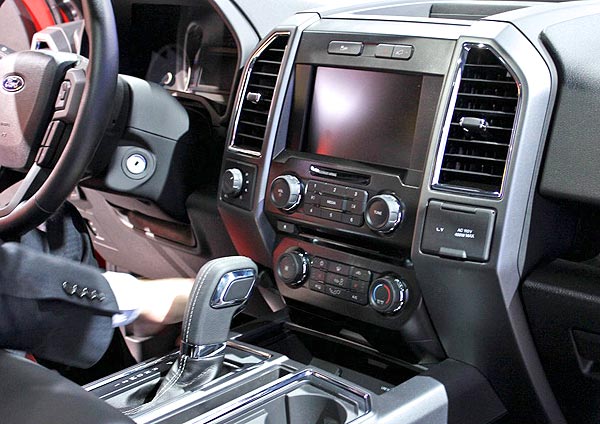 The maximum towing capacities start from 7.600 lbs., with the V6 base engine, and up to 8500 with the 2.7L V6.
To lift or drag heavy items, the 5.0L V8 can tow up to 11,100 lbs., while the 3.5L EcoBoost V6, can tow trailers of up to 12,200 lbs. when it is properly equipped.
Interior Design
The interior of the new F-150 is sleek and stylish. The materials used in the models with higher equipment levels are on the same level as a lot of luxury sedans.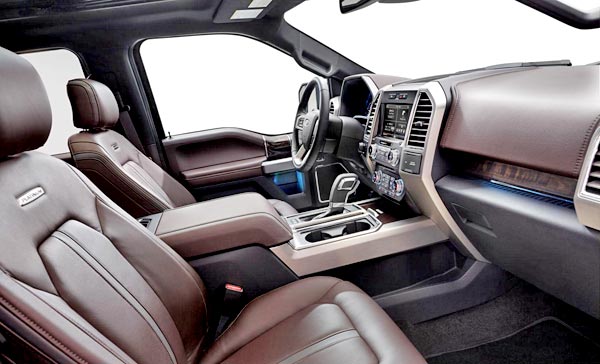 Everything is designed ergonomically in such a way that, there is a padded armrest installed exactly where you wanted it to be, and the controls of frequent use, are located just where the hand instinctively reaches.
The front seats offer stunning visibility and excellent comfort, besides having a good amount of storage available.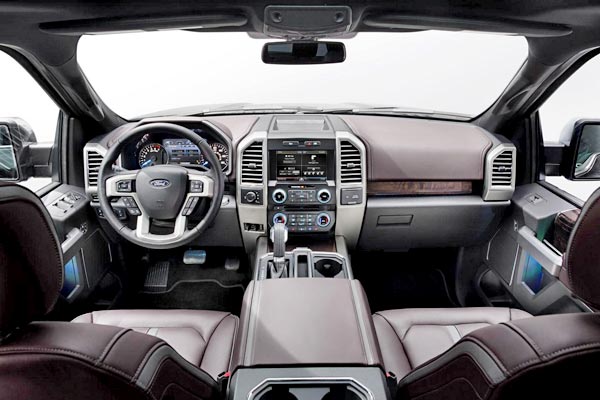 Another gadget in its interior that stands out, is the new 8" touch screen (
MyFord Touch
) in the dashboard, which is available in the top models.
Safety
Some of the safety features included are anti-lock disc brakes, stability and traction control, trailer sway control, side airbags for the front seats and long-lasting side curtain airbags.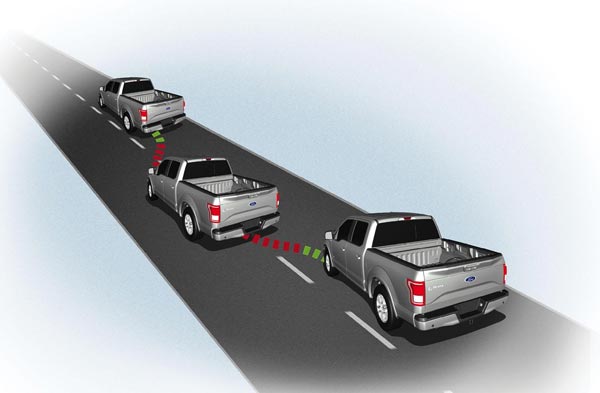 Among the high-tech safety features included in the new F-150 are the collision warning, which prepares the brakes for maximum effectiveness, a lane change warning system, and blind-spot monitoring with cross-traffic alert.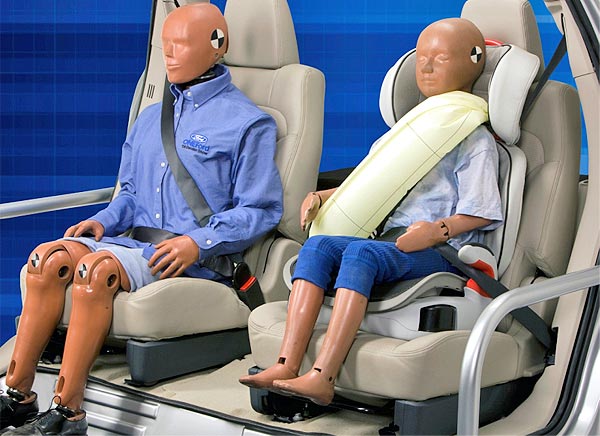 The rear inflatable safety belts are also optional. In the case of an accident, the Sync system can use your cell phone to ask for help from the authorities.
In Summary
The first thing you notice is that it actually feels lighter, more agile and less pickup than its predecessor. Its behavior resembles a luxury vehicle and provides a solid and quiet highway ride on long distances.
The new F-150 will fit easier with people that someday wanted to buy a pickup, but never did it. This new model has many significant improvements, enough to win the crown of "Truck of the Year". Anywho who knows about this business knows that the crown of the best is in the right place.
If you are looking for a modern full-size pickup, rest assured that the new F-150 is your best choice. For something, it has been the best-selling pickup in America for 37 consecutive years.
Related Articles

New Chevrolet Colorado: Cheap 4x4 Pickup That Worth The Money

Used Ford F-150 trucks starting for $1000 or less

Ford Mustang GT 2015, Revolutionary Machine Coming Out For 2014

Ford Fiesta, The Best Car For Women