List of the 10 best automotive market options to save money during a 5 years period
You can use ‹ arrows ›, ← cursor keys → or ► play the slide to see the content
Most motorists drive a midsize car. They are the ones that offer greater relationship between cost, safety and comfort, and they virtually constitute the automotive industry.
The guys at Cars.com has named the Kia Optima as the most affordable midsize sedan of 2013 if you own it for a period of 5 years. Models that were part of this analysis, had to be equipped with automatic transmission, cruise control system, USB port, Bluetooth connectivity, power windows, power adjustable driver seat and backup camera.
Taking into account these characteristics and the estimated fuel costs over five years, Cars.com made a list of the 10 midsize sedans, ranked from most to least affordable, being the Kia Optima the owner of the first place.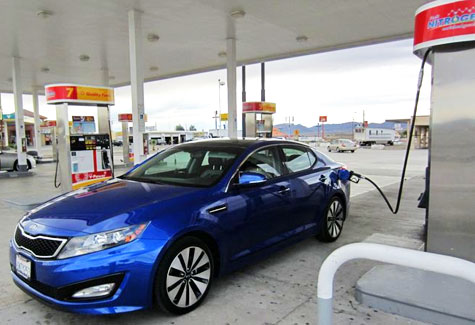 The midsize Kia Optima was designed by Peter Schreyer and introduced to the public during the New York Auto Show in 2010.
"The Optima topped the list because of its impressive combination of features, low price and impressive estimated fuel cost for five years," said Patrick Olsen, editor-in-chief of Cars.com. With an estimated of $9,750 in fuel costs over five years, the Optima stood out with a total cost of $32,975. This figure is more than $3,000 dollars less than the average ($36,291) midsize sedan that were part of the list, and for the same period of time of 5 years.
One of the most interesting conclusions they found in the analysis, was that the Kia Optima Hybrid and the Ford Fusion Hybrid are more affordable after 5 years than seven other non-hybrids from the list.
About The Kia Optima 2014
Since its release at the Auto Show in New York in 2010, the Optima has become the leading Kia sales, selling more than 150,000 units last year, gaining worldwide recognition for its style, European design and driving pleasure.
The Optima 2014, manufactured in the U.S. in the Kia factory located in West Point, Georgia, (KMMG), comes with front and rear updated design, thus keeping its original, dynamic and sporty image.
Available in LX, EX and SX versions as well as SX Limited models with new outstanding amenities. New high-quality services and convenient options make the Optima a huge contender in the segment of mid-size sedans. It is expected that the 2014 Kia Optima arrives to the dealerships in the 3rd quarter of this year, and prices will be announced closer to the date of sale of the vehicle.
For now, the 2013 Kia Optima SX, which is the cheapest version, has a starting price of only $21,350.