If you are a lover of the off-road vehicles and you are thinking about buying a new one, so what you are waiting to purchase
the cheapest and most affordable SUV of the market
for sale under $16000:
the Jeep Patriot 2012
. You should know that this kind of vehicle offer a diverse range of benefits and services that I'm sure you'll love. In the first place, they have enough room to accommodate 6 passengers, traction is distributed over all four wheels, and it that was not enough its equipment is designed to entertain and amuse at all times.
Get the cheapest SUV for sale in America in three different models:
- Patriot 2012 Sport 4x2 starts at $15,995 (23MPG City / 29 MPG Highway)

- Patriot 2012 Latitud 4x2 starts at $19,745 (23MPG City / 29 MPG Highway)

- Patriot 2012 Limited 4x2 starts at $23,560 (21MPG City / 27 MPG Highway)
Quote: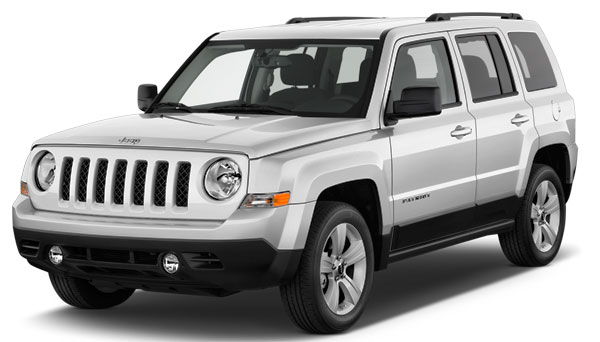 Perfect for the family.
The 2012 Jeep Patriot is a car not only for field trips, it can also be used as a family car. Its safety systems and comfort also allow children to be ergonomically seated, in fact it has air conditioning for all the seats.
The Jeep Patriot 2012 is the latest version of a compact SUV that completes the family of the American brand. According to the firm, the Patriot 2012 features an aggressive exterior design, which has added four new body colors and you can include the 17-inch all-terrain tires, fog lamps, and tow hooks. The Patriot rescues the essence and the mystique that Jeep boasts for more than 60 years and features a vehicle with good road capabilities with the economy and refinement of an SUV of these days.
The Jeep Patriot is a crossover version which had its first release by the year 2007 and since then has not ceased to produce improvements and optimizations for each of its components. It is worth mentioning that it is known in other markets under the name of MK74.
Otherwise, among its most important equipment items include the Uconnect multimedia system with auxiliary input, Sirius satellite radio and browser, power sunroof, and nine speakers. It also adds electric mirrors, air conditioning, cruise control and steering column adjustable in height.
Quote: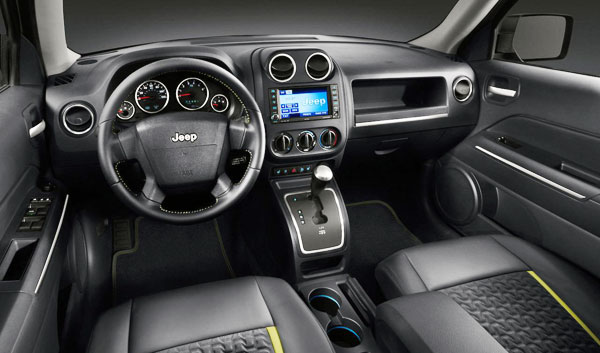 Jeep Patriot 2012 Interior.
In terms of safety, the 2012 Jeep Patriot includes electronic stability control, electronic roll mitigation, hill-start assistant, ABS and front and side airbags covering all rows, as most relevant.
Under the hood, the Patriot has two engine options. The first one consists of a 2.0-liter engine that develops about 158 horsepower. The remaining drive is a 2.4 liter 172 hp that has dual Variable Valve Timing (VVT) on both intake camshafts, which helps to optimize the torque curve at all speeds and produces more power, better fuel economy, and soundproofing. At the same time and according to model, the transmission may be a 5-speed manual or CVT (Continuously Variable Transmission), with single or double traction.
The 2012 Jeep Patriot is available in three versions named Sport, Latitude and Limited and is manufactured at the plant of Belvedere in the U.S., where it is also produced the Compass and Caliber. Chrysler has reduced its costs by up to 60% due to the ease of doing 3 different cars using the same facilities and processes, benefiting the final consumer which can get this SUV at the most competitive price of the market.
Quote: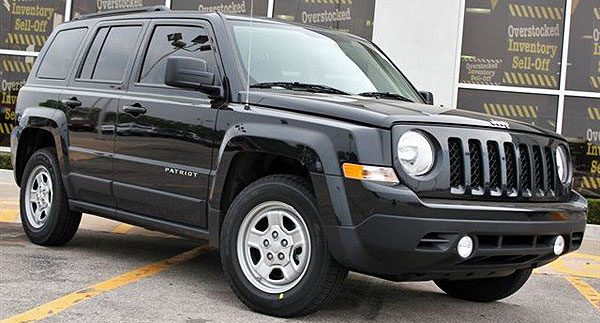 How it really looks.
The least expensive crossover in the American market is designed for the SUV loving public, with very classic lines, round headlights and the 7-slot grill that distinguishes the Jeep vehicles around the world. It is quite spacious and easily accessible with 5 doors. It comes equipped with folding seats to increase cargo capacity and the option of adding roof racks for the use of exterior cargo.
The Patriot is equipped with a 2.4-liter 4-cylinder inline engine, called World Engine that delivers 172 horsepower and 165 lb-ft. torque. This machine incorporates a dual variable valve opening which significantly improves power and fuel efficiency. The gearbox includes a front 5-speed manual and an automatic type CVT of second-generation that optimizes the engine performance too. This combo outstripped supply from other brands by a very attractive price.
Quote:

The 20-inch tires operate as the feet of a person. They allow it to compete with almost any obstacle in its path, from large mounds up to very steep roads with potholes.
Related articles and searches:

Find cheap Jeep cars for sale

Jeep Cars Under $1000

Cheap Jeep Grand Cherokee for sale