Have you ever dreamed and fantasized about going to the dealer of your favorite brand and buy a new car with zero miles? I do, and therefore I put myself in the task of searching it online, but in a matter of one-hour arms crossed I finished, frustrated, in front of my computer and staring at the screen, seeing how expensive they are, considering that the car I wanted, was not exactly a sedan but an SUV.
I like the Buick Enclave, the Audi Q7, the new Ford Edge, the BMW X3 and X5, the new
Ford Explorer
and some others of that kind and the reality is that none of them costs less than $30,000, amount I have not at this time nor I would be willing to borrow from a bank because I do not want to be in debt with fees which it can not pay later.
Breathing deep, assuming the reality, I went to the other side and started in search of the
new cheapest 2012 cars there are today in the American market
, and giving up the idea that the new car I wanted had to be an SUV, I found that for less than $15,000 you can buy a full equipped new car with great warranty and cutting edge technology on it.
At least in my case and reading a little about them, I was very impressed with the
Hyundai Accent
and the Kia Rio. So I did some research about
which new cars are the most affordable
and this was the result:

New 2012 Nissan Versa 1.6 S:
Average Price -
$11,750
The
Nissan Versa
has flexible lines that reflect a modern style and dynamic while driving. It is advanced, efficient, spacious and really affordable to any average citizen with a low budget who wants a new car.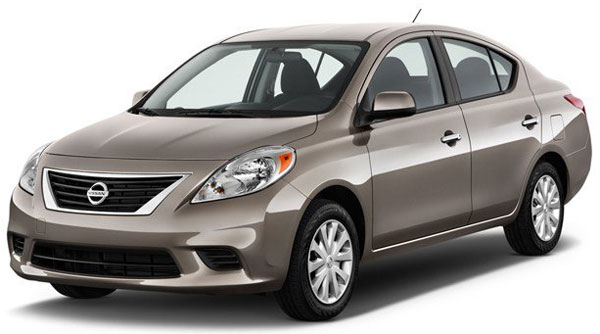 The roof line highlights and expresses its original innovation, both in terms of design and structural rigidity. Its new grille with chrome finishes transmits modernism and elegance. Its unique exterior design defined with dynamic lines make that highlights its spectacular refinement.
The Nissan Versa 2012 is the first model of this Japanese automaker to bring the PureDrive â"¢ logo, a technology that focuses on improving the fuel efficiency and reduce CO2 emissions.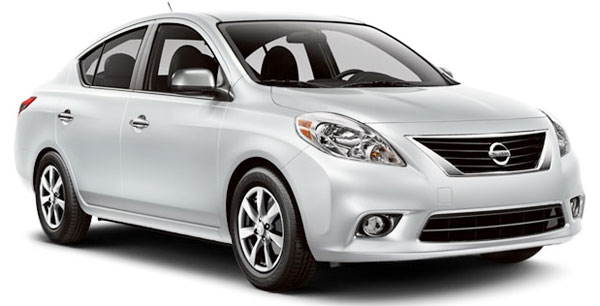 Its robust front includes powerful halogen lights, chrome-framed grille and fog lights. It has a large space for each passenger, keeping the balance between design, quality finishes and equipment.
The center console includes AM / FM / CD audio system with MP3 player and iPod control as well as air conditioning system, audio controls and Bluetooth for cell phone assembled on the wheel. It has an impressive performance of 38 miles per gallon mixed that will help you save money on gas. This 2012 Nissan Sentra remains this year too as the cheapest new car in the U.S. and the first one on this list.

New 2012 Hyundai Accent GLS
: Average Price -
$13,205
The 2012 Hyundai Accent comes completely renovated, boasting an attractive design, more space and an impressive fuel economy. Without leaving the battle for being one of the cheapest cars in the U.S. market, Hyundai seems to have subtly changed its philosophy with the Accent.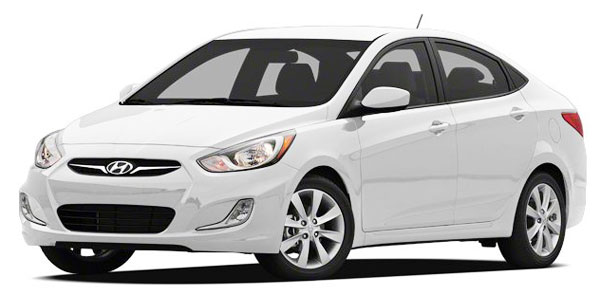 The Korean brand continues to offer its subcompact car for a very good price and accompanied by its unbeatable warranty, but now it comes with a renovation that instantly places it one step higher than its previous generation with its versions sedan and hatchback, of four and five doors respectively.
Most of this growth favors the rear seats, where the journey is now much more comfortable for passengers. Another striking element is the transformation of its design that follows the trend "Fluidic Sculpture", which is dynamic and very modern.

The Hyundai Accent now resembles in some way to its of higher rank brother, the Hyundai Sonata. Its aerodynamic shapes, hexagonal grille, chrome accents, powerful lights and a side line up, mark the signs of the new Accent on its two models. The official figures of fuel consumption of the Hyundai Accent 2012 are 30 mpg city and 40 mpg highway.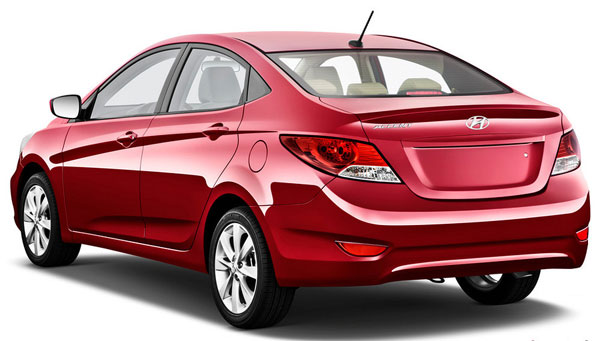 To achieve this fantastic economy relies on its new engine, a four-cylinder engine and 1.6 liters that features direct injection technology, something very rare indeed in a vehicle of this segment. This Hyundai Accent with all its features and styling definitely deserves a spot not only in this 2012 cheapest cars Top 5 list but also in the 2012 best cars.

New 2012 Smart Fortwo:
Average Price -
$13,240
The
Smart Fortwo
is a utility vehicle with limited capabilities but with a simple utility "using it every day in the city" since it is small, agile and fast moving through traffic. It has a low fuel consumption of 33 MPG in the city and 41 MPG on the highway according to EPA ratings and a fuel tank capacity of 8.7 gallons. So you can fill the gas tank with about 30-35 dollars.
This little car provides an easy handling and a fairly accurate braking, which is favored by the reduced weight of the Smart and of course, with its eight feet long you ensure a parking slot in almost any hole in the city.
For this 2012, the Smart Fortwo shines a more modern and dynamic appearance, in addition to a wide range of engines to choose from. The new Smart Fortwo shows a new grille, which now features the brand logo. The new generation of vehicles for 2012 combines the responsibility to the environment and the high ecological standards.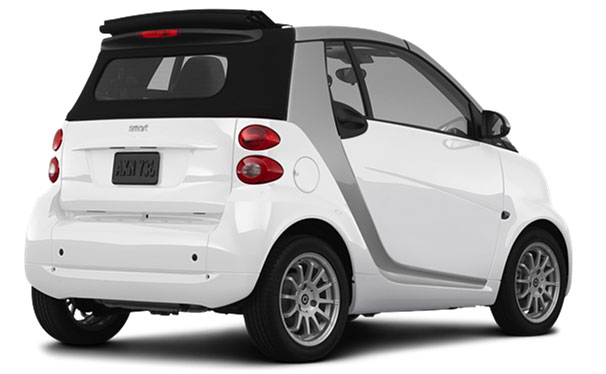 With its compact dimensions takes up less space on roads and parking lots than any other car on the market. All versions of the Smart Fortwo 2012 are available for both the coupe body and the cabrio. For long journeys it is not the most appropriate car and not because it lacks comfort, but its small trunk that makes it an impractical car for these trips.

New 2012 Ford Fiesta S:
Average Price -
$13,995
The
new Ford Fiesta S
is a vehicle built from the DNA of the high performance Ford vehicles. It gets its power from a 1.6-liter EcoBoost engine and 180 horsepower. The acceleration from zero to 62 miles per hour is achieved in less than seven seconds and its top speed is 136 miles per hour.
It also has a very sporty sexy style. Its appearance is more varied from the standard model than the current Fiesta S, with some bold elements like the gray trims on the new grille and the rear diffuser or spoiler.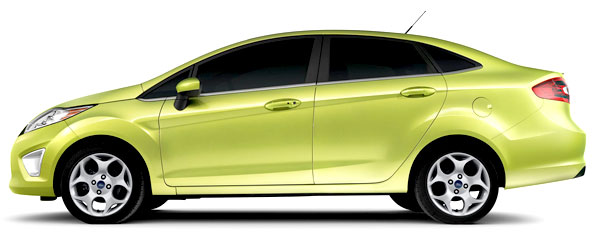 The Ford Fiesta S has the aesthetics of the ST model but with an engine of lower performance. This GTi is a good example to realize that there is no need to spend a fortune to enjoy and have good feelings at the wheel.

It comes with standard motor Duratec ® I-4 1.6-liter with variable timing and independent dual camshaft (Ti-VCT) and is designed for quick acceleration and long distances. It has speed sensitive steering (EPAS - Electronic Power Assisted Steering) technology and Active Noise Vibration & Control (ANC) to provide better response and confidence at highway speeds.

New 2012 Kia Rio LX
Average Price -
$14,150
The
new Kia sports car has a modern, futuristic and aggressive design
which makes it very attractive to young people. It is quite comfortable, is equipped with many details in its interior and its fuel consumption makes it very economical.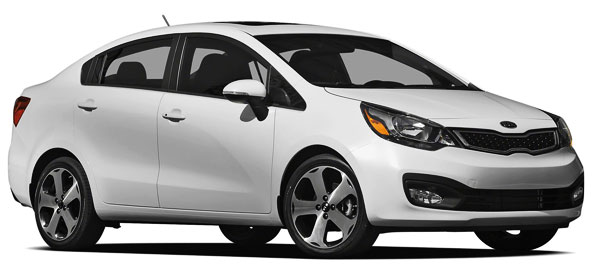 New 2012 Kia Rio LX Sedan
For this 2012 is significantly improved its aesthetic appearance, adding to the list of new models of the Korean manufacturer, fulfilling all expectations of a modern, attractive and affordable car for less than $15,000. It has a 1.6-liter 4-cylinder and 6-speed transmission (manual and automatic) with a GDI direct injection system besides sports suspension.
It has a consumption of 30 mpg city and 40 mpg on the highway and thanks to the technology 'eco system' it can reduce the fuel consumption by turning off the engine automatically when the car is not in motion. The interior, completely redesigned, provides more space and upgraded finishes.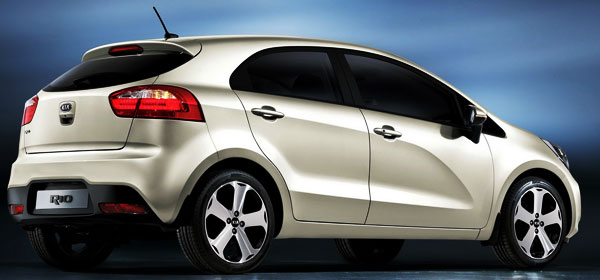 New 2012 Kia Rio LX Hatchback
The dashboard and all internal parts keep the sport "touch" and it is noteworthy that 85% of their materials are recyclable. Its size, design, fuel economy, comfort, the impressive warranty that
Kia offers and the cheap price
, make it an excellent choice for fans of small vehicle and one of the best 2012 cheapest cars listed in this TOP 5.