Chevrolet Sonic, Ford Fiesta and Chevrolet Spark
, three new small cars debuting this year in the US market. These vehicles stand out not only for having an affordable and cheap price but for also being practical, modern, economical and efficient enough to give you up to 40 miles per gallon on the streets. Check them out and know a little bit about the most important features of this new and nice commuter cars for the city and the daily driving.

Chevrolet Sonic
starting around
$13,865
The new Chevrolet Sonic is a small car, a young and aggressive design that is offered in three versions: sedan, hatchback and sporty. Each of these has large rear-seat roominess and cargo space. It is the only small car built in North America. It is designed to provide agile handling and comes equipped with smart connectivity features, including the MyChevrolet application for phones.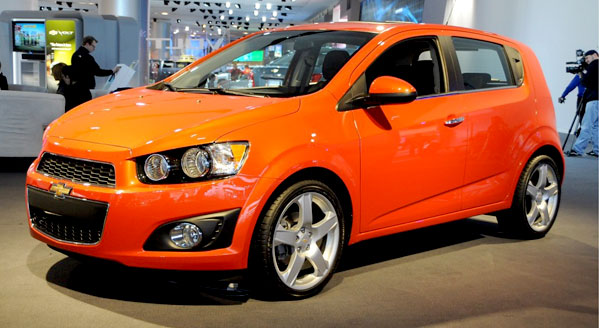 New Chevrolet Sonic 2012 Hatchback
The power trains are based on the Cruze. They come with efficient engines of high power and smaller displacement included the turbocharged Ecotec of 1.4 and 1.8 liters, which are available on three transmissions: a five-speed manual, a six-speed automatic and a manual with the same amount of gears.
"The new Chevrolet Sonic combines the practicality of a small car with the driving passion that characterizes the Chevrolet vehicles like the Corvette," said Chris Perry, Chevrolet's vice president of marketing.
The Chevy Sonic 2012 is regarded as a five star car as it received the top rating in overall performance during crash tests conducted by the National Traffic Safety Administration (NHTSA for its acronym in English).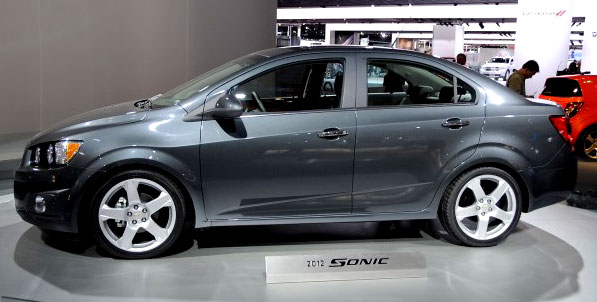 New 2012 Chevrolet Sonic Sedan
The car is designed to help drivers avoid accidents and protect them in case of an impact. It has a very strong structure made largely of high-strength steel and among security features include: numerous airbags, rollover sensors that activate the curtain airbags, StabiliTrak stability control, ABS brakes, traction control, panic brake assistance, pretensioned seat belts with load limiting and OnStar system.
The Chevrolet Sonic production began in late 2011 at the Orion Assembly Center of General Motors in Michigan. In general, the Sonic has everything you need on a vehicle and is highly recommended is you are looking for to buy a new cheap car for sale under $14,000 this year.

Chevrolet Spark
starting around
$12,170
The 2012 Chevrolet Spark combines fuel efficiency, an affordable price and maneuverability for city drivers. The sympathy of this compact car is reflected in its new exterior design, more modern and contemporary. Their ascending figures of angular lines give it a sporty air and slightly aggressive, high wheel arches that optimize the aerodynamic and make it fresh and exciting. The hidden rear door handles give it a coupe look. Although it is unusual for a car of this size, the The Spark has a capacity for 5 adults, making it the ideal choice to travel with friends or family.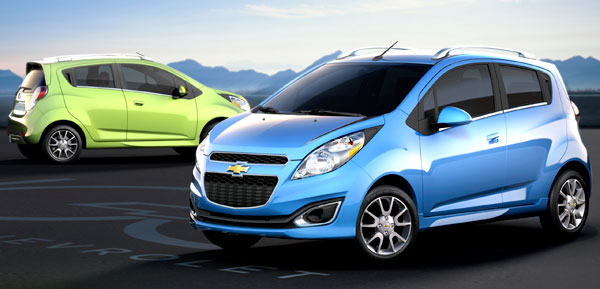 New 2012-2013 Chevrolet Spark
The Chevrolet Spark is displayed on the outside as a nice car and also very safe for its equipment: includes steel side rails, body with progressive crumple zones, safety cage in the cabin, inertial seat belts and headrests on all seats. Other safety features include Stability Track technologies and ABS, 10 airbags, OnStar security system that uses GPS and cellular technology to automatically call in case of collision.
The Chevrolet Spark is unique in its category for everything it offers in terms of comfort. Power steering, stereo with cd, mp3, USB auxiliary input and four speakers, digital clock and opening from the inside of fuel tank and the trunk, among other highlights. In addition, version 1.0 adds air conditioning, central locking, front power windows, power right external mirror, tachometer, 60/40 folding rear seat, sunglasses holder and upholstered deluxe.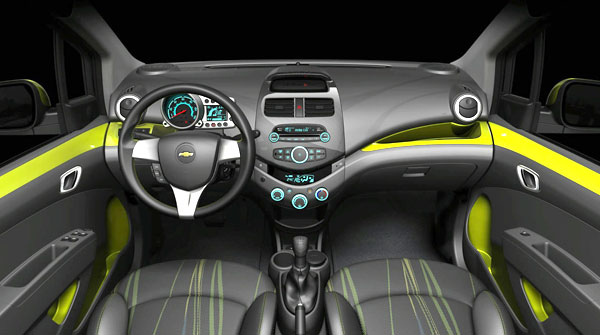 New Chevrolet Spark — Interior
The new version incorporates Spark LTZ front and rear power windows, body-color door handles and aluminum wheels, plus sun visors with vanity mirrors. Inside, the Spark has decorative inserts on the dashboard and the front door, which together with its icy blue colored lights add a touch of high quality. The Spark 2LTversion also has a steering wheel and leather-wrapped heated seats.
It also features fog lamps which have a right intensity and optimal reflexes that light the way so that you can handle in a safe way on cloudy roads.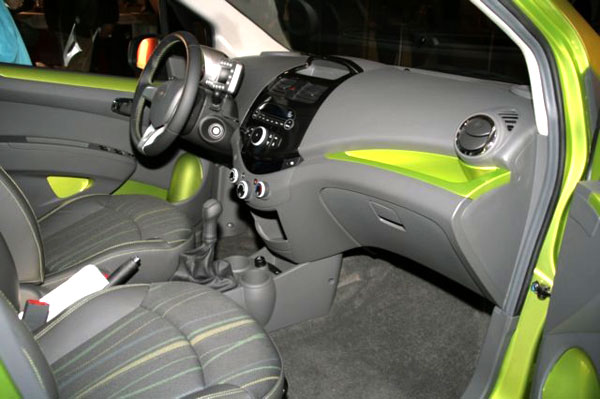 New Chevrolet Spark — Interior
The the Spark is fun to drive, very agile for city driving, comfortable and smoothly on the road. As well as boasts a convenient good driving, the Spark engines are also designed to provide efficient fuel consumption, cheap maintenance and operation. You can choose between two gasoline engines of 1.0 and 1.2 liters, available with manual gearbox 5-speed.
The Chevrolet the Spark 2013 is considered as the ideal car for the city and is perfect for those looking to buy a new cheap car for under $14,000 this year.

Ford Fiesta
starting around
$13,200
.
When developing the new Fiesta, Ford conducted an extensive global customer research. The findings clearly indicated that the need for style was the primary of desires around the world. In Europe, throughout North America and Asia Pacific, customers are looking for a distinctively designed small car that offers world-class quality, convenience, comfort and connectivity.
"Fiesta was developed with customers, not only for themselves," said Derrick Kuzak, group vice president for global product development. "Fuel economy, spirited performance and efficient use of space are universal desires, across global markets- and the Fiesta fulfilled."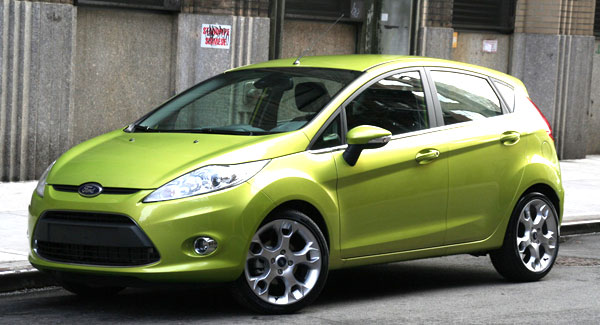 New 2012 Ford Fiesta Hatchback - Exterior
The Ford Fiesta 2012 is a new car that comes with more and better equipment and reasonable and affordable prices. It comes equipped with rear parking sensors, automatic wipers and headlights. The mirrors are folding and automatic. It also has a rear view camera and a much more sporty design than previous models, with lateral elements, rear spoiler, chrome grille, larger alloy wheels and bright polished finish.
The Ford Fiesta is available in two body styles, sedan and hatchback, both with a strong aerodynamic outline that the brand mentioned as a kinematic style. The car catches the eyes wherever it is thanks to this new sport and youthful appearance. There are abundant colors available to suit the most demanding driver.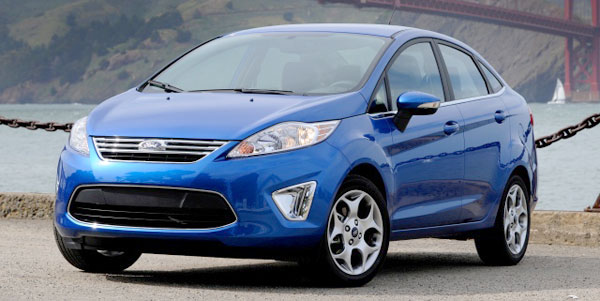 New 2012 Ford Fiesta Sedan - Exterior
This little Ford Duratec engine comes with 1.6L I-4 Ti-VCT which moves with variable timing and independent of the camshaft, six-speed PowerShift automatic transmission which has a yield of 40 mpg highway.
The Ford Fiesta brings as optional the SYNC AppLink. This gadget will help you to keep your hands on the wheel and your eyes on the road offering hands-free phone calls, voice control for the music, the application of Pandora and other more mobile apps. The SYNC service comes with courtesy of three years and provides detailed step by step to go almost anywhere, as well as business search, personalized sports scores, news, horoscope and many more current information. Its Assistant 911 service can call the emergency phone even if you can't. It also brings the option of audible text messages and reports of vehicle operation. Other features include smart access and starting power button as an option available.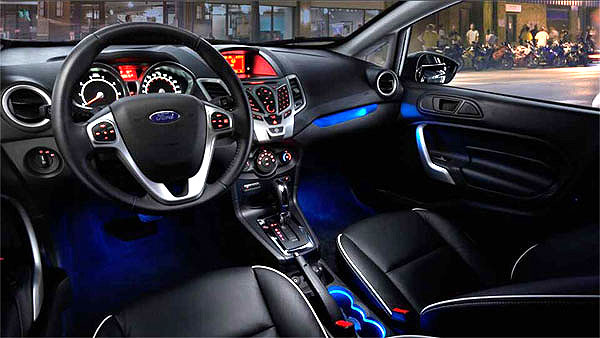 New 2012 Ford Fiesta - Interior
One of its best features is the fuel efficiency. It gets up to 28 mpg in the city and 37 mpg on highways. The new Ford Fiesta provides a great look and better fuel economy than any vehicle in its segment making it one of the best options in today's automotive market for those looking to buy a new cheap car under $14,000.