A man bought a BMW 320i for $1 dollar. It seems this is a joke, but it is not. Advertising and selling a product in general, or a particular car through the internet, being more specific, is not free of risks for both, the buyer of the used car, and the seller. And not only because of the complications arising from the sale or charge but for the fact that if you make a mistake setting the price of the car you are going to sell, absurd things can happen just like this happened to Stadium Cars, a dealership from New Zealand which published an
online classified ad of a used BMW 320i
and the person responsible for the online marketing of the dealer mistakenly placed the car for a cost of only $1 dollar. Before this person realized of his mistake, a clever internaut saw the error and push the little "Buy" button automatically, so that the dealer did not have time to rectify.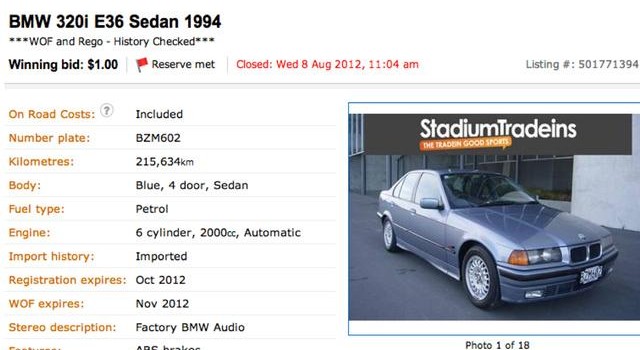 The buyer was quite surprised when he saw the symbolic price of a single dollar, but without thinking twice he bought it. Probably the seller did not put a price on the ad, and the system automatically filled out the value putting a dollar, or he made a mistake and forgot to put the zeros next to the number 1.
The
manager of the dealership, Mike Nokes, said
that it is a single failure and they will continue trusting in the Trade Me website to keep selling their vehicles, although it has been a blow to them, since the BMW had a real price of $3,000 dollars. He also said, "this BMW is the cheapest used car that we have sold" and tell this tale don't make me laugh, since the activities of dealerships usually is not giving cars for free.
It was the user with the nick 'bignz' who saw the offer and immediately made ​​the purchase, finalized before lunchtime of the same day on which it was posted, and who probably prayed so that it was accepted, or at least receive any discount or royalty from the dealership for its mistake.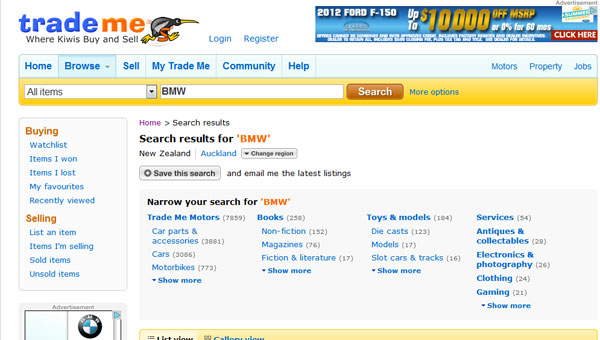 For the dealership, this fact represents a small financial loss, but in the end, it could also be a clever commercial move, because at least, they will get some free advertising due to this "mistake", and so they confirm it, saying they expect that this event gives them some advertising and some visitors to their offices in the future.
So, next time you are going to sell something online, be careful at the moment of typing the price, especially if you are selling a car.
And as you never know, it is worth saying that if you're looking to buy a car and you're short on budget, you can carefully review sites like eBay Motors to see who probably had made a mistake like this typing the price of a car on sale, you never know when an American car dealership will want to copy the idea and also wants to sell the
cheapest BMW
or the
cheapest Mercedes-Benz
in country just the draw the attention of the media.

Related articles you may also be interested:

Self-drive car introduced by BMW

Cheapest new sports cars of this year

Cheapest, coolest and most affordable new 2012 cars