The renowned firm Kelley Blue Book (KBB) revealed its annual survey of the most affordable brands and vehicles over a period of five years. This 2014, the Japanese manufacturers, Mazda and Lexus, are the winners of the best brand, and best luxury brand prize, respectively.
General Motors won in eight segments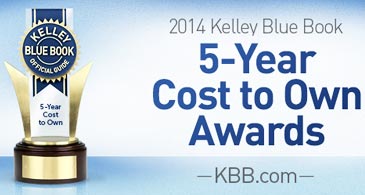 On the other hand, General Motors achieved with their vehicles, prizes in eight segments, for example, in the subcompact and plug-in category, they won with the gas-powered Chevrolet Spark and the Spark EV. The Chevrolet Camaro SS and the ZL1 received awards for high performance. While the manufacturer Toyota was well represented with five winners divided by its two brands, Toyota with the Corolla, Prius C and Tacoma, and Lexus with the LS and RX models.
To define the winners of the cheapest car to own over a 5 years period, KBB analyzed the depreciation of the vehicle, as well as fuel costs, insurance, financing, repair, maintenance and government fees that are generated when having a new car for more than five years. If you want to know more about this survey, and why KBB chose the cars selected as winners, please
check this link
.
These vehicles are the winners in each category:
SEGMENT ---> CAR MODEL
Subcompact ---> Chevrolet Spark

SUV Compact Crossover ---> Jeep Patriot

Compact Car ---> Toyota Corolla

Mid-size Crossover SUV ---> Mitsubishi Outlander

Compact Sports Car ---> Hyundai Veloster Turbo

Full-size Crossover SUV ---> Ford Explorer

Midsize Car ---> Honda Accord

Luxury Compact SUV/Crossover ---> Buick Encore

Full-size Car ---> Chevrolet Impala

Luxury Midsize SUV/Crossover ---> Lincoln MKX

Luxury Entry Car ---> Buick Verano

Luxury Large SUV/Crossover ---> Buick Enclave

Luxury Car ---> Audi A5

Midsize Pickup ---> Toyota Tacoma Regular Cab

Ultraluxury Car ---> Lexus LS

Large Pickup ---> GMC Sierra 1500 Regular Cab

Sports Car ---> Ford Mustang

Passenger Minivan/Van ---> Dodge Grand Caravan Passenger

High Performance Car ---> Chevrolet Camaro SS/ZL1

Hybrid SUV/Crossover ---> Lexus RX

Hybrid Car ---> Toyota Prius C

Plug-In Car ---> Chevrolet Spark EV