Tata, the first car manufacturer from India, has developed a vehicle that is powered by compressed air. Although they already had presented its prototype of an ecological and city car in 2009 in the Geneva Motor Show, the company announced that it is now when they are looking for ways to commercialize this product named AirPod.
The AirPod has the advantage over other alternative vehicles that it has 2 ways of refueling. One is through an electrical connection and the second is through air stations which will be available in established centers.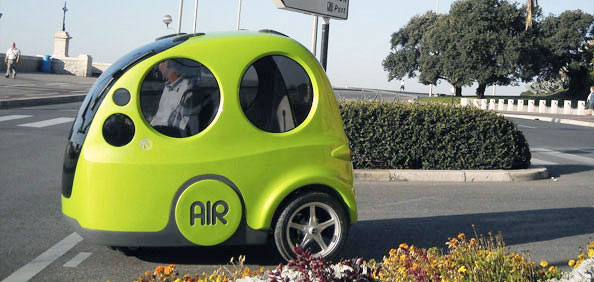 The AirPod car will reach 45 miles per hour. It is similar to a funicular wagon, with two large lateral windows and one in the front which binds to a solar roof. It also has the features of any vehicle such as front and rear headlights, windshield wipers and rearview mirrors. About the interior specifications the Indian company has not given any more data beforehand.
The 'AirPod' measures 5' 10' ft., its weight is less than 1100 pounds and has a capacity for three adults and a child. It also has space for luggage.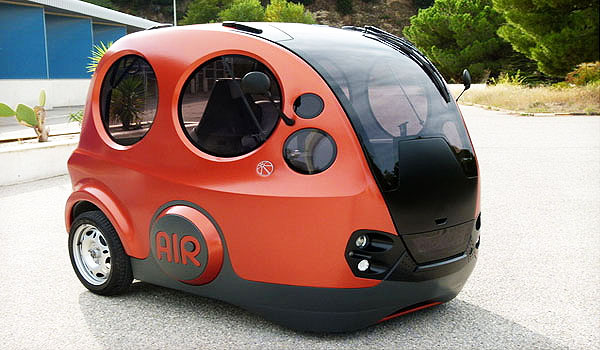 The new vehicle has a driving range of 136 miles. Its compressed air tank has a capacity of 175 liters and a pressure of 350 bars*, and it can be recharged at specialized stations or through an electric motor in an automotive hybrid system. In addition, the engineering team contemplates the option that the car recovers part of the energy during braking. The AirPod, like was called by the French company Motor Development International (MDI), is fabricated with an aluminum frame structure covered by a fiberglass and polyurethane.
AirPod - Interior. This new transportation is handled through a couple of joysticks or levers with which you can lead and change the speed, this is part of a system called 'gyroscope'. It also has a screen / rearview mirror that lets you see the rear corner of the car.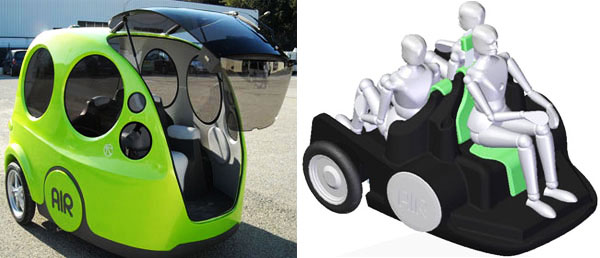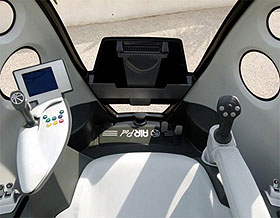 AirPod - Air compressed car | Interior Controls
The MDI company signed a contract with the Indian carmaker,
Tata Motors
, who use the technology of compressed air motor on standard cars. The technical development of this prototype is well advanced, but the company says that the big challenge is finding a way to commercialize the product.
*Bar (unit) = A bar is a unit of pressure defined as 1,000,000 dynes per square centimeter (or equivalently in SI units, 100 kilopascals, or in CGS units, 1 megabase). It is about equal to the atmospheric pressure on Earth at sea level. (From Wikipedia - http://en.wikipedia.org/wiki/Bar_(unit))