IRVINE, California — Kbb published the list of
most popular cars in 2011
, as well as the five brands that achieved the greatest interest from consumers.
This is the list of the most searched cars:
1.- Honda Civic
2.- Honda Accord
3.- Toyota Camry
4.- Honda CR-V
5.- Ford F-150
6.- Hyundai Sonata
7.- Hyundai Elantra
8.- Chevrolet Equinox
9.- Toyota Prius
10.- Volkswagen Jetta
11.- Nissan Altima
12.- Toyota Highlander
13.- Honda Odyssey
14.- Toyota Corolla
15.- Ford Fusion
16.- Ford Focus
17.- Ford Explorer
18.- Toyota RAV4
19.- Chevrolet Silverado 1500
20.- Ford Escape

The Honda Civic was the most popular and most searched car in 2011
This year, the success was undoubtedly for the
Hyundai Elantra
, which jumped 29 positions compared to last year, going to number seven in 2011. These results are because the car has achieved a good reputation in terms of efficiency, economy, redesign, and popularity of Hyundai.
The truth is that this South Korean brand has worked well in redesigning its vehicles. Two years ago, achieved much success with the
Sonata
, and it seems
Hyundai
applied the same formula with the Elantra, which has increased the brand loyalty and has changed the public perception.
In terms of brands, the five that succeeded in attracting more market were:
Lugar | Marca | Posesión de mercado
1. Toyota 14.2%
2. Ford 13.5%
3. Honda 12.8%
4. Chevrolet 11.5%
5. Hyundai 7.5%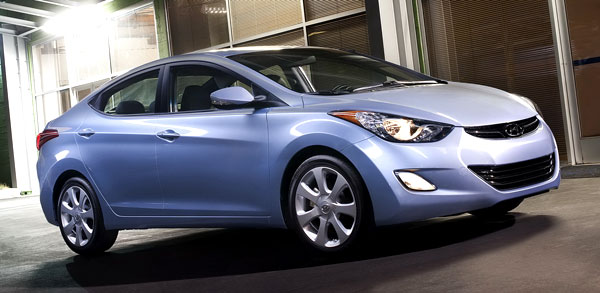 The Hyundai Elantra was the most successful car of 2011, scaling 29 positions in the ranking.
These brands stayed with the greatest amount of the market, and again that Hyundai was the fastest growing, finishing in fifth place, replacing
Nissan
.
However, part of this growth is due to delays in the production and delivery of Japanese brands by the earthquake and tsunami that struck the island earlier this year.
Still,
Toyota
retained the top spot and grew 1%, while
Ford
moved into second place,
Honda
dropped and
Chevrolet
remained in the fourth step.
Something remarkable was the absence of luxury brands. In 2010 the
BMW
3 reached the number 18, but due to rising fuel prices, many luxury car buyers had to move to cheaper brands and was also gas prices which increased the search for hybrid models as the
Prius
, which moved up eight spots to reach position number 9.
Meanwhile, the top three remained intact since 2004, while increasing their presence and redesigned models like the
Volkswagen Jetta
,
Chevrolet Equinox
,
Ford F-150
,
Chevrolet Silverado
and the
Ford Explorer
. On the contrary, strong candidates to keep their presence, fell sharply as the
Nissan Altima
,
Ford Escape
,
Toyota RAV4
,
Toyota Highlander
and
Honda Odyssey
and cars that completely disappeared in one year were the Honda Pilot,
Ford Mustang
, Toyota Sienna, BMW 3 Series and the
Chevrolet Camaro
.
In conclusion, 2011 was a successful year for the Hyundai Elantra, which remained in place as seven of
the most popular cars according to KBB
, advancing 29 positions compared to last year.