With a great design and modern look, the Mazda5 2013, the
cheapest new minivan
you can buy right now in the USA
for less than $20,000 dollars
, emerges as a safe, comfortable and family vehicle with very interesting features. Besides a modern and attractive design, the Mazda5 is a very useful minivan in terms of passenger capacity as it can accommodate up to 7 passengers.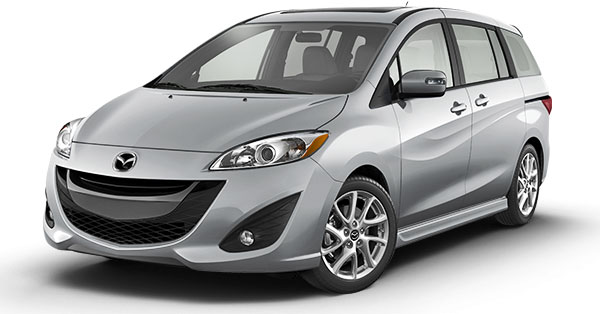 »
The Mazda5 is still a mini-minivan with two seats in each of its three rows perfect for people with few needs and smaller families that do not need vast expanse.
Its sliding doors need only a small movement to open or close and cause a nice feeling to the touch besides having a device that helps to prevent that someone gets his fingers trapped when they are closing.
Seats of the second row can be adjusted entirely and change its position again and again. Seats can also be turned into tables and there are plenty of storage spaces.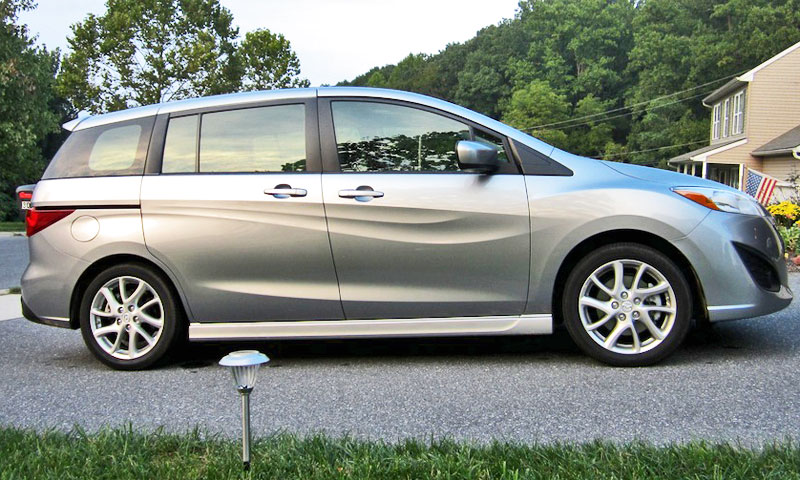 »
This three-row minivan for six passengers is available in three trim levels: Sport, Touring and Grand Touring. Check the bottom for more info about them.
The new Mazda minivan looks different from the rest of the family cars. Its elegant and wavy shapes, inspired by nature, evoke the movement of air or water flowing through the surface of the car which contributes to creating a fascinating design that is at the same time very familiar.
The new design of the D-pillars and horizontal taillights, makes it look more like a 5-door sporty model than a family car with 7 seats.
Its shape minimizes air resistance, making the noise level of the cab be extremely low, something that is not often found in a vehicle of this big.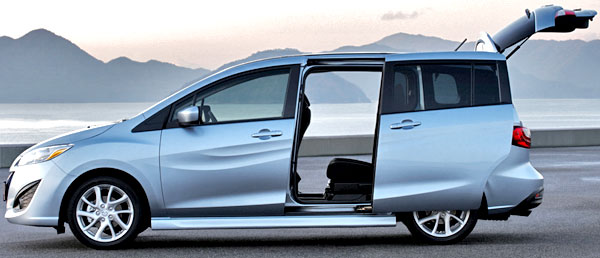 »
The Sport, which is the cheapest model with a Manufacturer Suggested Retail Price of $19.940, comes standard with alloy wheels of 16 inches, full power instruments and accessories, keyless entry, cruise control, automatic climate control with rear vents and fan controls, driver seat with height adjustment, tilt, and telescoping steering wheel, a six-speaker sound system with CD player, USB port and an auxiliary input jack. Photo from Mazda USA.
All
Mazda vehicles
are designed for people who like to drive, and the Mazda5 is not the exception. It is expected that a car as safe and well equipped like this one, consumes more fuel, however, is not like that. Fuel consumption levels were improved across the Mazda5 range as well as CO2 emissions, making it a perfect vehicle for those who care about the environment.
Interior
Inside, the concept of fluidity results in a clear instrument panel and seats that invite you to sit. Vehicles with a capacity to transport many passengers usually have a dull appearance, but the new Mazda, with its sporty styling, sets a new aesthetic standard for cars with 7 seats.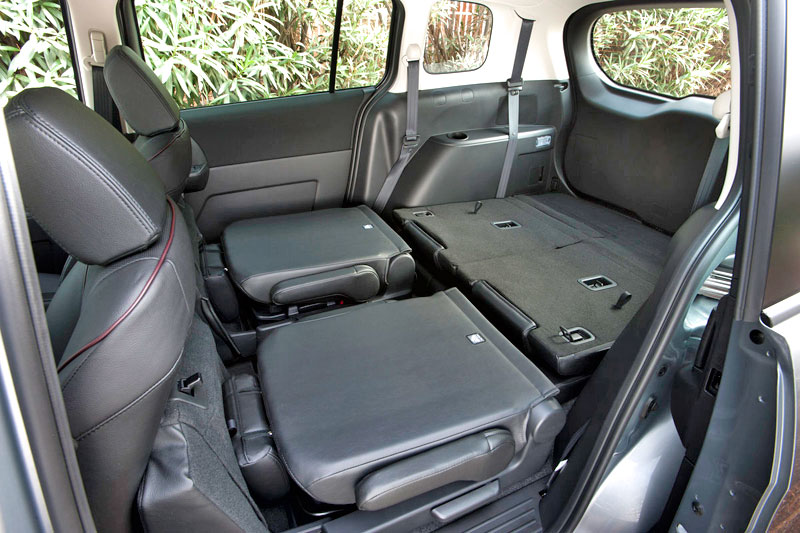 »
This minivan is obviously smaller than any minivan of today but it is very versatile in its interior, with a comfortable second row.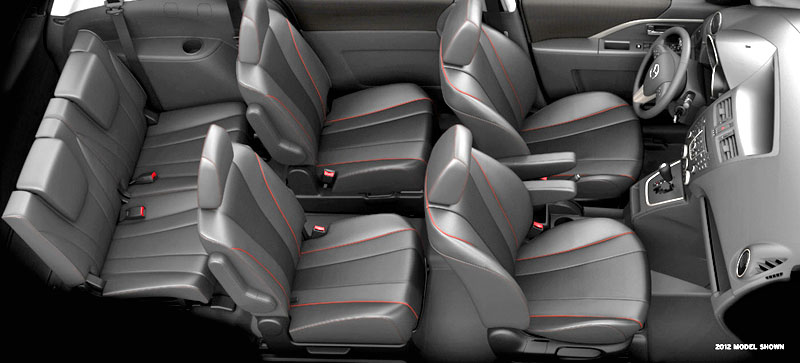 »
The third row provides an easier access than almost any three-row SUV you can imagine.

See bigger image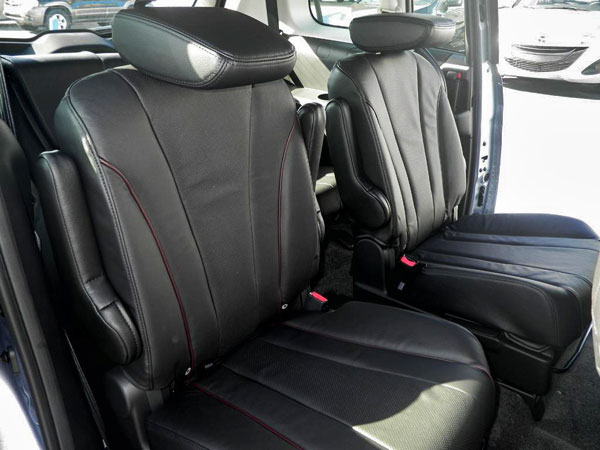 »
The rear seats are comfortable for adults too.
The comfortable middle seat in the second row and the front passenger armrests make it the ideal vehicle for travel long distances. In the driver's seat, controls, instruments and information display can be operated easily and intuitively.
Behind the wheel
When you get behind the wheel of this new Mazda5 you can not avoid asking you a question: How is possible that a family car so big and practical can be so dynamic and fun to drive? The DNA of Mazda, which determines its dynamic, is strongly manifested in this model. The vehicle conveys determination when speeds up, turns and stops at the will of the driver. A more rigid body than the previous model and the improvements made to the brakes and suspension make the driver feel that he and the machine form a single being.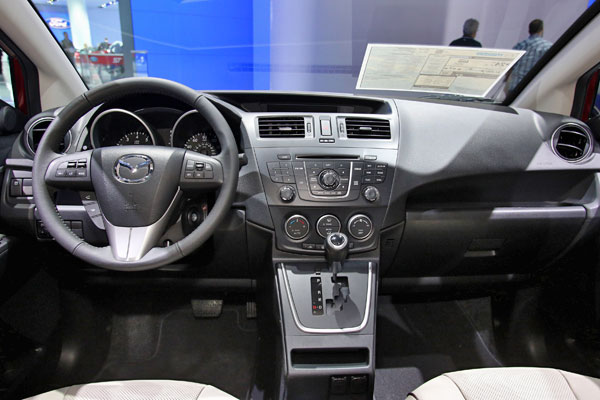 »
The dashboard layout is elegant, simple and modern. Controls are easy to learn and use, and have more appearance of being a car than a minivan.
To make that the interior of this minivan with SUV interior feeling, be so comfortable, engineers improved the aerodynamics, creating a shape that lets the vehicle pass through the air silently with maximum performance. Ingenious enhancements were introduced in order to get silence in the cabin. The position of the air intake duct was changed and redesigned the 'A' pillar to reduce wind turbulence. The hood was also modified to deflect air over the windshield. The improvements made in the roof insulation give a serene atmosphere to the vehicle cab.
Environmentally friendly
All Mazda5 vehicles are cars truly efficient in terms of fuel consumption and environmentally friendly. Mazda is not limited to providing a high level of recyclability. The new Mazda5 uses the fuel as much as possible, reducing not only the maintenance costs of the vehicle but also its ecological impact.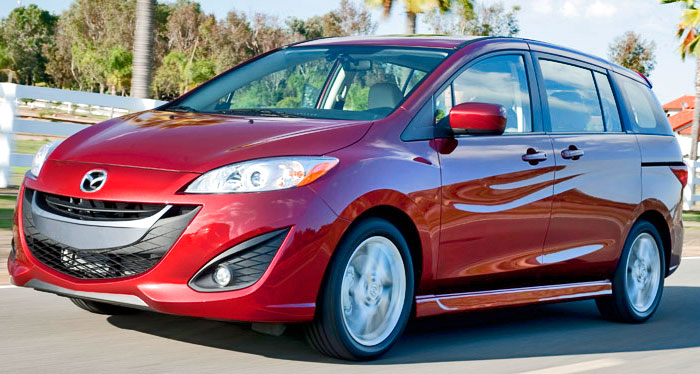 »
In terms of safety comes with the level stability system and traction control, anti-lock disc brakes, front and side full-length airbags, and side curtain airbags.
Safety
Whether you go along with your family or your customers, it will comfort you to know that the Mazda5 is a minivan as safe as attractive. The three rows of seats are protected by airbags and even the hood has been modified in order to increase the safety of pedestrians. The power sliding doors have sensors that prevent passengers and items from being trapped. In brakes, a neutralization system, makes braking prevail in case that this and the accelerator are stepped on at the same time.
It also includes other security measures such as emergency stop signal (ESS) as standard, parking sensors, and the tire pressure monitoring system (TPMS) in the high-end versions.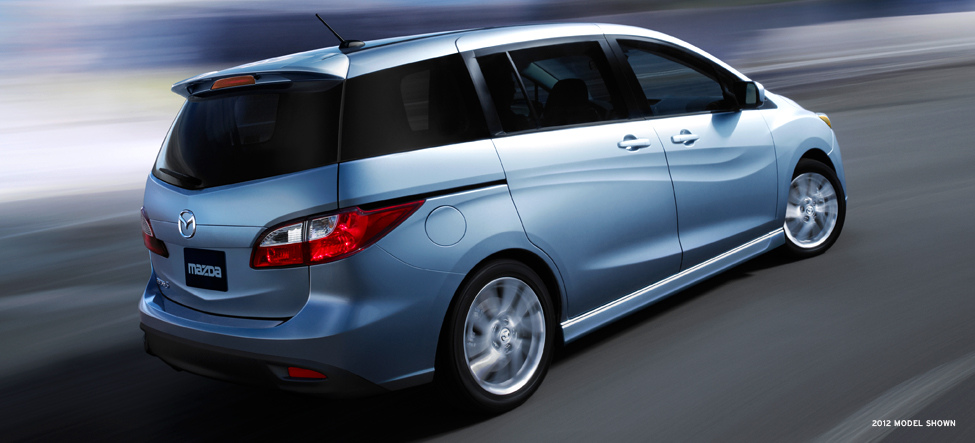 »
The Mazda5 has its niche in the market. It combines utility with agility and urban maneuverability. It has excellent visibility and a turning radius that makes quick work in narrow streets. A good purchase for a small family.
Conclusion
This minivan is not for everyone
. Large families need more space, especially when they carry bikes, bags, and pets. Of course, it offers other advantages that can not be underestimated, as it is quite fun to drive, because it handles like a car, with a sport suspension and steering wheel very precise. Its size makes it easier to maneuver in tight spaces and compact parking spaces. It hasn't sufficient power to do heavy works and its acceleration is quite smooth, especially on hills or when it is fully loaded, although you will not find slidings nor swings in their interior.
Mazda5 2013 models and trims
Sport, Touring and Grand Touring
are the three different trim models you can find at any Mazda dealership. The Sport models come standard manual 6-speed transmission but is also available with automatic transmission. All of them come with a 157-hp 2.5L DOHC engine with variable valve timing and also all of them have a fuel efficiency of 22 MPG within the city and 28 MPG on highways. The
Mazda5 Sport price starts at $19,940
, the Touring at $22,070 and the Grand Touring starts at $24,470. Really cheap prices for these nice sporty minivans with a touch of SUV feeling.