More than 16 million dollars was paid for a
Ferrari 250 Testa Rossa Prototype from 1957
in an auction in California, as published in the San Francisco Chronicle. That's what it costs today, the world's most expensive car.
This model competed in the 24 Hours of Le Mans, one of the most successful sporting careers. This Ferrari Testa Rossa is a beauty icon automotive and a true symbol of the automobile. Only 19 units were built, and two prototypes were auctioned because of California's 'Monterey Car Week'.
This costly sale has set a new record, contrasting with the bad times in the U.S. and the global economy. But for the Swiss Ferrari historian Marcel Massini, it does not seem surprising that some people keep paying these amounts because he says, "
the rich are still wealthy
."
In fact, "the economic crisis makes the classic cars be seen as tangible safe assets," according to statements in the publication. The total sales of the auction, where were sold other classic cars, exceeded 80 million dollars. It is the highest figure reached in an auction of RM Auctions.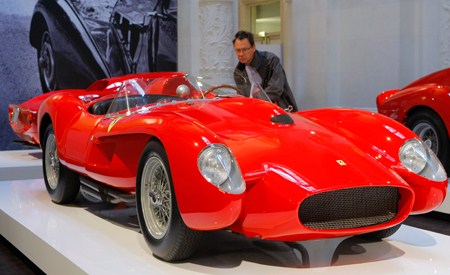 This is the world's most expensive car, a Ferrari 205 Testa Rossa from 1957
What do you think? If you were rich and multimillionaire, would you pay this amount for this car?