I'll tell you a little bit about one of the most desirable SUV by me at this time. It is the Ranger Rover Evoque Coupe 2012. Land Rover added to its family a model that, in a matter of look, turns away from their predecessors, but keeps the same performance, luxury and typical features of the English brand. This is the Range Rover Evoque, the compact SUV that made its debut at the Paris Auto Show 2010 and came to compete with its German rivals: BMW X3, Audi Q5 and Mercedes-Benz GLK.
Ranger Rover Evoque Coupe 2012. The Evoque was created to draw the attention of younger consumers who might not have considered buying a Range Rover, therefore it comes in a more compact size but without losing the high levels of luxury, comfort, power and road capabilities that are the seal of the house.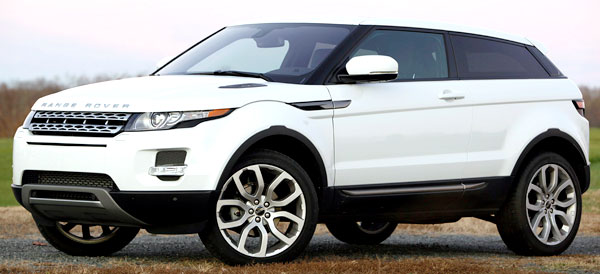 In addition to its youthful style, the Range Rover Evoque has two versions: coupe or five doors, the first one targeting young couples without children, the other one seeking to conquer families established.
This model was conceived after the Land Rover LRX concept which appeared in 2008, which is a highly successful model that respects its original concept. It is equipped with a turbo four-cylinder engine of 2.0 liters, which has nothing to envy to V6 engines that are much less efficient. It produces 240 horsepower which are sufficient to be used in town and it does not disappoint when the conditions required 'off road' capabilities.
On the open road, the Evoque offers a driving experience that combines dynamic and fun and refined performance. It has adjustable electronic stability control and Terrain Response system. Its off-road capabilities are well known and this is the first Range Rover that offers several traction options.
The interior is highlighted by the high quality materials and high levels of elegance. Soft leather and beautifully carved were used as well as twin stitching on almost all surfaces of the instrument panel, doors and seats.
Ranger Rover Evoque 2012 - Interior. The cabin is spacious enough for up to five passengers, although being honest, it is more comfortable for four and in its interior design features a panoramic sunroof that goes over the two rows of seats to increase the sense of space. At night, the cabin is illuminated with LED lights in another touch of modernity and style.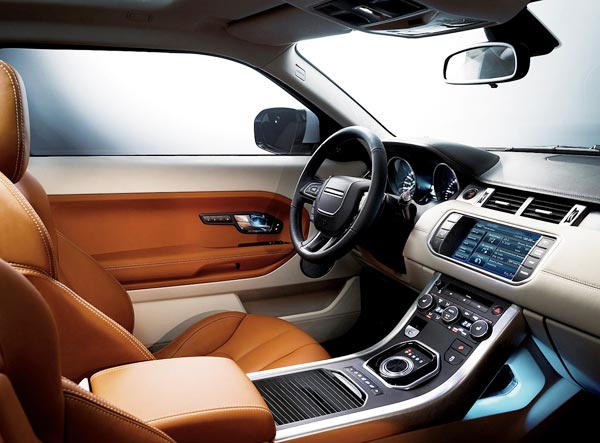 It comes with all the benefits and innovative technologies of the rest of the Range Rover line such as intuitive control system with touch screen display, Bluetooth, USB and iPod input, among other long list of comfort and convenience features.
The Range Rover Evoque will be offered in three versions: 'Pure' with a clean interior in neutral tones with materials such as leather and aluminum. The 'Prestige', which comes with 19-inch wheels, metallic details and a leather-wrapped interior. And the 'Dynamic', which comes with 20-inch wheels and seats in contrasting colors.
Ranger Rover Evoque Coupe 2012. Despite its compact size, the Range Rover Evoque has a large and deep cargo area thanks to the folding seats system 60/40 which creates a capacity of up to 51 cubic feet of cargo.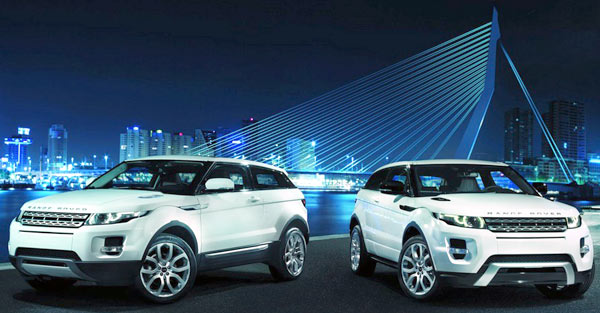 The Evoque tested for a week had a base price of $44,145 that after the features and freight charges reached to $58,745. In any of its different options is a car that includes a lot of standard equipment, making it look more attractive to the young audience.

Base price:
$44,995 (Pure version)

Fuel economy:
18 MPG City / 28 MPG Highway

Engine:
2.0L Turbo 4 cylinder 240-hp

Drivetrain:
Full time AWD

Fuel tank capacity:
18.5 gallons

Other articles you may be interested:

What Are The Cheapest New SUVs of 2012? – Top 5

Cheapest, coolest and most affordable new 2012 cars

New 2013 Car Models Coming Out For Sale in USA

2012 Cheapest Cars – Dreaming with a new car? Top 5 under $15000

3 cheap new cars under $14000 — Cheapest new cars of 2012

Best new cars - Best cars for 2012 in USA