The new Accent 2013 continues the Hyundai's mission of challenging the conventional. This versatile vehicle comes with a truly innovative design and will change your idea of what is a subcompact, offering great value and top class features to car buyers who like cars of this category. Now in its second year of production, the Accent comes with more standard equipment, high technology and new amenities to satisfy the drivers for whom value and style are important.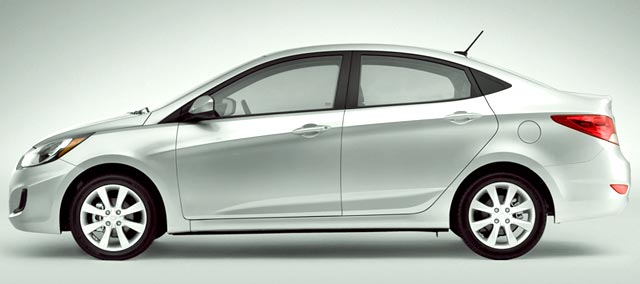 Sedan model
.
As part of its improvements stand out its heated side mirrors, remote keyless entry and air conditioning, attributes that are standard in all trim levels of the Accent 2013. The SE model side mirrors have been enhanced with turn signals for an increased level of safety. Buyers will also find a power sunroof in this model.
This Hyundai is the first subcompact to offer savings in
fuel consumption of up to 40 MPG
. It is also the first award-winning vehicle with Gasoline Direct Injection engine as it is the first vehicle to introduce the GDI technology to the subcompact category. The GDI system allows for better performance, more power and reduced emissions.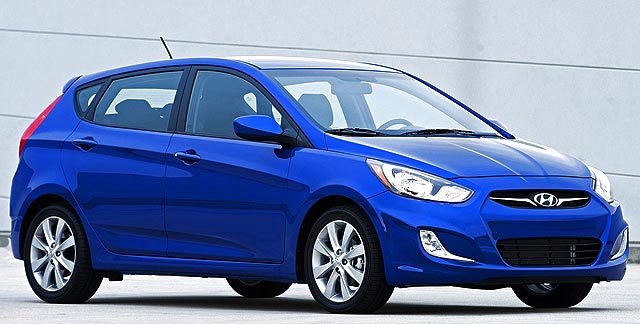 GLS Hatchback model
.
It is notable for its great performance and that's why the Accent has the power of one of the
Best Ward Engines of 2012
(Ward's 10 Best Engines is an annual list of the best car engines available in the U.S. market, which are selected by the Ward's AutoWorld magazine). The Gamma aluminum engine, 1.6-liter four-cylinder boasts the latest innovations in engine technology to produce an unbeatable power of 138 horsepower and a torque of 123 lb-ft.
Several elements from the Accent contribute to a greater fuel efficiency and more optimal, as an alternator management system, crankshaft with special design, variable intake system and electronic throttle control.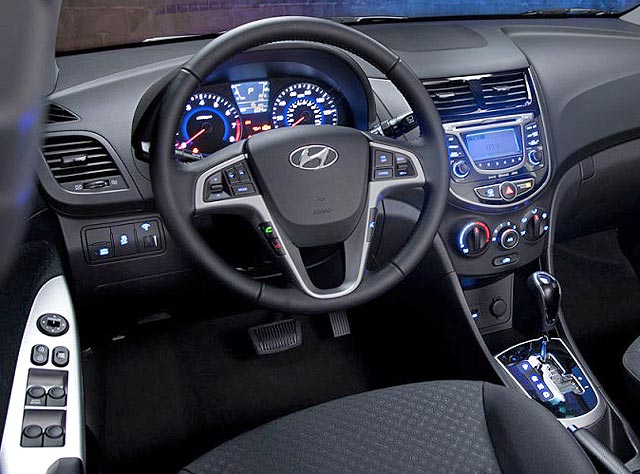 Steering wheel, driver seat view, interior, dashboard and panels.
.
Since its conception, the Accent was designed to look and feel much more spacious on the inside than it looks from the outside. This space is much larger than the average subcompact and in fact, EPA (U.S. Environmental Protection Agency) classified it as a compact sedan. It has the best space in its class and the five-door version has the largest cargo volume over its compact five-door competitors.
The Accent has a safety system you can trust completely. Six airbags (two in the front, two seat-mounted on the side and two side curtain bags for the front and rear passengers) and a stability control system that reacts in the blink of an eye protect occupants in case of a collision. These are only two of the standard safety features that will give you greater peace of mind.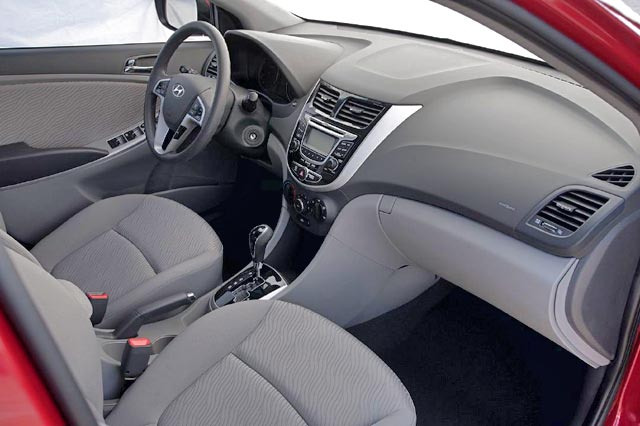 Interior view from passenger seat.
.
This Korean subcompact is manufactured in the Hyundai plant located in Montgomery, Alabama, and is available in 3 different trim-packages (GLS, GS and SE), of four and five-door (hatchback), all equipped with a 4-cylinder 1.6L engine with the choice of automatic or manual transmission. The
GLS and GS models are the cheapest ones
as their
MSRP prices are under $15000
.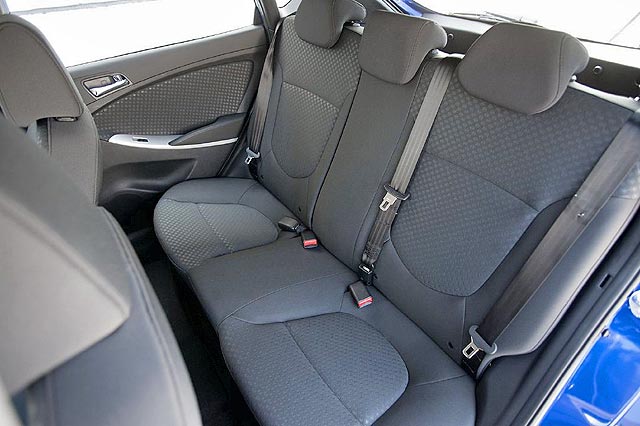 Interior view from rear passenger seat.
.
The fuel efficiency level of the Accent is greater than models of its direct competition such as the

Honda Fit
and

Toyota Yaris
. Along with the

Elantra
and

Sonata
, these are the current most successful and best-selling models of the brand. So, if you are wondering what is a cheap good new 2013 car you can buy today for less than $15000, not hesitate for a second go to the nearest Hyundai dealership you have, and give a test drive to this economical and modern vehicle.